HDS gives HUS a flashy boost, polishes NAS platters too
Another day, another move into flash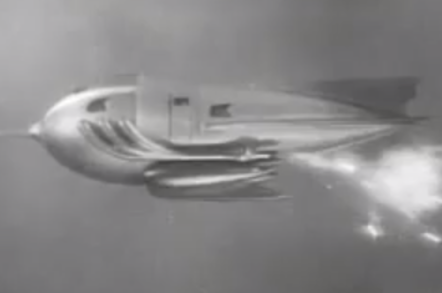 HDS has bumped up the power of its mid-range HUS VM array with an all-flash box, added new UCP flavours and bumped up the power of its disk-based HUS and Hitachi NAS Platform arrays.
All-flash HUS VM
HDS's HUS VM is the upper-end version of its Hitachi Unified Storage (HUS) array with top-end VSP array micro-code added. The HUS arrays offer file, block and object-level data access, hence the "unified" moniker.
HDS has announced an all-flash version, with its Base Operating System optimised for flash, that delivers more than 1 million IOPS. It claims that its new box has twice the efficiency of commodity SSDs and a 60 per cent lower cost/IO than such drives.
There can be up to 154TB of flash capacity. This contrasts with HP's newly-announced 3PAR 7450 with its 520,000 4K random read IOPS and 96TB of flash capacity.
HUS and NAS
Both HUS and the Hitachi NAS Platform (HNAS), which is based on acquired BlueArc technology, get 2x speed boosts. They had deduplication added in April this year.
The two have "new file modules to combine file and block storage" into one entity that "that supports big data workloads and consolidates multiple NAS filers, and yields 30 percent lower total cost of ownership in the first year alone," compared to competing mid-range offerings from, we presume, companies such as Dell, EMC and HP.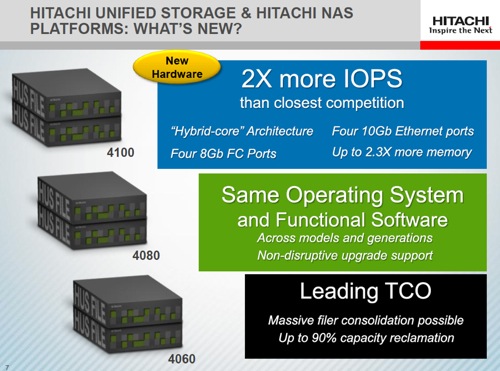 Three HUS File 4000 models
There are three HUS File 4000 products: 4060, 4080, and 4100, with a so-called Hybrid-Core architecture, four 10GbitE ports, four 8Gbit/s Fibre Channel ports and up to 2.3 times more memory than previous systems.
We understand these succeed the existing HNAS 3080, 3090 and 3200 systems, with 2, 4 and 8 nodes respectively, and share the same operating system and functional software. Upgrades are non-disruptive.
A flash acceleration software upgrade is coming later this year.
Hitachi Unified Compute Platform
This is Hitachi's Vblock-like effort which converges Hitachi storage and compute with networking products from Brocade, Cisco and others. The UCP Pro is a tightly integrated turnkey system, like Vblocks, while UCP Select is a set of reference systems, like the NetApp Cisco Flexpods.
HDS says it gets more automation, up to double the performance and delivers up to 30 per cent lower total cost of ownership. The company tells us about its three UCP flavours:
UCP Pro for VMware vSphere with a larger set of server, storage and networking options
UCP Select for Microsoft Private Cloud
UCP Select for Oracle Real Application Cluster with flash-enabled storage for better performance
The UCP Pro vSphere system has three system options: HUS, HUS VM and VSP, support for 128 compute blades and Cisco IP Networking. It has a new release of the UCP Director management software which offers:
Health monitoring
Performance tuning manager
Federated management
Bare metal OS support
Data protection and replication
Non-disruptive firmware upgrade
The Microsoft Private Cloud Select UCP is pre-validated for Hyper-V 3.0, supports live migration with automated disaster recovery and resynchronisation and can scale to thousands of virtual machines. It's certified for Microsoft's Fast Track.
The Oracle RAC UCP Select has SMP-enabled X86 servers, less than 1ms wait time due to the flash storage, and the Hitachi Command Suite is used to manage the server and storage components of this system (but not the others).
There are also UCP Select systems for SAP HANA Scale-up, Microsoft SQL Server, Oracle Database and Microsoft Exchange Server.
HDS says it has a single virtualisation platform for infrastructure, content and information in its idea of cloud computing. This whole thing is a work in progress and we can hope for more performance from HUS arrays when the flash acceleration software upgrade is delivered later this year. ®
Sponsored: Minds Mastering Machines - Call for papers now open