Dell & Friends get the green light on take-private deal
Big Mike trying to catch a falling knife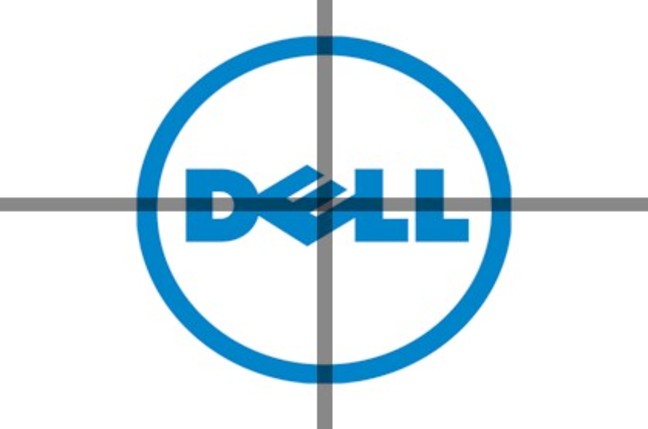 The word on the street late last week was that Michael Dell, Silver Lake Partners, and the banks behind them, who are trying to take the IT giant that bears the founder's name private through a leveraged buyout, were not going to raise their $24.4bn offer to counter a competing recapitalization plan put forth by Icahn Enterprises. And now that Institutional Shareholder Services, an investor watchdog group, has backed the proposed $24.4bn buyout, it looks like Dell & Friends won't have to raise their offer.
The prospect that ISS could say nyet to the deal has been hanging over the $13.65 per share offer that Dell and his backers put together in early February. Plenty of institutional and other investors take their cues from ISS, as much for their analysis and thinking as to absolve themselves of doing their own thinking. So ISS is always an important part of a takeover deal.
As El Reg has explained at length many times in the past several months, both the Dell/Silver Lake and Icahn/Southeastern Asset Management deals rely heavily on repatriating Dell's cash hoard and using it to buy its shares. Dell, the man, is rolling over his 13.86 per cent stake in the company, worth about $3.25bn, and his personal private equity firm is kicking in another $750m in cash along with Silver Lake's $1.4bn and a loan from Microsoft of $2bn; the rest of the $24.4bn deal will be done with debt and burning Dell's cash.
To our way of thinking, Dell, the man, might be assuming some risk, but it is not like he pledged his entire $12bn in assets inside of his MSD Capital private equity firm to the deal. That would show some gumption – and perhaps stupidity, but Big Mike is not a stupid man. In fact, he is trying to buy back control of his company on the cheap, and you can't blame him. You would do the same thing if you started a company in a dorm room and grew it into a $60bn behemoth only to discover you missed the tablet and smartphone waves as well as cloud computing and online apps.
In its report approving the deal, issued on Monday morning, the ISS analysts painted a pretty grim picture of Dell's prospects of using cash flows from its faltering PC business to fund a transformation of Dell, the company, into a broader IT supplier encompassing systems, software, and services, and generating higher profit margins in future years than the company is capable of doing today. And they took on the issue that Dell, the man, is buying low and exaggerating the risk so he can sell high later.
"The risk may be less that he's taking all the upside for himself than that he is trying to catch a falling knife," the ISS report says. "From a public company shareholder's perspective, if your CEO is willing to buy your falling knife for the privilege of catching it, there is probably a price at which you should let him."
And so, after a lot of analysis that basically says the current management team is best suited to continue the transformation of the company to "New Dell", and that the Icahn/SAM alternative of a recapitalization and removal of the current Dell board and management team is inherently more risky.
But, as the ISS report points out, the special July 18 meeting of shareholders will be convened just to give a thumbs up or thumbs down to the Dell/Silver Lake offer, and someone will have to lead a proxy fight and remove the current Dell board and put in a new slate to get the Icahn/SAM deal on the table, which is offering $14 a share to buy up to 72 per cent of the outstanding shares to gain control of Dell, which would remain a public company.
The idea that Dell can do a transformation quicker as a private firm probably has some merit, but the idea that you cannot do a massive transformation as a public company is absolutely ludicrous.
IBM, for instance, was damned near bankrupt when it went up onto the rocks in the early 1990s as it made a number of painful mistakes, among them overestimating the popularity of mainframes and underestimating the effect a recession would have on the popularity of Unix systems and hurting its proprietary midrange systems business.
IBM was also doing poorly in the PC business at the time. And the company fired John Akers after a lot of hemming and hawing about breaking itself into Baby Blues, and brought in Louis Gerstner, the first outsider to take the helm at IBM (and thus far, the only one).
Gerstner saw that the sum of the parts was worth more than the pieces, and held it together. And, if you want to be honest about it, Gerstner probably saw that IBM was a lot more screwed up on the inside than the outside world knew, and that breaking the company up and selling off bits would show that, so he pitched this idea of services as a new revenue stream, and it worked. After several years, IBM righted itself and Wall Street forgave Big Blue, even as its overall role in the systems business has been diminished.
Dell may be screwed up, but it is not as screwed up as IBM was back then. That said, it also doesn't have the assets that IBM had two decades ago, the most important of which was that large and sticky mainframe hardware and software business, which was around three times the size it is today. If Dell's cash cow is the PC business, then indeed it does have a problem.
It would have been better for Dell not to have missed the boat on tablets, smartphones, cloud, and apps, just like it would have been better for IBM to see the data center changing twenty years ago. Dell missed key opportunities even as it embraced others – it has done brilliantly in custom servers for hyperscale data center operators, for example – and it is suffering and will continue to suffer. The question is how much suffering do shareholders want to endure as the New Dell transformation continues.
Here's what ISS concludes:
In the end, shareholders must weigh the bullish enthusiasm of Icahn, SAM, and several other shareholders who have publicly declared the offer price too low against the apparently increasing headwinds in Dell's transformation process, and the signals transmitted by the lower trading prices and analyst price targets immediately prior to any takeover speculation. Given the 25.5% premium to the unaffected share price, the certainty of value provided by the all-cash consideration, and the fact that the transaction would transfer to the buyout group the risk of the deteriorating PC business and the company's on-going business transformation, a vote FOR the transaction is warranted.
It will be interesting to see how much stomach corporate raider Carl Icahn really has to run Dell. ®
Sponsored: RAID: End of an era?