If BlackBerry were a bunch of startups, would you invest?
Silver lining is hard to find, but it's there
Corporate inertia
Bulls will point to BES10 as a product where success or failure is far from conclusive. They're right – the evaluation units went out in January and many enterprises will still be making decisions at Christmas and beyond. And MDM (Mobile Device Management) is a newish market for BlackBerry, it only stated to engage with it last year, that has lots of growth potential.
RIM acquired plenty of experience managing its own devices, but now it can offer to manage the BYOD Androids and iPhones too, and it's wrapped up in BES10, rather than confusing Mobile Fusion combo required so far.
Enterprises who wish to upgrade their staff to BB10 will be given something pretty unique – a secure managed workspace on the phone that's firewalled from everything else on the device. And as of last week, BlackBerry's offering something similar for iOS and Android-toting staff, called Secure Work Space. Allied to corporate and public sector inertia, that's a strong story. Even enterprises looking to migrate away from BlackBerry as an email service in the long term may find it worthwhile to mix in BB10 in the medium term.
So considering BES10 as a kind of startup reveals quite a promising picture. Since BES already has a presence in 90 per cent of large IT, it's done the hard work.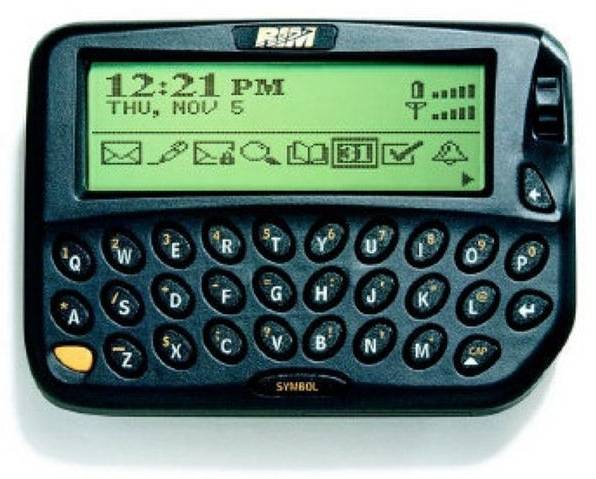 Selling kit is easy when you're unique: RIM's first hit, the BlackBerry 850
The other silver lining to a very dark BlackBerry cloud bank is BlackBerry Messenger, BBM, which launches as a cross platform messaging service this summer. BBM is both a social network and now - divorced from its reliance on BlackBerry data services network and handsets - it's a OTT messaging client in its own right, a giant among pygmies.
The decline of BlackBerry's handset division has sent users to rival OTT services like WhatsApp. But many may be tempted to come back, while newbies could be tempted by the superior experience and features. What is not in doubt is that where BBM is available, people love to use it – in preference to anything else available.
Take this survey of British punters by Acision. Across all age groups BBM users sent 110 messages a week, compared to SMS (75pw), WhatsApp (74pw) and Facebook Messenger (64pw).
And where BBM is pervasive - among 18-to-25-year-olds in the UK - users send 225 messages a week. Many users cited delivery reports and reliability as important factors – where BBM scores highly.
BlackBerry's Thorsten Heins cited data showing the BBM uses the service for 19 minutes a day, as much as any other social network today. What all this adds up to is a lot of attention. And while today's OTT messaging services appear to follow an Underpants Gnome revenue strategy, if you were going to pick a winner in OTT messaging today, BBM would lead the field. It isn't ridiculous to talk about a valuation in terms of LinkedIn or Facebook here.
It may well turn out to be the case that a cross-platform BBM makes BlackBerry's handsets less attractive, for many users have stayed loyal because BBM has been BlackBerry only so far – part of its unique appeal.
However, unlike fanbois, company officers are merely stewards, their responsibility is to the owners (the shareholders) to follow where the money is, rather than tilting at windmills. BES10 looks a promising acquisition for an Accenture, an IBM or an HP.
BBM has the potential for bubble-era growth. It's the handset division of BlackBerry that looks most the disposable, and the cost structure weights it down. 2013 began with BlackBerry talking confidently of the possibility of licensing BB10, with Sony the pundits most-likely licensee. (BlackBerry has withdrawn from Japan and Sony has a seat on the BlackBerry board.)
If the BB10 Android run-time improves, then BB10 could become very attractive indeed to Samsung rivals. But not surprisingly, talk of licensing the OS has gone very quiet. In terms of traction, BB10 is currently a four-wheel drive with all four wheels spinning in the mud.
It's far from all doom and gloom for BBRY shareholders. The management is actually doing OK, considering the legacy of arrogance and indifference to the market. But the cost structure of BlackBerry weighs heavily upon it. To give the two promising BlackBerry "startups" a fighting chance, the smart option must now be to let the handsets go. ®
Sponsored: Minds Mastering Machines - Call for papers now open