Apple Time Capsule 2013: Next-gen wireless networking, anyone?
802.11ac comes to Cupertino's NAS-cum-Wi-Fi router
High performance access to file storage
Straightforward set-up
The initial set-up process was very straightforward, thanks to Apple's AirPort Utility, which provides typical Mac ease-of-use. It detected my Time Capsule automatically and then provided simple options for setting up a new network or using it to extend my existing network. There are also options for setting up a guest network to run alongside the main WLAN, and a to host a separate network on the 5GHz channel – which I used in order to run my back-up tests.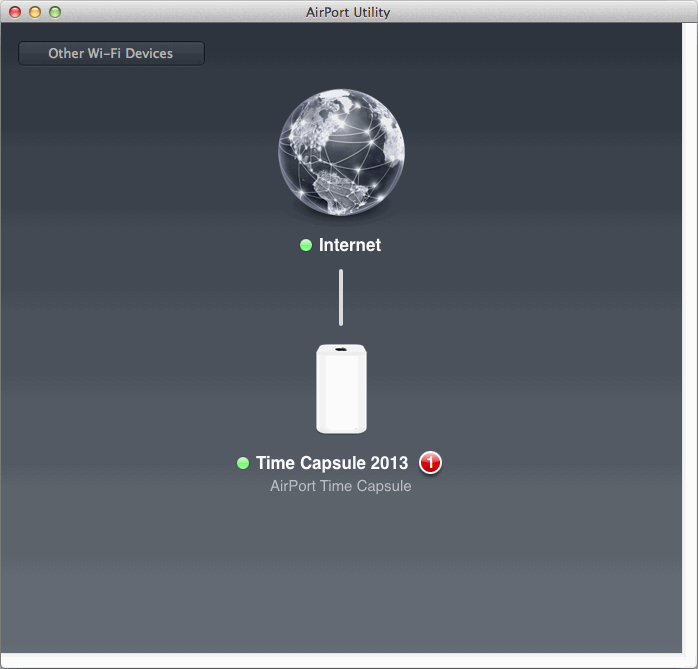 Apple's Airport Utility
Needless to say, there's a version of the AirPort Utility available for iOS devices, for Macs and also for Windows. There's no HTML-based UI for folk using other platforms, and the Windows version is a generation behind the Mac – currently 5.6 on Windows, compared to 6.3 for the Mac. The Windows version lacks the graphical interface of the Mac version, which is no real loss, but the Windows version is also rather dumb. It wasn't able to detect my Time Capsule unless the Time Capsule was connected to the internet, which means that you'll struggle if you simply want to set up a self-contained wireless network at home or in your office.
Apple's website promises "up to 3x faster Wi-Fi" for 802.11ac, so to test the performance of the new Time Capsule I copied my iTunes library onto it using 802.11n on my old office iMac - using first the 2.4GHz and then the 5GHz frequencies - and then repeated that test using the new MacBook Air with 802.11ac running at 5GHz. I also performed each test twice, initially at a distance of just 1m, and then with the Macs in another room about 10m away.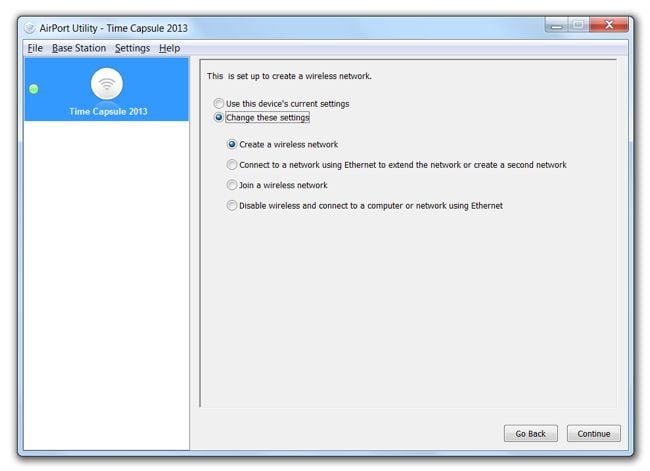 The Windows version of Airport Utility is behind the times
Performance using 802.11n was fairly modest, hitting just 66.67Mbps on 2.4GHz from 1m, and dipping to 59.70Mbps from 10m. Switching up to 5GHz improved performance slightly, boosting the speed to 83.33Mbps at 1m and 81.63Mbps at 10m. However, back-ups performed using 802.11ac on the MacBook Air romped ahead, roughly doubling performance with speeds of 170.21Mbps at 1m and 158.10Mbps at 10m.
I also copied my iTunes library back onto each Mac from the Time Capsule. The speeds for 802.11n on the iMac remained pretty much the same when doing this, but 802.11ac on the MacBook Air ran even faster, hitting 210Mbps at 1m and 200Mbps at 10m. That's not "3x faster", but it'll still be a welcome improvement for Mac users who want to use the Time Capsule for their Time Machine back-ups.
Data Transfer Test Results
Write Speeds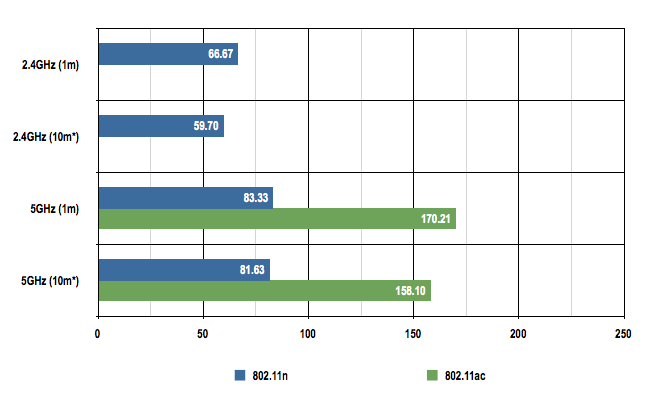 Data transfer rates in Megabits per Second (Mbps)
Longer bars are better
Bear in mind, these are comparisons made with a specific application. 802.11ac's maximum radio data rates are faster than these numbers, which are lower because of copy mechanism and disk overheads. The picture the figures give, then, is not absolute speed but relative to the previous generation of Wi-Fi. The Air's Wi-Fi card has two antennas - other machines may have three or four, and this will result in higher speeds still.
Option-clicking the Wi-Fi icon in Mac OS X populates the menu with extra wireless connection information. On the Air, it reported a peak Transmit Rate of 867Mbps. In comparison, the iMac reported 130Mbps, as did a previous-but-one generation of MacBook Air.
Data Transfer Test Results
Read Speeds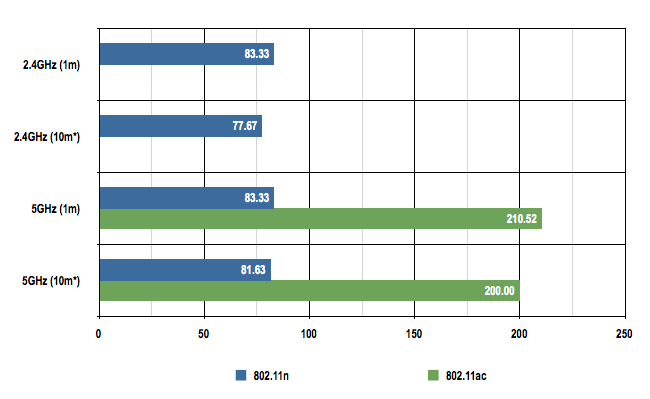 Data transfer rates in Megabits per Second (Mbps)
Longer bars are better
And, by Apple standards, the prices aren't that bad either. The basic AirPort Extreme costs £169 which is in line with comparable 802.11ac routers at the moment. The 2TB version of the Time Capsule is also reasonable enough - it's £249 - given that it combines shareable network storage with an 802.11ac base-station. However, the 3TB Time Capsule seems overpriced, jumping up to £349 for just one extra terabyte. You also have to take into account the lack of an ADSL or cable modem, which means that neither the AirPort Extreme nor the Time Capsule provides the all-in-one networking hub that many people might prefer.
The Reg Verdict
The scarcity of PCs and Macs that support 802.11ac right now means that the Time Capsule is hardly a must-have item, even for devout Apple fanbois. However, the 802.11ac tech does provide a significant improvement in performance when compared to 802.11n, and the Time Capsule's ease of use makes it a good choice for Mac users who are in the market for a new NAS drive or a Wi-Fi upgrade. ®

Apple Time Capsule 2013: Next-gen wireless networking, anyone?
Apple's venerable wireless router and NAS box gains a new, more vertical shape - and the latest generation of fast Wi-Fi.
Price:
£249 (2TB) £349 (3TB) RRP