British lord sets new world electric vehicle speed record
Former UK science minister crushes 39-year speed barrier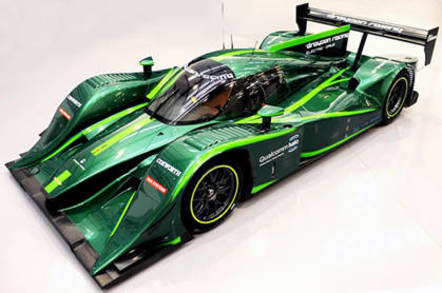 Video Former UK science minister Lord Paul Drayson has piloted his Drayson Racing Lola B12 69/EV Le Mans Prototype to a new world's electric-vehicle speed record of 204.185mph (328.6kph).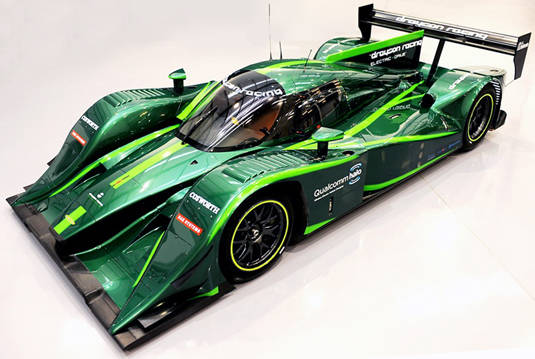 The Drayson Racing Lola B12 69/EV Le Mans Prototype is powered by lithium ion phosphate batteries
"It is not the outright speed of 204.185mph that is most impressive about this record, but the engineering challenge of accelerating a 1000kg electric vehicle on a short runway over a measured mile," said Lord Drayson in a statement.
"This is a true celebration of Britain's leading position within the burgeoning electric vehicle industry," Drayson said, "and I'm delighted to be at the forefront of this electric revolution."
The previous electric-vehicle speed record of 174.918mph had stood for 39 years after being set on Utah's Bonneville Salt Flats in 1974 by Roger Hedlund in the chain-driven Battery Box, powered by a 25-horsepower General Electric forklift motor.
Drayson and his Lola B12 69/EV set the new record not on the wide-open spaces of the Salt Flats, but instead on a 3,000-meter runway at Elvington Airfield in North Yorkshire, England, this Tuesday.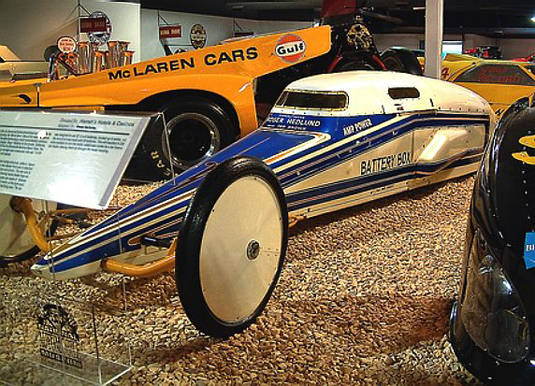 The Battery Box set its 1974 record while powered by 28 12-volt lead-acid Diehard batteries
To achieve official Fédération Internationale de l'Automobile (FIA) certification for his record run in the under-1,000 kilogram class, Drayson and his Lola B12 69/EV had to complete two runs in opposite directions within one hour – which he did handily, with the first run hitting 203.75mph, and the second, 204.62mph.
To put Drayson's achievement in some perspective, the current land speed record for a wheel-driven vehicle is 439.562mph, was set in 2012 by George Poteet in the Speed Demon, powered by a four-cylinder Mopar A4 Midget racing engine, and the land speed record for any vehicle is 763.035mph, set in 1997 by Andy Green in the ThrustSSC, powered by dual afterburning Rolls-Royce Spey jet engines.
Still, 204.185mph isn't exactly chopped liver. For example, Nissan's recently announced 700-kilogram ZEOD RC, which it plans to enter in next year's Le Mans endurance race, has a design goal of only 300kph (186.4mph). Perhaps its driver will be viewing the taillights of Drayson's Lola B12 69/EV. ®
Bootnote
Google chairman Eric Schmidt was on hand to view the record attempt. "What I like about this," Schmidt said, "is that this is a statement of British innovation in an area that I care passionately about" – presumably referring to electric vehicles, and not North Yorkshire.
Sponsored: Minds Mastering Machines - Call for papers now open