Oracle to channel: want some extra rebate love?
Only if you give us 'Oracle on Oracle' action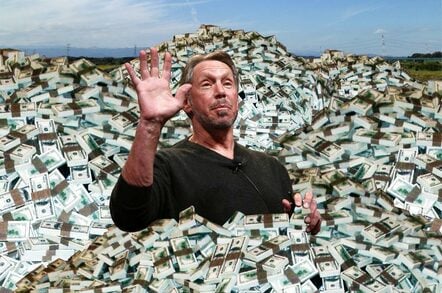 Oracle has tossed a couple of extra percentage points of rebate into the mix for channel partners that can flog its prescribed blend of systems and software.
The sweetener comes in the wake of a lacklustre fiscal '13 for Oracle, and is a good indication of where the vendor needs most help from resellers/ integrators in the year ahead.
Jeff Barteld, senior director, global channel sales, revealed in a webcast to partners that an additional two per cent is up for grabs for those that can jump through the requisite hoops.
He said this will be paid out only for "Oracle on Oracle" action - a server and software combination, or server and storage - from the vendors "strategic products list" (SPL).
To qualify for the rebate channel partners must sell these products to the same Oracle customers in the same Oracle quarter.
The server SPL includes Oracle database appliance, the M series, the T series and Xsigo, while storage centres on Axiom SAN, Flash, tape and ZFS products.
And for the first time enterprise software has been added to the list - database options for enterprise edition, database enterprise management and a "vast array" of Fusion middleware products.
Oracle Partner Network, launched in 2011, offers channel partners a three per cent rebate on all deals they register, and five per cent on hardware included on Oracle's SPL.
For anyone not versed in basic mathematics, Oracle's Barteld was happy to calculate the total rebates potential.
"These rebates are additive - three, plus five, plus two - adds up to ten per cent potential rebate on a given deal," he said.
That is assuming the deal hasn't been pinched by Oracle's direct sales force or that a customer wants to put all its techy eggs in one metaphorical basket. ®
Sponsored: Minds Mastering Machines - Call for papers now open