Chinese 'nauts return to Earth after vigorous space coupling
Break out the lawn chairs, get some flowers... they're back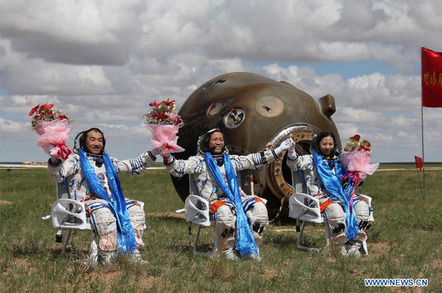 China's latest three taikonauts returned safely from the country's longest manned mission, which was another practice run to the Heavenly Palace.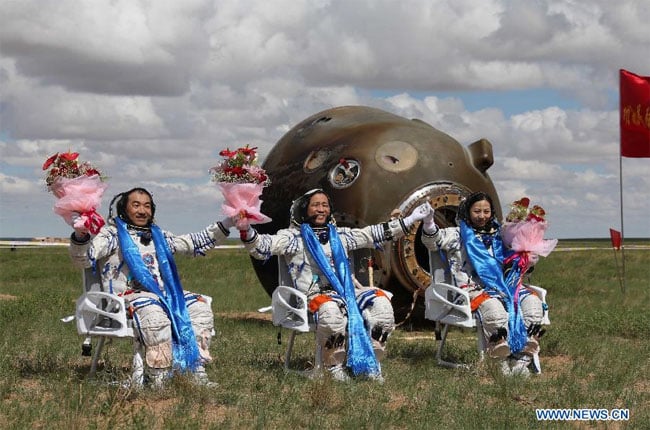 Taikonauts Zhang Xiaoguang, Nie Haisheng and Wang Yaping (from left to right). Credit: Xinhua
Shenzhou-10 crew commander Nie Haisheng, a two-time visitor to space, and his crewmates Wang Yaping and Zhang Xiaoguang re-entered over Inner Mongolia early this morning and were in good physical condition after their trip, state news agency Xinhua reported.
The Shenzhou is no longer considered an experimental capsule but is now ranked as a shuttle system for taking 'nauts and supplies to orbiting modules, the director of China's manned space programme Wang Zhaoyao said at a press conference welcoming the crew home.
He said the mission successfully completed further docking manoeuvres and "made breakthroughs in mastering extravehicular activities".
"The country has mastered the technologies of controlling and operating the assembled complex of spacecraft and target orbiter, and initially establishing and improving the system for astronauts to stay in orbit," Xinhua reported him as saying.
Shenzhou-10 coupled with the space lab twice during its 15 days in space, once manually and once automatically. The 'nauts also conducted space medical experiments and technical tests and delivered a lecture to students back on Earth. Chinese forays into the cosmos are aimed at extending its Tiangong-1, or Heavenly Palace, space-lab into a fully functional space station. The second module, Tiangong-2, will be launched in 2015, an aerospace official said today.
Wang also said the country will put an experimental core module of the station in orbit around 2018 and the station construction should be complete by 2020.
The country is planning to use new generation rockets with heavier load-bearing capabilities for constructing and supplying the station, including the Long March 5 for station parts and the Long March 7 for cargo-craft, Yuan Jie, deputy general manager of the China Aerospace Science and Technology Corporation, said.
The Long Marchs will use non-toxic and non-polluting liquefied propellent, he added. Both rockets are still at the development stages, but maiden flights are expected before 2015.
Since its first manned mission in 2003, China has sent 10 taikonauts and six spacecraft into space. ®
Sponsored: Minds Mastering Machines - Call for papers now open