Amplidata: Could storage biz end up inside Intel?
Chris Mellor talks to insiders about the buyout buzz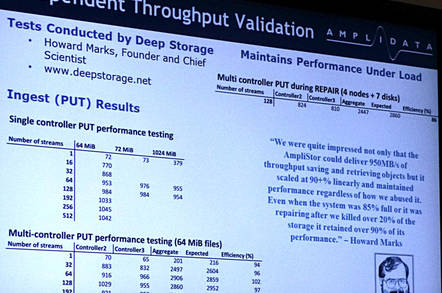 Blocks and Files Sources tell me of rumours surfacing at the GigaOM Structure conference in San Francisco last week claiming that Amplidata is looking for more funding - and more rumours abound of a possible acquisition by Intel.
Amplidata sells an object storage product, AmpliStor, which is OEM'ed by Quantum as the Lattus component of its StorNext multi-tier file virtualisation software. Lattus is positioned as an alternative to tape for relatively cold data.
Quantum participated in Amplidata's latest D-round of funding, at which point Amplidata promoted its executive chairman Mike Wall to CEO. The previous CEO and co-founder, Wim de Wispelaere, stepped sideways to assume the CTO position.
Here's Amplidata's funding history in reverse date order:
September 2012 - D-round of $6m from Quantum and Intel Capital, Swisscom Ventures, Hummingbird Ventures and Endeavour Vision.
February 2012 - C-round of $8m from Big Bang Ventures, Endeavour Vision, Intel Capital and Swisscom.
September 2010 - B-round of $6m.
May 2010 - A-round of $2.5m from Big Bang Ventures.
Amplidata founded with, we understand, seed funding in 2008 of $2.5m.
That makes total funding of $25m.
The two rounds in 2012 are, El Reg's storage desk thinks, curious. A round generally lasts a year or more, unless growth suddenly accelerates and cash is needed to build a sales and operations infrastructure.
In venture capital (VC) terms, $8m for a software company is a relatively modest amount. Yet Amplidata came back to the funding well eight months after the February 2012 injection of $8m and raised another $6m, with Intel Capital and Swisscom participating in both rounds.
We note that Amplidata CEO Mike Wall was previously the general manager of Intel's storage division.
The rumours say that Amplidata is burning through its cash pile quicker than sales revenue is replenishing it, and so it's doing the VC cap-in-hand routine again. An alternative story is that it has commissioned a third party, specialising in mergers and acquisitions and related financing, to broker a sale of the business.
Normally we would expect a 4x to 5x payoff for investors when a startup is sold. That would suggest a sale price between $98m and $102.5m. One piece of potential darkness is that a competitor, CleverSafe, is suing Amplidata for alleged erasure code patent infringement, and the outcome of this could potentially be costly for Amplidata.
Another possibility from the rumour mill is that storage software and hardware provider Quantum could buy Amplidata. Quantum's annual revenue run rate is $588m, down from their $1bn all-time high in the company's fiscal 2007 year, and it has made a loss in each of the last five quarters and five of the last seven financial years. I think we can rule an acquisition out, unless it is a relatively low-cost technology filler in the $5m - $10m area.
How about an Intel buyout of Amplidata? Here's where the rumour-mongers point at Intel's interest in exascale computing, highlighting a presentation at the Next Generation Object Summit where presenter Ran Kurup, from Intel's storage division, talked about Intel investing in object storage and the company's need for faster application servers, faster file system metadata servers and faster distributed storage servers.

Intel NGOSS table
Intel and Amplidata were also present on at IDF-2012 where Quanta demo'd a long-term object store (LOS) with 37 x86 nodes and Amplidata Bitspread software to demonstrate its object storage data durability.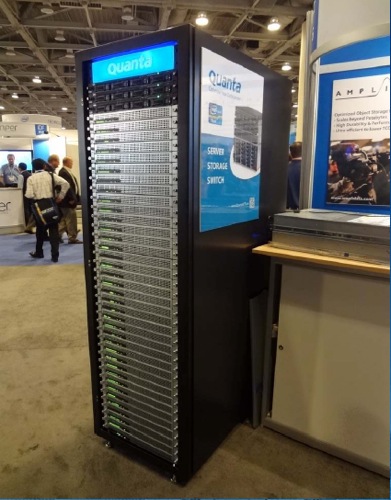 Intel-based 37-node object store and Amplidata at IDF-2012
Amplidata has been involved with Quanta to develop an Intel-based reference architecture for LOS systems. There's an Intel Conversation in the cloud podcast about it here.
The implication seen by the join-the-dots crowd is that Intel could buy Amplidata and open-source its software, as part of its push to have Intel CPUs proliferate in HPC, Big Data and cloud computing environments.
El Reg asked Amplidata for a comment and Mike Wall replied: "The company is doing extremely well and is working closely with several large companies on OEM/licensing relationships for both systems and cloud services. Regarding your questions - I, too, have been hearing these rumours for quite some time. It's nice to see a strong Amplidata 'buzz' developing in the market. Even if these rumours had any element of truth, it would be inappropriate for me to comment." ®
Sponsored: Minds Mastering Machines - Call for papers now open