US cluster kids bring noisy gear, 'fun' toys to World War HPC
Colorado and Purdue put pedal to the metal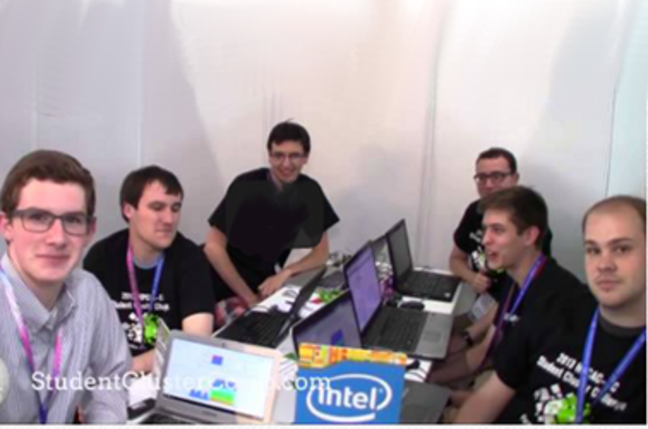 HPC blog Eight universities have travelled to the 2013 International Supercomputing Conference in Leipzig, Germany, to participate in the 2013 ISC Student Cluster Challenge. They've hastily pulled together their data-nomming HPC beasts and are now busily working to to hit the jackpot on a series of HPC benchmarks and scientific applications.
Representing the United States are teams from Purdue University and the University of Colorado. These teams have been at almost every single student cluster competition since the days of yore. (Assuming that to you, "yore" is defined as 2007.) They have also been the most traditional approach. With only a few exceptions, both have stuck to conventional x86 architectures and techniques.
Purdue (here) - aka The Boilermakers - had a great time getting to Leipzig, including an overnight stay in the Philly airport due to bad weather (and worse travel planning – they should have gone through Chicago O'Hare).
We talked about how they've "discovered fire" with accelerators and what it was like to work with Intel Phi co-processors for the first time. In a tangent, we touch on the last time Purdue went away from convention systems – this was in 2008 when they tried to use a MIPS fueled SiCortex cluster. These clusters didn't turn out to be winners for either Purdue or SiCortex.
Colorado (video here). In the video we talk about how their cluster is at least the second loudest (if not the loudest) small cluster in history. They found that the cost of shipping a rack was much higher than anyone would expect, so they went with perching their gear on a pallet. We then discuss how their first experience with accelerators worked out. As one student said "These are the funnest toys I've ever played with...(sic)" and other students said they wished they could take the Intel Phi co-processors home with them. Intel will be happy to hear this, I'm sure. ®
Sponsored: Are DLP and DTP still an issue?