Huawei's new 7-inch MediaPad Vogue feeds Wi-Fi+3G phablet frenzy
Tablet cum mega-phone to pump up fashonistas' muscle tone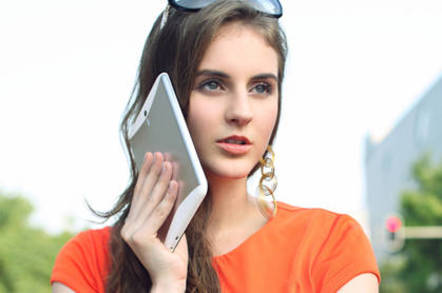 Chinese electronics giant Huawei has jumped feet-first into the emerging tablet-that's-also-a-phone market with the release of the MediaPad 7 Vogue, a seven-inch tablet that can be had in either a Wi-Fi-only or Wi-Fi plus 3G phone call–capable version.
"We're delighted to introduce the MediaPad 7 Vogue, our call-enabled tablet with world-class entertainment capabilities and long-lasting battery power," said Huawei Consumer Business Group CEO Richard Yu when announcing the big ol' handset on Monday.
Yu hopes that his mega-phone will appeal, he said, to "fashionistas, technology seekers, entertainment junkies, and people who simply expect more from their technology."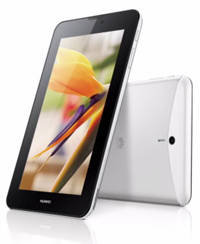 Huawei's new phablet:
the MediaPad 7 Vogue
We might add to that list people who, like owners of the Asus FonePad, have enough self-confidence to not worry about looking a bit of a dweeb when holding a fondleslab to their ear.
As a tablet, the Vogue appears – on paper at least – to be a capable device. Powered by a quad-core 1.2GHz processor and a 16-core GPU, it runs Android 4.1 Jelly Bean, supports DC-HSPA+ maxing out at 42Mbps down and 5.76Mbps up, 802.11b/g/n Wi-Fi, and 1080p video playback on its 1024-by-600 pixel in-plane-switching (IPS) display.
Huawei claims that the Vogue's antenna tech is "top-class", with performance "exceeding most operator standards in the US and Europe," and that its 4100mAh lithium-polymer battery won't poop out until you have watched four HD movies or spent 20 hours using the device to make phone calls.
At 335 grams (11.82 ounces), however, you might not want to hold it up for that full 20 hours. Samsung's five-inch Galaxy S 4, by comparison, weighs a mere 130 grams, and Apple's four-inch iPhone 5, 112 grams – juuust about a third of the Vogue's heft.
Speaking of Samsung and Apple products, the Wi-Fi plus cellular versions of the seven-inch tablets from those two rivals bracket the Vogue in weight, with the Galaxy Tab 7.0 Plus weighing 345 grams and the iPad mini, 312 grams.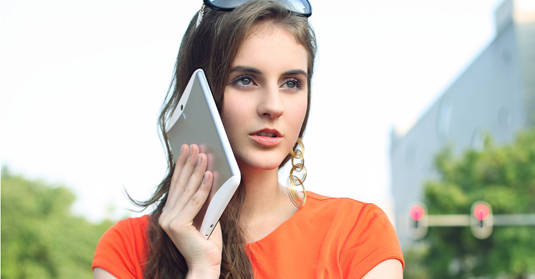 To use a phablet without looking silly, it helps to be an attractive 'fashionista'
The MediaPad 7 Vogue will be released this month in China, Huawei says, with "other markets to follow" at unspecified later dates.
Here at The Reg's Vulture Annex, we never thought we'd see the day when people would hold 7-inch tablets upside their heads to make phone calls. Then again, we never thought we'd see iPads being used as cameras, either – but even noted auteur Spike Lee has been spotted doing just that. ®
Sponsored: Minds Mastering Machines - Call for papers now open