AT&T sells out of HTC First Facebook phones
Much-loathed mobes are all collector's items now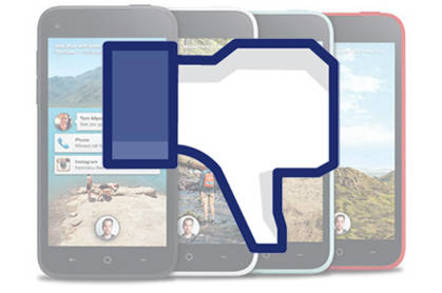 Are you one of the silent minority that's still planning to buy a Facebook phone but just hasn't got around to it yet? You may be out of luck, as AT&T has reportedly sold out of its initial stock (and it won't be ordering any more).
AT&T had an exclusive deal with Facebook to offer the HTC First, the only Android handset to come with the social network's UI-skinning Facebook Home software bundle preinstalled. But in May it said it was ending the partnership, citing dismal sales.
That announcement came after AT&T had already slashed the price of the device to 99¢ when purchased with a two-year contract – down from $99.99 – leading many to the conclusion that the carrier couldn't even give the things away.
Apparently that wasn't quite the case, however, as Cnet received confirmation from AT&T Mobility CEO Ralph de la Vega on Monday that the company had indeed cleared out its remaining inventory.
"We sold a bunch more when we lowered the price," de la Vega said in an interview. "We sold everything we had on that."
Just how many phones AT&T had to sell is unclear, but it can't have been particularly many. Shortly after the HTC First launch, some sources said the carrier had moved less than 15,000 units in the first week. If true, that's less than 1 per cent of the number of Samsung Galaxy S4s sold in that device's first week.
Sadly for Facebook, such poor results aren't surprising. In a recent survey of Android smartphone owners commissioned by mobile app development house Bite Interactive, 91.7 per cent of respondents said they weren't interested in owning an HTC First or any other Facebook Home–enabled mobe.
Only 45 per cent of the same group said they were even interested in downloading Facebook Home to their current devices.
"Facebook Home solves Facebook's needs for more user data, but what does it solve for its users?" Bite executive VP of operations Joseph Farrell said in a statement. "With Home, Facebook presents its desire to shift focus from 'apps to people.' However, it appears users are rejecting Facebook Home's assumed position of dominance as a layer above all other apps."
Those thousands who bought HTC First handsets needn't worry that their devices will become orphaned any time soon, however. Facebook continues to develop its traditional mobile app, which forms the core of the Facebook Home user experience, and it even says it's working on improving Facebook Home for its (rather few) fans.
One thing Facebook is in no hurry to do, however, is update the Facebook Home apps to support more handset models than they already do. Apparently, there just isn't enough demand. ®