US Supremes sit on hands in $625m patent case, hand Apple victory
Mirror Worlds' world shattered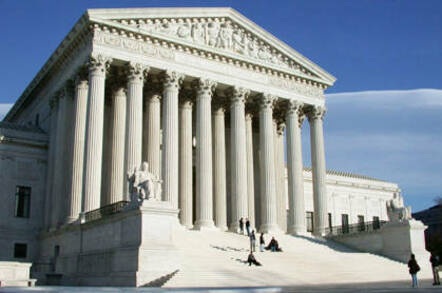 The US Supreme Court has handed Apple a victory in its long-running patent-infringement battle with Mirror Worlds LLC, declining to review a lower court's decision to overturn a $625.5m judgment that had been leveled against Cupertino.
The Supremes made no comment on the case, merely lumping it into a list of 157 cases released on Monday morning for which it merely said "The petitions for writs of certiorari are denied" – meaning, in legalese, "No, we're not going to let you try to convince us to overturn the overturning of the original decision. You lose. Go home."
The case was originally filed in the famously plaintiff-friendly US District Court, Eastern District of Texas, Tyler Division, in March 2008. Mirror Worlds alleged that Apple had infringed up four of its patents – 6,725,427, 6,638,313, 6,006,227, and 6,768,999 – but by the time that court's jury had reached its verdict, the allegations had been whittled down to the first three, which Mirror Worlds said that Apple had infringed upon for its Spotlight search, Cover Flow item-display, and Time Machine automated backup features.
In October 2010, the jury in that trial agreed with Mirror Worlds, concluded that Apple's infringement was "willful", and granted damages of $208.5m per patent. Apple – surprise! – objected, and challenged the judgment.
In June 2011, Apple got its way when a judge in the same Tyler, Texas, division threw out the whole $625.5m ball of wax, saying that although Mirror Worlds' patents were, indeed, valid, Apple didn't infringe upon them. "Mirror Worlds may have painted an appealing picture for the jury," US District Court Judge Leonard Davis wrote in his decision, "but it failed to lay a solid foundation sufficient to support important elements it was required to establish under the law."
Mirror Worlds cried foul, and escalated the case up to the US Supreme Court. And on Monday it received word that the Supremes weren't interested in reviewing Davis' decision.
Interestingly, just last month a New York IP acquisition and licensing company, Network-1, bought Mirror Worlds LLC's patent portfolio – well, actually its "newly formed subsidiary, Mirror Worlds Technologies, LLC" bought them – for $3m and stock-warrant considerations.
Network-1 can't be happy with Monday's denial of the writ of certiorari. But don't feel too sorry for them – their website notes that their "current focus is on Power over Ethernet (PoE)," so keep your eye on that space in the next round of patent wars. ®
Sponsored: Minds Mastering Machines - Call for papers now open