Soylent days and soylent nights
Food 2.0 fails the post-pub nosh test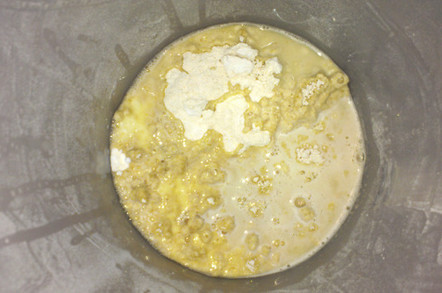 Green beans, chilli con carne, fresh mackerel, olives, zucchini, pork belly stuffed with chilli and garlic – these are some of the things we've been thinking of during our self-imposed Soylent diet. Clearly, we're not the right market for the stuff.
We embarked on our medically dubious disruptive experiment to subsist entirely off of a meal-replacement gunk named Soylent on Thursday, and since then we've found the diet to be surprising and depressing in equal measure.
But how does the meal-replacement wondergloop work? Surprisingly well. Each 500 gram bag contains around 2200 calories, so given this hack's height (6 feet), weight (around 12 and a half stone [That's 175 pounds to you statesiders—Ed.]), and penchant for walking and cycling, we really need to be taking in closer to 3000 calories, so we've had to up our Soyent intake.
The hardest parts of a Soylent lifestyle are the evenings, and when out and about. Dinners are tough because Soylent is a joyless, beige gloop that cannot compare to any well-cooked meal.
But being out and about is worse, for here is where Soylent's main drawback becomes apparent: if it's not chilled, it's utterly disgusting. Imagine "lunch" as a warm, wheat-coloured oily liquid that has grainy stuff in it that sticks in the back of your throat, and you're there.
When we embarked on this experiment we asked you, treasured commentards, to pitch in with suggestions of ways to properly evaluate Soylent. Here's what we found out:
John Colman asked Does it have the same effect as a kebab after a night of booze, does it have the same effect as a bacon sarnie the morning after a night of booze, and can you have it for lunch at your desk without looking like a plonker?
To test this we evaluated a few alcoholic solutions in a variety of dingy dispensaries, then toddled home with an empty gut and dreams of something greasy and fried. Instead we had Soylent. The crushing disappointment of a cold, vaguely vanilla-tasting smoothie after a night on the lash can't be overstated. Zero points.
As for a morning-after hangover food? Actually quite good. We dragged our mortal frame to the fridge, poured ourselves some slop, and felt better for having drunk it. Because Soylent is mixed with water, it hydrated us as well, which helped do away with the skull-splitting headache that comes after any rowdy night.
As for lunch at the desk? The wonderful team here at Vulture West take every chance they get to mock your hack's green Soylent-flask, so we'd have to say yes, you do look a bit like a plonker.
Sebastian Brosig asked for detailed reports from the other end. We've found that although we're emptying the garbage less frequently, we are out-gassing more, and the resultant emissions are noxious. And when we have to delete a derriere chunk, we find it a bit of a strain, but otherwise normal.
We're still on Soylent for a few more meals, and will issue a full report at close. ®
Bootnote
The gloop's ingredients include carbohydrates, protein, fat, cholesterol, sodium, potassium, chloride, fiber, calcium, iron, phosphorous, iodine, magnesium, zinc, selenium, copper, manganese, chromium, molybdenum, vitamins A, B6, B12, C, D, E, K, thiamin, riboflavin, niacin, folate, biotin, panthothenic acid, lycopene, omega-3 fatty acids, ginseng, gingko biloba,lutein, alpha carotene, and vanadium.
Sponsored: Minds Mastering Machines - Call for papers now open