HPC server sales spike: Buyers get chops around juicy cheap flops
Big Data-supercomputing mash up, coprocessors included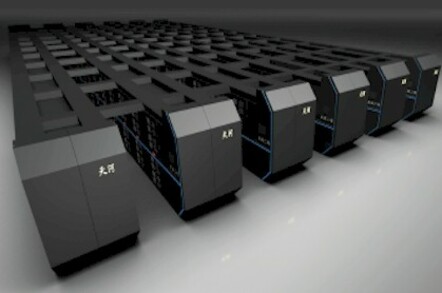 ISC 2013 The plain vanilla server racket may have struggled in the first quarter, but sales of machinery aimed at high performance computing workloads -both traditional simulation workloads and new-fangled "Big Data" jobs - bucked the downward trends in the first quarter, according to the latest research from IDC.
And, not even remotely surprisingly, a recent survey shows a strong uptake in various kinds of coprocessors to meet the voracious appetite for cheap flops among HPC centers.
In its latest casing of the HPC server market, IDC reckons that revenues rose by 5.3 per cent to $2.5bn, which stands in the starkest contrast to the overall server market. As El Reg previously reported, worldwide server sales in the first quarter fell by 7.7 per cent to $10.94bn. (Frustratingly, you cannot just subtract these numbers to get a non-HPC server sales number because there are different components and base software included in the two different data sets. Yes, that is stupid.)
Thanks to a strong uptick in the shipments of departmental, divisional, and workgroup HPC systems in Q1, overall HPC system shipments rose by 16.4 per cent compared to the year-ago period to a total of 33,511 units. Again, contrast this with the generic server space, where shipments dropped by 3.9 per cent to 1.89 million machines.
It wasn't all bright and sunny in the HPC space in the first quarter, however. High-end supercomputer sales were off 10.9 per cent, to $861m, not an unusual quarterly swing in a market that is choppy at the best of times. The supercomputer segment, which is a precise IDC definition meaning a machine that costs more than $500,000, had a 29.6 per cent revenue jump last year. This came just as some very large supers were installed and accepted (meaning their revenue can be booked) as 2012 was coming to a close. And for this segment of the HPC systems racket, it looks like the revenues will bunch up into the final two quarters of the year again here in 2013.
"Supercomputer revenues actually accelerated during the global economic downturn, driven by the growing recognition of the crucial role these systems play in economic competitiveness as well as scientific progress," explained Earl Joseph, program vice president for technical computing at IDC, in a statement accompanying the market stats. "Now the ongoing economic recovery is encouraging existing buyers to complete postponed purchases of entry-level and midrange HPC systems, and new buyers are acquiring these systems for high performance data analysis."
Sales of workgroup HPC systems, which cost under $100,000, jumped 15.6 per cent, and departmental systems, which cost between $100,000 and $249,000, were up 10.8 per cent in the first quarter. Divisional machines, which cost between $250,000 and $499,000, really did well, with a 21.3 per cent revenue bump.
As is the case in the server racket at large, Hewlett-Packard and IBM and neck-and-neck with each other, and in the first quarter both vendors raked in $790m for a 31.5 per cent share of the revenue pie. IBM's revenue was up 12.7 per cent and HP rose 7 per cent, and both benefited largely from the uptick in sales of machines that cost under $500,000. Dell came in third with $358m in sales, and its growth rate was not available at press time.
Silicon Graphics had a 51 per cent revenue jump in Q1 thanks to the acceptance of some large UV 2 shared-memory systems, IDC said, and added that Chinese system maker Dawning, which has a specialty in HPC gear and which has built some of the largest systems in China, had a 38 per cent revenue spike in Q1.
The latest projections from Joseph still have the HPC server market with a "healthy" compound annual growth rate of 6.8 per cent between 2012 and 2017, with sales across all classes of techie boxen adding up to $15.4bn at the end of that period.
In a separate study announced at the International Super Computing conference in Leipzig, Germany, this week, IDC said it had polled sites with a total of 905 HPC systems to test the pulse on their enthusiasm and adoption of various technologies, updating a study it had done in 2011 across 488 systems. Accelerators are gaining traction fast, with 76.9 per cent of those polled saying they have them in their systems this year compared to 28.2 per cent of sites in the study from two years ago.
But accelerators and coprocessors are still in an experimental phase of adoption, only representing 1 percent of all computing parts in 2011, and jumping only to 3.4 per cent here in 2013. That is more than triple what it was two years ago, to be sure, but coprocessors and accelerators have not yet entered the mainstream.
Field programmable gate arrays are also still seeing use given their malleable nature and their long use in the financial services and oil and gas industries. Nvidia and Intel are neck-and-neck at this time with their respective Tesla GPU and Xeon Phi x86 coprocessors as far as the IDC survey data goes.
Interestingly, 30 per cent of the HPC sites polled said they do some form of Big Data analysis on their HPC iron (there is no 2011 data to which we can make a comparison here), and 23.5 per cent said they are using public and private clouds to run at least some of their HPC work (nearly double the number of sites in the survey from two years ago). ®
Sponsored: Learn how to transform your data into a strategic asset for your business by using the cloud to accelerate innovation with NetApp