Brit biz-gobbling comms giant Daisy Group splutters with indigestion
Can't... possibly... eat... any more... ah, yes it can with £200m spending pot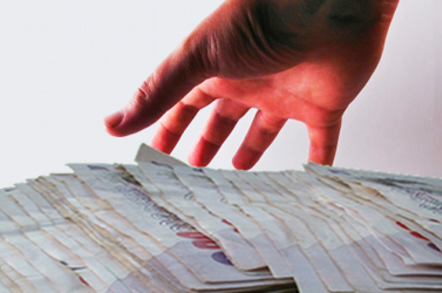 Biz broadband and comms giant Daisy Group has faced a challenging 12 months as its operating losses widened and organic growth stalled.
In its financial year to 31 March 2013, the company-gobbling Lancashire-headquartered firm recorded revenues of £351.5m - up less than one per cent on the previous year.
It also completed two acquisitions that cost it £31.5m: in April 2012, Daisy wolfed down audio conferencing specialist Worldwide Group Holding, which had a turnover of £46.3m in the 15 months to March that year. And then in February 2013, the AIM-listed giant swallowed very small IP data specialist Net Crowd for £3m.
In a statement, Daisy Group's executive chairman Peter Dubens said the buy-ups helped it reduce reliance on legacy fixed-line services as a proportion of the overall business.
Operating losses in the financial year grew to £16.7m from £13.1m in the previous fiscal period, principally due to a rise in amortisation of intangible assets to £66.2m from £61.9m. This write-down relates to customer relationships acquired in the year that were valued based on expected discounted future cash flows.
Net finance costs of £6.77m left Daisy management staring at a loss before tax of £23.5m compared to £18.7m a year earlier, but an income tax credit of £7m took the net loss to £16.4m.
The group's largest unit, Daisy Retail sells to customers in four broad areas: fixed-line calls and rentals; data hosting, broadband, leased lines and VoIP; systems maintenance; and mobile phones, smartphones, airtime, and data provision via service providers and managed contracts.
Daisy Retail turned over £130.3m, a jump from the £109.5m in the previous financial year, as margins went up to 41.1 per cent from 40.6 per cent due to a rationalisation of the supplier base and moving more data centre connections to the Daisy Wholesale division.
The Wholesale unit - which offers many of the same network services as Retail plus IP VPN, ethernet and hosting capabilities, and a while label offering from O2 and Vodafone - saw sales dip to £28.9m from £29.4m.
The Distribution arm declined by some £12m in the year to £39.9m, impacted by the "reduced level of mid-term contract renewal incentives…[from] mobile operators".
"The consequence of a lower level of renewals is that our dealers have earned less commission and hence the revenue shortfall was partly offset by an improved gross margin [up to 23.8 per cent from 21.8 per cent]," said Daisy.
In the year Daisy and a syndicate of six banks agreed to a three-year banking facility of £200m that will be in place until June 2016 to "finance further acquisitions".
Net debt in the 12 months stood at £81.2m compared to £78m in the previous fiscal year.
Exec chairman Dubens said: "This past year, the group has continued to focus on operational efficiency as well as the integration of previously acquired businesses."
He added that it "remained mindful of current macroeconomic headwinds" but viewed the current fiscal with "cautious optimism".
Since the end of the last fiscal, Daisy paid £7.5m to buy Daisy Data Centre Solutions, a vehicle set up by Dubens to acquire now defunct 2e2's data-centre operations.
The group has hoovered up more than 10 firms since embarking on a mid-market roll up in 2009, including AT Comms, Eurotel, Redstone's telco arm and BNS Telecom, to name a few. ®
Sponsored: Minds Mastering Machines - Call for papers now open