It's official: 'tweet' an English word – not just in the avian sense
If the Oxford English Dictionary says it is so, then it is so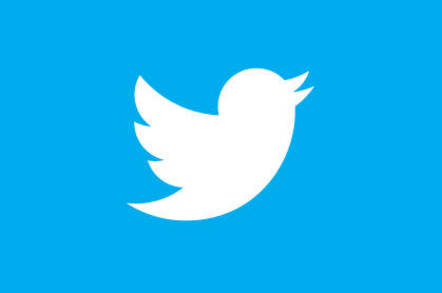 Proving either – or both – that the English language is a living organism in constant flux and evolution, or that the authoritative Oxford English Dictionary is cheapening itself with a premature bow to cultural pressure, the word "tweet" in its social-media sense has been added to that sacred paragon of lexicography.
This momentous news – and the definitive decision that the term has been reduced to the mass market status of lowercase orthography for both noun and verb – was released in a "Quiet announcement" by the dictionary's chief editor, John Simpson, as a footnote to "A heads up for the June 2013 OED release":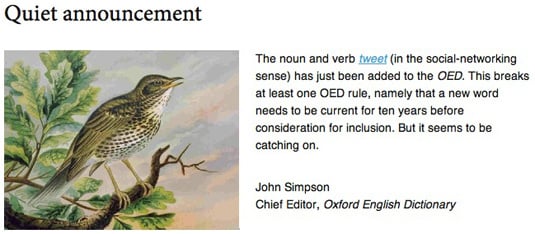 Rules are made to be broken, even in as august a reference work as the OED
As a verb, both intransitive and transitive, the OED lists the first usage of tweet as being in 2007. The intransitive example provided is from the "Weblog" NevOn, and reads "Not much chance to tweet on Twitter, especially since it seems that SMS posting from my mobile phone doesn't work;" the transitive first usage is from a Google Groups posting, "My Wife has Twitter Acct.", reading "The folks on my friends list are tweeting me all kinds of advice for her in almost real time."
NevOn is also listed as the first example of the use of tweet as a noun. However, with the word being at the beginning of a sentence, it's unknown whether the writer would have capitalized it had it been in mid-sentence: "I think it's got legs. It's just beginning to gain traction. Tweets show up in Google searches. Technorati will rank your Twitter profile." All following examples of "tweet" as a noun in the OED's listing have it in all lowercase.
The OED definitions are suitably prosaic:
tweet, v.
2 a. intr. To make a posting on the social networking service Twitter. Also: to use Twitter regularly or habitually.
2 b. tran. To post (a message, item of information, etc.) on Twitter. Also: to post a message to (a particular person, organization, etc.).
tweet, int. and n.
2. A posting made on the social networking service Twitter.
And so our language grows – whether or not the admission of "tweet" into the OED leads the Queen's English into areas you may wish it to grow.
And speaking of language growth, Simpson's "heads up" also includes the news that a number of other tech terms have made it into the OED, namely big data, crowdsourcing, e-reader, mouseover, redirect (the noun), and stream (the verb). One of those terms also gained admission before its 10-year currency requirement had been fulfilled.
We'll leave it up to you as a weekend puzzler to guess which one. ®
Sponsored: Minds Mastering Machines - Call for papers now open