Apple dangles Spangles while Dabbsy's cables rankle
Screw skeuomorphism, f**k flat - I want stuff that WORKS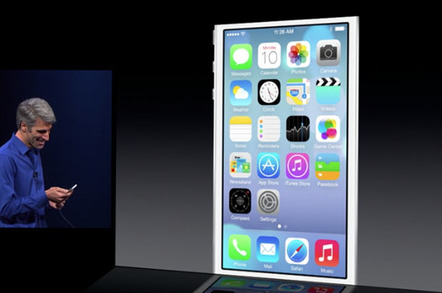 Something for the Weekend, Sir? Yet another Apple keynote has just whizzed by without so much as a squeak of useful criticism. The non-revelations in the opening keynote of Apple's Worldwide Developers Conference in San Francisco this week confirmed just about everything that had already been leaked.
To summarise, there will be an iOS upgrade that looks like a packet of Spangles laid out in rows, a radio that isn't, a Mac Pro that looks like a wastepaper basket from a Soho art gallery, and some eyeroll-inducing catch-up cloud blah that puts apps no one really uses in a place they don't really want.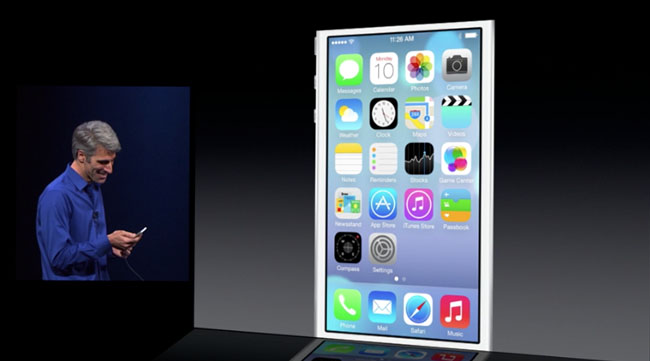 'Come back to my place and see my Spangles?'
At the beginning, I referred to a lack of "useful criticism". I don't mean to criticise my colleagues' coverage of the Spangle-Not-Bin-Blah event so much as wonder whether the carefully managed leaks have deftly manoeuvred us into a corner of someone else's making.
Smartphone interfaces that look a bit flat rather than a bit bumpy are hardly a topic of significant depth, and writing about them is hardly investigative journalism at its height. Yes, lots of people are interested in Apple product design for plenty of business and historical reasons, but investigating what some geezer on Infinite Loop has done with the app icon for Find My Friends ranks low on the old Dabbsy thrillometer.
Perhaps a plodder like me has a limited imagination but I would like Apple to spend a little less time trying to distract us with sparkly newness and a little more time on boring usefulness. I can be shallow enough to be delighted by shiny things, just like anyone, but the dreary everyday challenges of actually buying and using this kit will always win over, and so it's the latter I wish we could concentrate on.
It's probably just as well that I don't personally attend events such as WWDC, and even if I did, it's just as well that they don't invite questions from dullards at the back.
I still writhe with embarrassment at my own unworthy heckling of a polite presenter during an HP demonstration of its first Bluetooth personal printers some years ago in that difficult pre-Wi-Fi era. But heck, what was I supposed to do? He was telling us that printing from a laptop via Bluetooth meant that we no longer had to walk up to the printer to plug into it. I shouted out that surely at some point I'd have to walk up to the printer to collect my printout anyway, so what had actually been achieved other than a bit of technological testicle smoothing?
Gah, cringe. Sorry, sorry, sorry.
Anyway, at the top of my dullard's wishlist is for companies such as Apple to bundle free port adapters with all its products. If each new wave of expensive hardware devices is going to sport a new set of rectangular holes at the back or the base, the least Apple could do is not sting us for extra-cost adapters simply so we can use them with our existing equipment.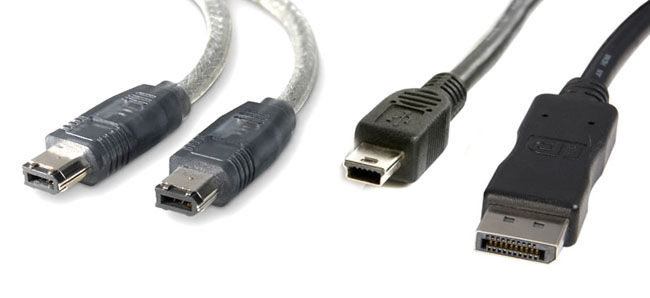 Redundant, all
When six-pin Firewire 400 was superseded by nine-pin Firewire 800, for example, I did what any right-minded person would do: I ditched Firewire altogether. You only have to look at USB's design consistency and backwards compatibility, clunkiness and all, to appreciate its longevity.
"What about mini USB ports?" you cry. Funny you should ask, but every device that I have ever encountered that relied on a mini USB port was supplied with a mini-USB-to-USB adapter cable in the box.
Basically, I am not whinging about improved standards or my failure to keep up to date. If Apple wants to charge ahead with better I/O, all well and good. Just stick with backwards-compatible ports and I'll be happy. And if they aren't compatible, put some adapters in the box rather than charging me £40 a pop for each.
I'm still fuming from 2008 ago when they switched from the original Display Port to the Mini Display Port. Despite the "Mini" moniker, the latter does not look much smaller to the original – at least to the untrained eye – but is actually completely different in shape as well as size. I found myself in one rather embarrassing situation looking utterly gormless in front of an impatient paying audience as I discovered to my horror that none of the kit provided for me on stage would plug in to each other.
I ended up turning the laptop screen to face the incredulous spectators and then trying to describe what they couldn't see with the help of enormous, flailing gestures.
Even now, when I work in offices filled with iOS developers, these poor sods spend half the day walking up and down the aisles asking if they can borrow "the right" cable, ever since Apple changed them last year. Some helpful soul nipped out to PC World to buy a whole bunch of the new 8-pin Lightning cables for general use, but now there seems to be a lack of the old 30-pin adapters.
On the other side of the room, the Android developers look increasingly smug. Their micro USB to USB cables work with everything.
Besides, are these adapters really too expensive for struggling startups such as Apple to bundle? Skincare giant Nivea recently ran a back-page advert in Brazilian magazine Veja Rio in which the ad itself is a solar-powered, USB-based smartphone recharger.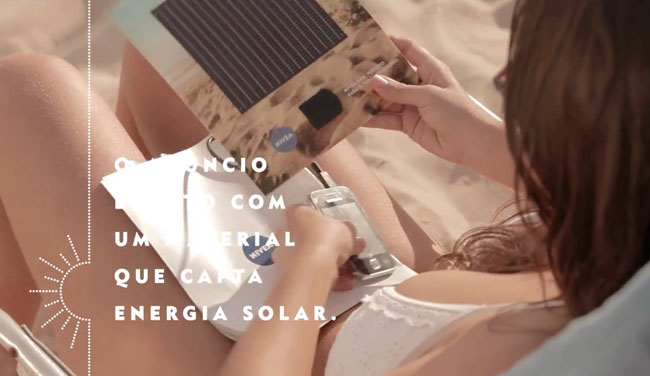 Your free Brazilian... solar phone charger
Free. On the back of a magazine.
Come on, Apple, I couldn't give a flying fuck about your flat Spangles. Give me something I can use. ®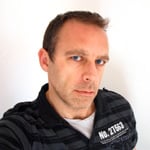 Alistair Dabbs is a freelance technology tart, juggling IT journalism, editorial training and digital publishing. He believes that the current discussions about skeuomorphism arose purely because it is the first time anyone has been able to insert the word 'skeuomorphism' into conversation. And it is fun to say out loud. Skeuomorphism... rhââ lovely.
Sponsored: Minds Mastering Machines - Call for papers now open