Acer Iconia A1-810: The Android tab longing for eight-inch Apple action
iPad Mini? We've heard of it
Middle of the road
If you're right-handed and you tend to hold a tablet near the bottom corner rather than the centre, you'll also partially block the A1's single speaker on the back edge. You'll not miss much: the speaker is a rather tinny affair.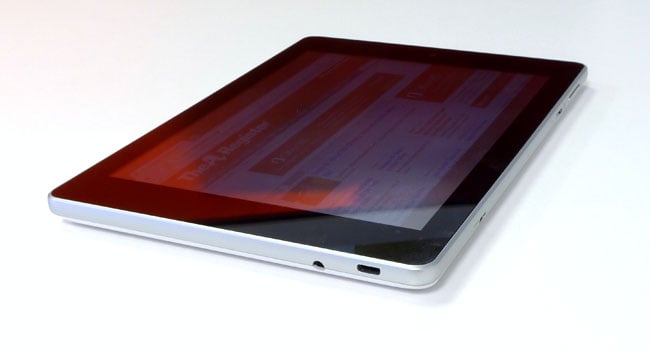 The case is plastic, but it seems reasonably sturdy
Ditto the tablet's separate micro HDMI port, but that's not likely to be a problem when you have a cable in place. Along the A1's edges you'll find a Micro SD slot too - there's already 16GB of storage on board - plus micro USB and a 3.5mm headphone jack. Only single-band 802.11n Wi-Fi, though.
The cameras are marginally acceptable, although the front-facing 0.3Mp webcam is curiously angled so that if you look directly at the screen, the bottom third of your face doesn't appear. To get your mug on the screen so your interlocutor can see you properly, you have to point the screen at your throat.
At the A1's UK launch, Acer was keen to tout its own addition to Android: Touch WakeApp, a settings utility that registers a five-fingered tap on a sleeping tablet's screen and not only awakens the tablet by auto-launches the app you've selected. Provided there's only one user defined on the tablet, Touch WakeApp will bypass the lock screen. Well, kind of. The lock screen still appears, and you have to wait, briefly but noticeably, while the utility opens the device for you. It's fractionally quicker than powering up and unlocking manually, but I'm so accustomed to press-swipe-play, I found myself barely using Touch WakeApp.
AnTuTu Benchmark Results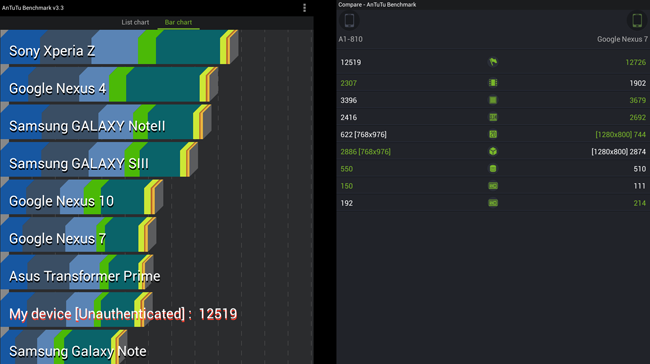 Inside the A1 sits a MediaTek ARM-compatible quad-core processor running at up to 1.2GHz and 1GB of RAM to play with. It runs Jelly Bean 4.2.2. The AnTuTu benchmark app gives a score of 12,573 - give or take a few points the same score the Nexus 7's Nvidia Tegra 3 chip yields. In use, the A1 feels smooth and responsive. The battery life isn't amazing, just shy of four hours playing a looped 1080p H.264-encoded movie, for instance, with Wi-Fi on and the screen's backlight on max.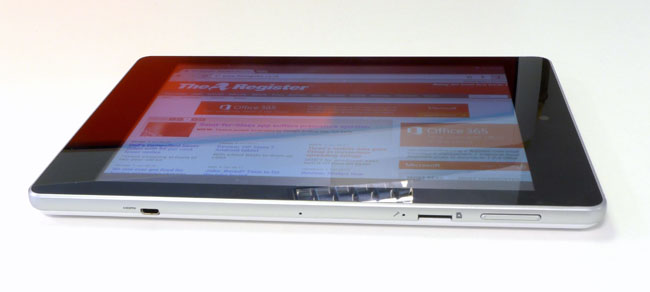 Well connected: Micro SD expansion and Micro HDMI telly linkage
The Reg Verdict
It may look like one, but the Acer A1 is no iPad Mini. For a lot of folk, though, that in itself is a benefit. Android buffs seeking an eight-inch tablet have few other choices than the A1, and the iPad Mini is obviously not among them. And, it has to be said, the Acer offers much better expansion and connectivity than the Apple product. It's clearly less expensive to manufacture than the Mini, but then it costs a whole lot less too.
But so does the Nexus 7, which is cheaper than the A1 and yet, in many respects, better. The A1 has, again, better connectivity and expansion, and a rear-facing camera too, but I'd personally trade all that for the 7's superior - colour, resolution, brightness - display. You can probably say the same for plenty of other low-cost but big-name tablets: the Amazon Kindle Fire HD, say, which lacks the A1's Micro SD port and cameras but has HDMI output.
A tablet is a device designed to be primarily looked at, so it seems daft to me to compromise on that device's screen quality, unless you really need Micro SD expansion or a stills and video camera. The Acer A1 is a functional if lacklustre tablet. Unless you're wedded to the eight-inch format, you can make a better buying choice than this one. ®
Sponsored: Minds Mastering Machines - Call for papers now open

Acer Iconia A1-810: The Android tab longing for eight-inch Apple action
A low-cost Android tablet with an unusual screen size: 8 inches.
Price:
£170 (16GB) £220 (16GB + 3G) RRP