NetApp musters muscular cluster bluster for ONTAP busters
Storage array OS overhauled to juggle more nodes, go down on you, er, less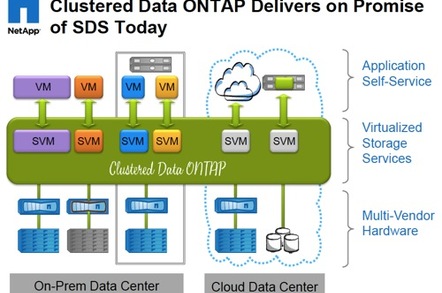 Data-vault biz NetApp has updated its ONTAP operating system to handle bigger clusters and require less downtime.
It is presented as software-defined storage, although it is not typically sold separate from the NetApp controller hardware on which it runs. The company wants to tout ONTAP as an enterprise-class storage system as well as showing it off as a mid-range system.
NetApp has also doubled the capacity of its controller-attached Flash Cache product to 2TB. It says Flash Cache 2 speeds up random read-intensive storage workloads "such as file services, messaging, OLTP databases, and server and desktop virtualisation".
Clustered Data ONTAP 8.2, with its networked file and block data access, provides non-disruptive operations and supports up to 69 petabytes of capacity, 24 controller nodes, 49,000 LUNs, 12,000 NAS volumes accessible by more than 100,000 clients and single file containers of up to 20PB in size.
In more detail we find:
49,000 LUNs in an 8-node cluster.
12,000 volumes in a 24-node cluster.
Infinite volume support for NFSv4, pNFS and SMB 1.0.
400TB aggregates (a aggregate is formed from a collection of RAID groups).
Intra-cluster FlexCache, which typically moves hot data to additional volumes or caches it on arrays close to client machines.
Support for Microsoft BranchCache v2.
Through non-disruptive controller upgrades and scaling, NetApp promises its clustered arrays surpass five nines availability, and 99.999 per cent uptime (about five minutes in a year).
Other features and enhancements include:
Adjustable quality-of-service levels to ensure storage access to high-priority applications is not prejudiced by low-priority apps gobbling up array bandwidth.
Storage Virtual Machines (SVMs) delivering storage services from pooled heterogeneous hardware resources, which can be NetApp FAS arrays or third-party arrays accessed through a V-Series controller, or a supported cloud storage. One or more applications in physical and/or virtual servers can access a storage virtual machine. Quality-of-service levels are applied to these virtual machines.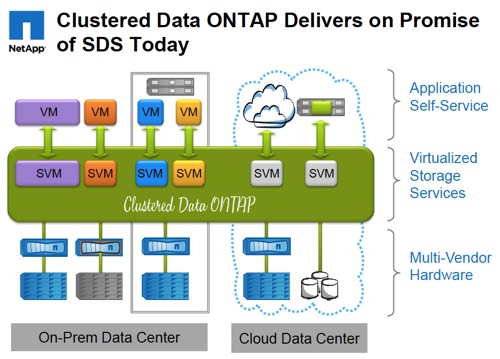 How the ONTAP gear fits together
SnapVault D2D volume-based backup compression, and deduplication savings are preserved over the network and NetApp says restoring petabyte-scale datasets, applications, and virtual machines are instantly available. Gartner has placed NetApp in the visionaries square of its magic quadrant for enterprise backup in June 2013 because of this.
Built-in support for SMB 3.0 and ODX for Windows Server 2012 Hyper-V environments.
Expanded support of vSphere Storage APIs, VMware's Horizon and vCloud Suites.
Support for SMB 3.0, pNFS v4.1, and, of course, iSCSI, FCoE, and Fibre Channel.
Automation and monitoring enhancements for NetApp's OnCommand Management Suite.
The SVM construct was previously known as a Vserver. We can envisage a clustered set of ONTAP array - multiple physical storage silos - that are combined into a single virtual silo from which SVMs are carved out for use by applications in accessing servers. These provide multi-tenant and policy-controlled services via network protocols and APIs.
The biz boasts that, over the past year, there has been "a four-times increase in clustered nodes resulting in 100 per cent quarter-over-quarter growth of deployments", meaning clustered ONTAP adoption has accelerated in terms of the number of nodes installed. However, the company has not revealed any overall customer adoption numbers for its clustering technology. ®
Sponsored: Minds Mastering Machines - Call for papers now open