Report: Cloud could slash biz software energy use by 87%
Study sees millions of redundant servers slurping power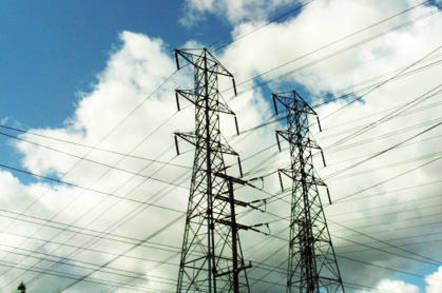 If every US company would shift its core business-software applications from in-house equipment to the cloud, the amount of energy used by that software could be reduced by as much as 87 per cent, a new study claims.
The study, which was published on Tuesday, was conducted by Lawrence Berkeley National Laboratory – a government lab overseen by the US Department of Energy – and Northwestern University's McCormick School of Engineering, with additional support and funding from Google.
It found that if all of the email, productivity, and CRM software in the US was running in the cloud instead of on premise, the primary energy footprint of this software could be reduced by as much as 326 petajoules (PJ).
"Primary energy" refers to energy that is stored in the form of raw fuels. In this case, 326PJ of primary energy would be sufficient to produce 23 billion kilowatt-hours of electricity – enough to power the City of Los Angeles for a year, the study claims.
"These energy savings are mainly driven by increased data center efficiency when using cloud services (email, calendars, and more)," a related page from Google explains. "The cloud supports many products at a time, so it can more efficiently distribute resources among many users."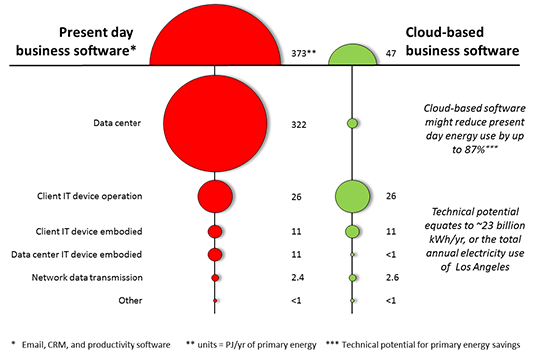 Shifting software to the cloud can really help slim down the petajoules (Source: Lawrence Berkeley Lab)
Most of the energy savings were associated with email and productivity software – which is logical, given that a smaller proportion of workers use CRM software overall, and CRM software from SaaS vendors such as Salesforce.com is already in widespread use.
Email systems consumed the most energy of all, because email servers tend to be widely dispersed in small data centers, where systems are underutilized. The study estimates there are currently some 3.6 million email servers in use, scattered everywhere from cloud and enterprise-class data centers to small-business server closets.
Productivity software – here defined as "bundled software that facilitates word processing, file sharing, collaboration, presentations, and data analysis tools such spreadsheets" – was less wasteful, but there are still some 1.3 million productivity software servers in the US that could be moved to the cloud, the study reckons.
According to the report, shifting to the cloud could reduce the total number of email servers needed nationwide from 3.6 million down to 47,700; productivity servers could be reduced from 1.3 million to 32,400; and the whole US could run its CRM applications off just 4,390 servers, down from 73,000 servers.
What's more, the total number of external hard disks required to support all three categories of software would go down as well, with the number of disks needed to support all of the US's email systems being reduced by 33 per cent.
These equipment and energy savings estimates are based on the Cloud Energy and Emissions Research (CLEER) model, which was developed independently by Berkeley Lab and Northwestern University to study the net energy and emissions implications of cloud services versus traditional IT.
The model has been made available to the public in open-access form, and materials describing how it works are said to be "coming soon." Although CLEER was primarily designed for use by the energy research community, the researchers believe it should also be useful for policy wonks and business brains who want to understand their own IT energy usage.
"We can't fly by the seat of our pants when it comes to assessing sustainability," the report's lead author, Northwestern University's Eric Masanet, said in a statement. "We need numbers – hard data – to properly analyze how cloud computing compares to how computing is done now."
Whether you believe this particular study's "hard data", dear reader, is entirely up to you. Although the study was led by researchers at Berkeley Lab and Northwestern based on their own past work, it was funded by Google, which obviously has a vested interest in promoting cloud computing over other forms. The researchers are also the first to admit that their power consumption estimates are not perfect:
In particular, our reliance on publicly available data is a significant source of uncertainties, given that data were drawn from a number of different studies and sources that were published in different years and with differing scopes and regions of analysis.

Furthermore, there exists a chronic lack of data in the public domain for deriving consistent and current analysis assumptions related to the installed base of servers, the use of different data center types by firms of different industries and sizes, the use of business software and client devices, and the efficiency and redundancy practices of data center operators.
The report's authors go on to explain that highlighting the need for better-quality data was one of the chief goals of both the study and the development of the CLEER model. Because all of the data sources used in the study have been cited and are publicly available, independent researchers can load the data into the model and examine the results for themselves.
"We ... hope that these resources can enable and encourage more research activity and interest, as well as demand and impetus for better public use data that can lead to more accurate and useful analyses," the report states. ®
Sponsored: Minds Mastering Machines - Call for papers now open