Apple unveils hints of Monday's new-product announcements
So much speculation from so few clues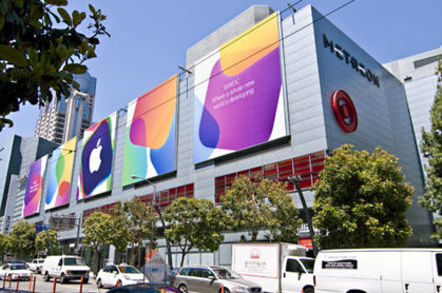 Photos Apple has tarted up San Francisco's Moscone West convention center, where it will hold its Worldwide Developers Conference (WWDC) beginning on Monday, as well as plastering humongous signs on the Metreon entertainment center across the street. In doing so it has provided more grist for the rumor mill.
It is from such tea leaves and dove's entrails that we fanbois must divine our hopes and predictions as to what will be announced when Apple CEO Tim Cook takes the stage – as we presume he will – on Monday morning for the WWDC keynote.
Hanging in the Moscone lobby is a sign that provides almost certain evidence that iOS 7 will be on the agenda. We say "almost" because experience tells us that nothing is ever certain about an Apple product release until a Keynote slide appears on the big ol' screen behind the presenter and the assembled multitude oohs and ahhs its approval.
Apple could alternatively be announcing that the iTunes Store has secured the rights to Seven Brides for Seven Brothers or "7 and 7 Is", or would be treating its developer cadre with catering by San Francisco's Seven Hills restaurant.
Those possibilities would certainly tickle the fans of Howard Keel, Arthur Lee, or Alexander Alioto, but we're going to stick our neck out and say that it's iOS fans who'll be pleased.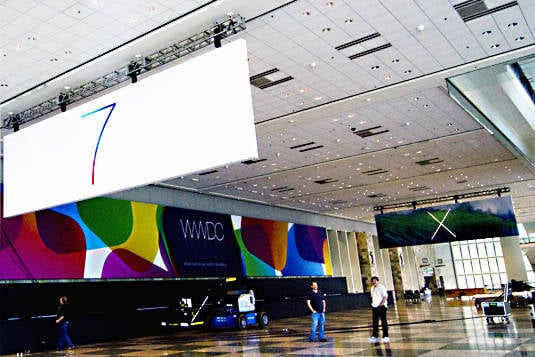 Two signs, two characters, and a Library of Congress–worth of speculation
Interestingly – and here we're going to sail into riskier rumor waters – the "7" sign in Moscone's lobby is simple. Could this presage the "flat design" aesthetic that Apple's überdesigner Jony Ive is said to be bringing to the iDevice OS's user interface? Could be, could be...
Notice also in the photo above that there is another sign deeper in the lobby that, like the "7" sign, has but a single character on it – in this case, "X".
Maybe that sign is a merely a reference to a certain Spike Lee movie, but our money is on Apple's now-secondary operating system, OS X, which will certainly be discussed not only from the keynote stage, but also during many technical sessions during the four-day run of the conference.
There have been recent rumors that the next iteration of OS X, version 10.9, is just about ready for distribution to developers during the conference. Seeing as how Apple has used WWDC in the past to distribute betas to its devs, we're predicting that the well-rumorized OS X 10.9 – whether it be called Lynx, Sabretooth, or Bill the Cat – will make its debut on Monday.
But what are we to make of the giant, colorful signs adorning Moscone's neighbor, the Metreon?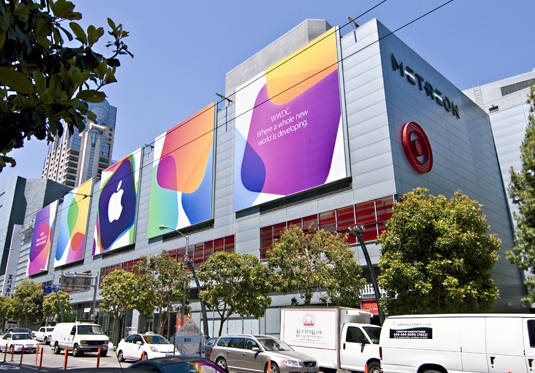 'WWDC,' the signs on each end read, 'Where a whole new world is developing'
So much color for a company that prides itself – except for its iPods, of course – on its sleek silver-and-black design language. Could these splashes of brightness mean that the rumored inexpensive and multicolored iPhone line might be at least displayed, if not debuted? Multicolored iPads? iPad minis?
Here, the tea leaves disintegrate and the entrails decay. If we had to venture a guess, we'd say no. From what we've been able to glean from the grindings of the various and sundry rumor mills, those products are not yet ready for release, and Tim Cook's investors would be none too pleased if he tamped down iPhone 5 sales by announcing a new, less expensive, and more colorful iPhone series, but one that wouldn't go on sale for a month or more.
We don't expect any iPhones to make an appearance at WWDC – except, of course, in Cook's traditional opening act, during which he trumpets the success of each and every Apple product and service.
Of all the other rumored possibilities for a WWDC debut – revamped MacBooks, the free ad-supported iRadio streaming-music service, and a less-likely revamped and possibly rebranded Mac Pro (please, Mr. Cook?) – the oracles of signage are silent.
Monday is but a few days away, so if you can read anything else into the signs in the photos above, we'd love to read them in Comments. ®
Sponsored: Minds Mastering Machines - Call for papers now open