IT staff clamouring to pay for their own BYOD kit, says survey
Let me cough up for my essential work gear or I'll QUIT!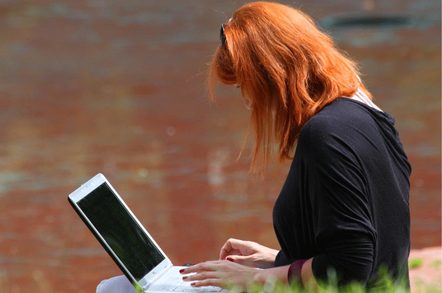 Over two thirds of US mobile workers now pay for their own kit, with a further third saying that choice affects their choice of employer – making BYOD more important than ever.
The numbers come from iPass, global provider of connectivity to those mobile workers, but reflects a trend where bringing your own device (BYOD) into the office is becoming the norm. If iPass's numbers are to be believed, should be welcomed by employers looking to increase productivity.
iPass does these surveys every three months or so, generally pointing out how expensive Wi-Fi is around the world (the majority of those polled have, in extremes, paid £13 for one-time access to Wi-Fi), but other snippets also emerge from the free (pdf, registration required) report.
70 per cent of US mobile workers now pay for their own kit, and 35 per cent say that ability sways their choice of employer. 82 per cent of the 1,148 workers polled reckoned they were more productive at home than they were at the office, despite the distractions of children, pets and partners; interesting, if a little doubtful. Thankfully, the office still rates above hotels and coffee shops as a work venue, with public transport being the least efficient place of work.
Using one's own device in those locations is important too: while 35 per cent said it would actually sway their decision about a job, only three pre cent said they would reject an employer on that basis. Globally, over 70 per cent said their company had a policy on permitting employee-owned devices into the workplace.
All those devices apparently let them work longer, with mobile staff in the US clocking up 50 hours a week. Europeans and Asians only manage a paltry 47 and 48 hours respectively of toil per week.
Hotels unsurprisingly top the chart for expansive Wi-Fi connectivity. US hotels seem to have cottoned on to free wireless, but in Europe and Asia it's often cheaper to use mobile data networks. Cheap hotels in Blighty tend to bundle Wi-Fi into room prices, but more comfortable accommodation tends to try and make a fast buck, on the basis that guests are claiming it all on expenses anyway.
The trend for BYOD is nice for employers, who save money and get more work out of their staff, but bad for network administrators who have to manage all this stuff.
Or perhaps not. Perhaps admins should be embracing BYOD in the interests of their own employment - as our resident careers advisor explained: "The list of stupid fiddly problems is endless ... [BYOD] takes us back to the 1980s when users valued the break/fix PFY who came and sorted out their tech lives ... It's a good gig that will last for years". ®
Sponsored: Minds Mastering Machines - Call for papers now open