HP reinvents intranets as cloudy managed services
Yet another response to CIOs with iPads and workers who want Dropbox
HP has cooked up a product it calls "Next Generation Information Worker" (NGIW) that aims to pick up where intranets left off and deliver an environment that doesn't leave the rising generation of iPad-and-smartmobe-wielding office drones screaming for the apps they use at home.
HP's Australian outpost "co-developed" the product with 13 local government agencies, including Australia's Department of Defence. The local outfit will now go on tour to help other HP offices start selling the service.
The thinking behind NGIW is to help enterprise and government clients that operate bureaucratic process do so more efficiently. There's a recognition that some of those processes can't be entirely automated and therefore require human intervention at various points, but that humans are made to jump through hoops to make those interventions. That circus act makes those business processes inelegant and costly, which no-one wants, especially those fond of web-greased interactions that make stakeholders smile.
One doesn't actually buy NGIW to achieve that outcome. Instead, one asks HP to fire up a records management, document management or collaboration service and do some integration. That effort will identify and link existing information sources and pipe them out in ways that enable workers to get stuff done without the complication of logging on to multiple applications or ferreting about looking for data to get stuff done.
End-users get to work in a user interface that was probably called a "dashboard" last week and which has adopted all the design language of Windows 8's UI, aka The Interface Formerly Known as Metro (TIFKAM). A knowledge worker whose job requires them to review and approve documents would therefore gain their own dynamically-numbered "tile" indicating how many tasks lie ahead of them. Clicking on the tile takes the user to either the relevant app, or to other NGIW screens that scrape other apps into its interface, so the job can be done. Along the way users can create their own profiles, even linking in their LinkedIn or other social services to give the suite the required dose of modernity.
HP will gladly host the plumbing and any new repository of data it creates in its own cloud, and serve the TIFKAM-esque web UI from there too. That arrangement's pitched as a risk-reducer, as HP's assessment of its potential client base for NGIW (enterprises and government) suggests they're strapped for cash, terrified of fluffing a project and desperate to show return on investment for anything they attempt.
NGIW doesn't require any particular backend apps to be present, but Debra Bordignon, HP's chief technologist and innovation leader in the office of the CTO for the company's Asia-Pacific and Japan enterprise services group (and yes, that's all on her business card) said SharePoint users are firmly in the company's sites as many "had a red hot go at SharePoint and tens of millions later" haven't reached their goals.
HP's also built links between NGIW and its own TRIM document management tool and says it will do likewise for third-party document management tools.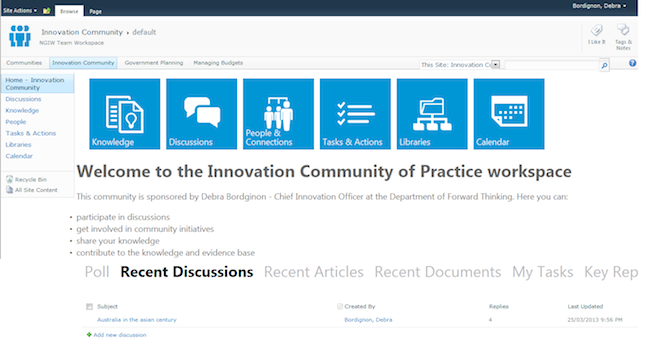 HP says a TIFKAM-like interface is what the "co-developers"
of the Next Generation Information Worker tool want
Bordignon and Alan Bennett, HP's veep for enterprise services in the south pacific, both made much of NGIW's ability to satisfy senior execs who have become fond of their iPads and want the organisations they tend to have stuff that behaves like Jobs-spawned fondleslabs. Satisfaction for wage slaves accustomed to doing things the Facebook or Dropbox way is also guaranteed.
NGIW therefore presses a lot of hot buttons: it's social, offers a "flat" interface, does the kind of integration and turning-disparate-apps-into-logical-tools tricks that are seldom unpopular, throws in the "we've built most of the IP already so we're not learning on you" risk-reducer and even does the whole elastic/cloud/managed services thing offer a modern method to procure the service.
At it's core, however, NGIW is a modern intranet. Bordignon tried to avoid the word and declared that past generations of intranets hadn't delivered on their promise, or kept pace with what enterprises wanted from their captive webified apps. Bordignon also admitted that NGIW doesn't offer unique functionality, but feels it is the first product of its type to integrate them and therefore offers a faster route to a useful tool. ®
Sponsored: Minds Mastering Machines - Call for papers now open