LOHAN team regroups for second pop at SPEARS
English Channel not invited to ballocket control board balloon mission
Fans of the Low Orbit Helium Assisted Navigator (LOHAN) spaceplane project should mark Saturday 13 July in their diaries, because that's when our elite team will once again assemble in Blighty's Baikonur* for the second test flight of the Special Project Electronic Altitude Release System (SPEARS) board.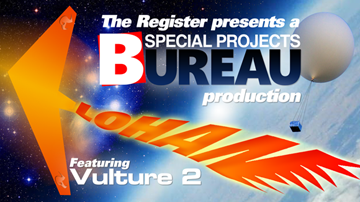 As LOHAN regulars will know, our first pop at getting SPEARS aloft in December last year featured a majestic soar heavenwards and then a rather unfortunate ditching in the English Channel, resulting in the loss of our heroic Playmonaut.
The principal purpose of the test was to ensure that SPEARS would fire the Vulture 2 aircraft's rocket motor custom igniter at a predetermined altitude, as determined by GPS (see here for more details on the board).
Since we didn't have a submersible handy, we're still none the wiser as to whether the thing did the business. It's absolutely critical that it does - and the clock is ticking - so we've dusted ourselves down and prepared another SPEARS board for dispatch to the stratosphere.
On site will be the usual suspects (from L-R): Anthony Stirk, Dave Akerman and Neil Barnes...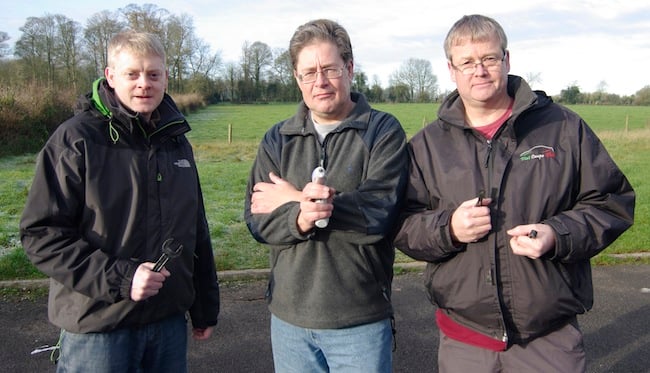 ...and we'll be joined this time around by rocket motor wrangler Paul Shackleton, who'll be fettling the igniter and familiarising himself with SPEARS.
While we're confident our control board will deliver, we're not taking any chances. Over the past couple of weeks, we've been working through your suggestions for an ignition failsafe, and are preparing two for possible deployment on the flight. One of them will fly, that's for sure, so if SPEARS goes titsup, we'll have a back-up system. More on that in due course.
So, 13 July is the day, weather permitting. Hopefully, we'll be able to bring you live coverage of the launch, and Dave is threatening to beam live pictures from on high via his impressive Raspberry Pi camera set-up. We'll bring you full details closer to the date.
Onwards and upwards, then. I'm sure readers will join me in raising the traditional pint to the guys for all their magnificent voluntary efforts in pursuit of LOHAN. ®
Bootnote
*Brightwalton in Berkshire, the centre of UK High Altitude Ballooning (HAB) activity.
---
Further LOHAN resources:
---

Sponsored: Minds Mastering Machines - Call for papers now open