Review: HP Slate 7 Android tablet
With added Beats to drum up sales
Sound thinking
Still, text is certainly sharp enough for e-reading even if the screen has a faint graininess to it which is more apparent with photo and video viewing. This understated contrast does get more punchy if viewed straight on but who does that habitually? The HP Slate 7 isn't unique in this respect though, most tablets of this size and resolution exhibit similar characteristics. If you want crisp and clear then you'll have to shell out for an HD screen tablet.
Another not so dazzling aspect is the 3Mp camera on the back. It'll do for a few quick snaps but as I see more and more tourists around London capturing the sights with tablets, the Slate 7 isn't going to please many when they see the video results. The 640 x 480 resolution capture is a bleary, blocky mush reminiscent of those nasty H.263 clips you'd get from phone cameras about six years ago and the audio suffers from babbling-brook artefacts.
On the tablet screen, these shortcomings aren't immediately obvious but go the extra mile and try video editing on the Android Movie Studio app and you'll be in for a shock when you export the results. As for the app, the edit transitions are jerky with the Slate's video recordings and you'll wonder why you bothered.
The front facing VGA webcam doesn't do too bad a job though, with auto white balance delivering reasonably human skin colours in mixed lighting environments.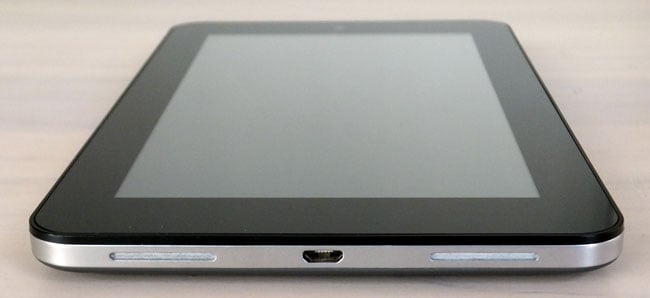 7in tablet speakers are typically awful and these are no exception
As for audio, tablet speakers have never been a strong point and the Slate 7 has just about enough power to make a movie audible without headphones, just don't breathe too loudly. You'll not want to hear to music this way either, especially as the Beats Audio bass boosting really does make quite an impression on headphone listening warming up the sound considerably without being too overbearing. Movie soundtracks really benefit from this treatment too.
If you have a movie habit then the microSD card slot will come in handy and hot swapping didn't produce any problems. You'll want to instal VLC Player or something similar to ensure AVI playback. It did struggle with HD content though, so you'll need to test out your library first before jetting off somewhere. However, SD playback was a walk in the park. Needless to say, there's no MHL function for HDMI via the micro USB port – the only accessories on the site are headsets. Incidentally, HP does supply a mains adapter. The battery life isn't amazing and if you're likely to run it at full blast during the day then you might have to get used to charge intervals akin to a smartphone.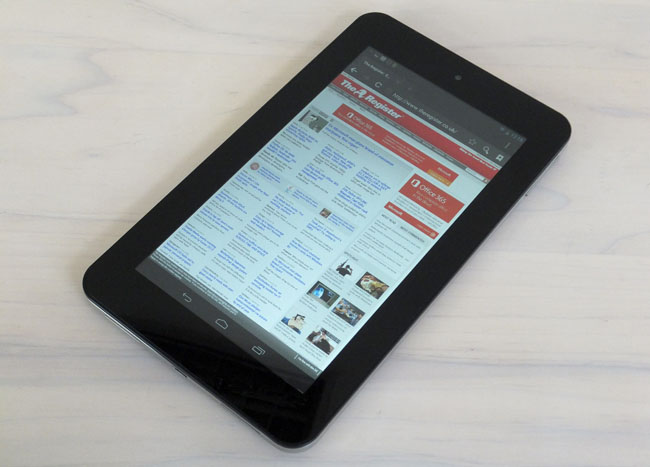 A nice enough tablet, just not cheap enough given the alternatives
In its favour, the HP Slate 7 seems to be put together quite well. Rather than an aluminium frame encapsulating the screen, it features a stainless steel band around the sides (iPhone 4 style) with black plastic beading along the edge of the screen. The latter might be an advantage if dropped, cushioning the blow a little, rather than have metal bending in and cracking the screen. Maybe, maybe not. The back has an anodised metal appearance, but is soft touch plastic and looks rather smart.
The Reg Verdict
For all its good looks, the HP Slate 7 does seem a bit of a mixed bag. The Beats Audio treatment is impressive with both music and movies, but the tablet itself is not too happy with HD content. The 3Mp camera on the back is a bonus and OK for snaps but with video it's terrible. Given its weight you might expect something more than a 13.4Whr battery too although, luckily, you're not stuck with just 8GB of storage – the redeeming feature here is its micro SD slot. So there are pros and cons aplenty, but with 16GB 7in HD tablets around for the same price, the HP Slate 7 is not exactly an easy sell. ®
Sponsored: Minds Mastering Machines - Call for papers now open

Review: HP Slate 7 Android tablet
HP adds Beats Audio to beef up the appeal of this Dual-core 7in Android tablet with 1GB RAM, 8GB storage and a micro SD slot.