Microsoft: Our clouds don't bleed you to death
And VMware's hybrid cloud doesn't make any sense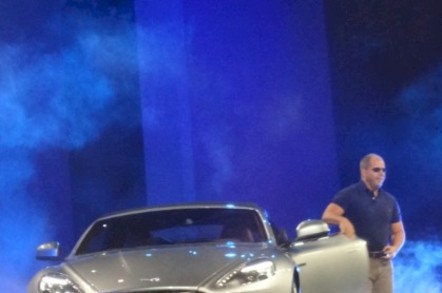 TechEd The battle in the data center a few years back was VMware's ESXi hypervisor and its vCenter console versus Microsoft's Hyper-V and cloudy add-ons to its System Center control freak. And now, the battle is moving out into the cloud.
Microsoft has deep pockets and a vast installed base of Windows Server shops to leverage: customers that VMware served brilliantly during the server virtualization wave of the last decade because Microsoft didn't have its Hyper-V act together.
VMware is not going to be so lucky this time.
That is the attitude of Brad Anderson, corporate vice president of program management in Microsoft's Windows Server and System Center Group, who orchestrated the opening keynote at Microsoft's TechEd conference in New Orleans. He also spoke with El Reg about how Microsoft is ready to take on VMware even as Virtzilla is getting ready to fire up its own vCloud Hybrid Service.
That hybrid cloud aims to give customers who have deployed ESXi internally to virtualize their x86 servers a place in which they can deploy virtual machines to an absolutely compatible ESXi cloud using VMware's vCloud orchestration tools. But just because companies deployed ESXi in the past to do server virtualization does not mean they will stick with ESXi as the underpinning of their private clouds – particularly if Microsoft's Windows Azure turns out to be more compatible with the stuff in the data center than the vCloud Hybrid Service, and less expensive as well.
In his keynote, after a demonstration of the Azure Feature Pack that will bring the Azure portal, high-density web serving, and other features from Microsoft's public cloud to private clouds run by enterprises, Anderson banged the drum that customers should demand that their public clouds be "consistent" with their internal ones.
Being clever, he did not say the word "compatible," which is a very precise term in the computer racket. Nearly three years ago, Microsoft had a plan to load up Windows Azure code on HP, Dell, and Fujitsu iron and peddle little slices of its cloud so companies could have absolute compatibility, but after the keynote Anderson told El Reg that this effort was "a learning experience" and would not elaborate further on why Microsoft will not peddle literal slices of Windows Azure so customers can deploy them on its data center. Amazon refuses to do so as well, so Microsoft is in good company there.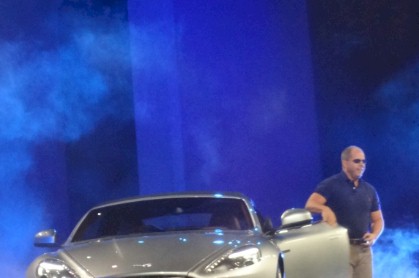 Brad Anderson arrives Bond-style at TechEd – in an Aston Martin
When picking a partner for your cloud, Anderson said, you have a number of things to consider, and his comments were clearly aimed at Amazon Web Services and VMware's vCloud stack and vCloud Hybrid Service.
"You are looking for a partner that is investing to give you reach around the world," said Anderson. "And when you build out these public cloud infrastructures, you are investing in capex that is literally measured in billions [of dollars]. As we build out Azure, we are deploying hundreds of thousands of servers per year, and it is a significant investment."
Microsoft, Anderson told El Reg, would be the largest consumer of servers in the world this year, and that includes Amazon, Facebook, and others that buy from OEMs or ODMs.
"You are looking for a partner that has a guaranteed SLA," Anderson continued in the keynote. "And finally, you want a partner that gives you flexibility. You might be running in the cloud today, but if you want to bring that back into your data center, you have that flexibility and you are not locked in.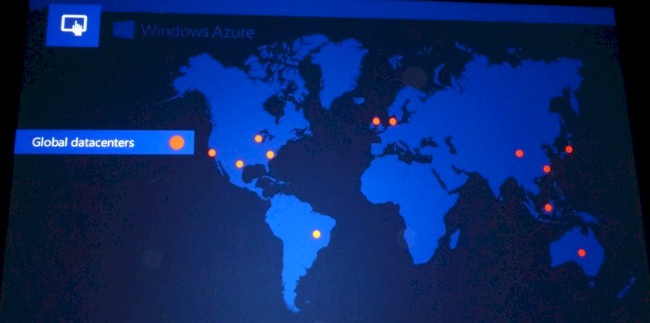 Microsoft has a dozen data centers, including one in China run by 21Vianet
You also, said Anderson, want to have global support that has local offices in your area as well as billing that is done in your own local currency, and Microsoft does both with its software stack and its Windows Azure service.
So, let's review. Amazon Web Services has built out a massive global cloud running sophisticated infrastructure and platform services, but it doesn't believe in private clouds as most enterprises most certainly do. Ditto for Google and its Compute Engine, App Engine, and other cloudy services. VMware has finally figured out that you have to run a public cloud to get the learning you need to build private clouds, but those cloudy features are expensive and hence cloud builders are using open source technologies like Xen and KVM at the hypervisor layer and OpenStack and CloudStack at the cloud control layer despite the popularity of Windows and ESXi in the data center.
VMware might have excellent functionality and an installed base to serve, but as Anderson put it, "you can't say they nickel and dime you, they Benjamin Franklin you," referring to the Founding Father on the $100 bill.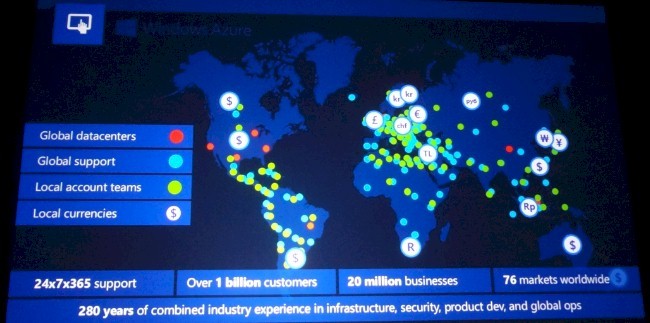 Microsoft is using a very broad definition of the Azure cloud
That doesn't mean everyone is going to have a big private cloud and just burst out to public clouds when needed. Workloads are going to move back and forth across the corporate firewall as economics and fashion dictate. Startups are probably never going to build data closets, much less data centers, unless they grow to such scale that the numbers make sense, and there are on the order of tens of millions of startups each year and most of them fail quickly. There will be this tremendous churn, but it won't be servers moving around so much as VMs coming to life and dying.
"I think that we should use the public cloud as our benchmark," Anderson explained in his keynote. "The amount of innovation, and the rate of innovation, that is happening in the public cloud is what we should all be striving to deliver inside of our organizations as well. We are unique in delivering all of the things that we are learning in the public cloud for you to use in your data centers."
And again, this and the fact that Microsoft is hitting Chipzilla in the pocket is why VMware is compelled to launch its own public cloud.
When asked when VMware would begin to feel the burn from Microsoft's Windows Server 2012, Hyper-V 3.0, Systems Center 2012, and Windows Azure full-court-press, Anderson was blunt. "I think they are feeling it already."
To his point, VMware's new software license sales were down 1 per cent in the most recent quarter, but Systems Center – which is most analogous to the vCenter tool at VMware – was up 35 per cent year-on-year in Microsoft's most recent quarter.
Moreover, every quarter for the past several years, Hyper-V has been gaining a point of market share "like clockwork," based on IDC data, while ESXi has been losing share. Hyper-V now has about a 30 per cent share of all hypervisors installed in data centers and clouds, compared to around 52 per cent for ESXi, according to Anderson, again citing IDC data from memory.
As for the vCloud Hybrid Service, Anderson was equally blunt. "I don't understand it," he said. "One day they zig, one day they zag, and they are not investing in the cloud at the same level we are." ®
Sponsored: Minds Mastering Machines - Call for papers now open