Another senior bod leaps overboard from foundering HTC
Nasty struggle around the C-suite lifebelt locker at Nork despot's fave firm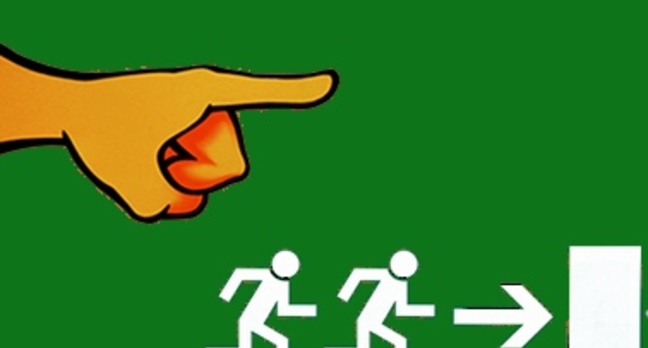 Taiwanese smartphone manufacturer HTC is reeling after the departure of another senior executive.
Chief product officer Matthew Costello has left HTC after three years in post, following at least five of the firm's top dogs out of the door.
Other people to leave the smartmobe maker recently include Kouji Kodera, former chief product officer; Jason Gordon, VP of global communications; Rebecca Rowland, global retail marketing manager; John Starkweather, worldwide director of digital markting, and Eric Lin, product strategy manager.
It is not yet clear exactly why Costello walked out, although HTC reportedly confirmed the news.
Fred Liu, who is president of engineering and operations, will step up to the plate and take on Costello's work, including operations, services and quality control. HTC is understood to have told its employees about Costello's departure in an email.
Costello will still work for the company as an executive advisor after moving to Europe.
Last month, El Reg reported that the smartphone manufacturer's profits plunged by a whopping 98% in the first quarter of this year. Sales dropped by nearly 37 per cent in the first quarter of 2013 to £930m, yielding the firm just £1.85m in profit for the quarter.
Later in the month, former product strategy manager Eric Lin made sure HTC would never re-employ him by unleashing a scathing tweet which said:
To all my friends still at @htc - just quit. leave now. it's tough to do, but you'll be so much happier, I swear.

— eric L (@ericlin) May 20, 2013
Unhappy HTC bosses can take comfort in one small ray of light amid the gloom. They received an unlikely endorsement from batshit insane dictator North Korean leader Kim Jong-un, who was photographed using what appeared to be a black HTC Desire phone which was bought in China - one country in which HTC actually seems to be doing relatively well.
Despite the profit plunge, the firm is hoping its new flagship HTC One handset will sell well enough around the world to change its fortunes. The stakes couldn't be higher for HTC, which used to be the world's top smartphone manufacturer before being soundly thrashed by competitors including Apple and Samsung. Between them the two smartmobe giants ship 22 times more handsets than HTC. ®
Sponsored: Fast data protection ROI?