Qualcomm app 'extends battery life' by analysing fandroids' privates
We'll cut off your data while you're asleep
Qualcomm wants the world to know that lousy battery life isn't its fault, and will prove it with a free Android app for optimising consumption by tracking users' behaviour.
BatteryGuru is supposed to help Android handsets with Snapdragon processors make better use of Qualcomm's flagship chip. In fact, it just blocks the constant updating required by mobile apps, and switches off Wi-Fi when there's no Wi-Fi signal available – but, given that Wi-Fi is a significant drain on the battery, it's worthwhile none the less.
This approach isn't entirely new; a handful of apps offer similar functionality and Motorola's "Smart Actions" uses the same kind of behavioural analysis. Bringing actual intelligence to smart phones is always to be welcomed and Qualcomm's app is quite comprehensive.
Once installed, it spends three days picking up behavioural patterns. After this, the app sets refresh times for other apps based on their usage, switches off the Wi-Fi when the GPS reports a location where no Wi-Fi has been available before, and shuts down all data connectivity when it thinks the user is asleep.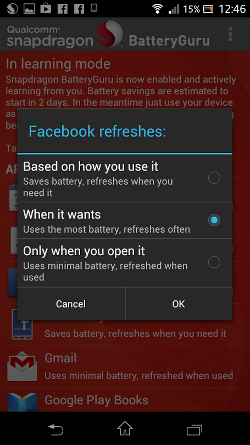 You're not only wasting your battery, you're wasting your life
The user can override any decision, but constantly contacting Facebook's servers all night is not an effective use of networks, nor the power to run them; so intelligent phones which know when not to bother are a good thing.
The explosion in mobile apps has attracted a new generation of developers who know little about mobile data. Short battery lives are blamed on the OS or the processor, which is why Qualcomm has released a freebie which claims to optimise the Snapdragon, while in fact it addresses power consumption everywhere – except for the core chip. ®
Sponsored: Application managers: What's keeping you up at night?