First Cook, now Intel bigwig pokes Google in the eye over Glass
Speech-powered techno-goggles? Meh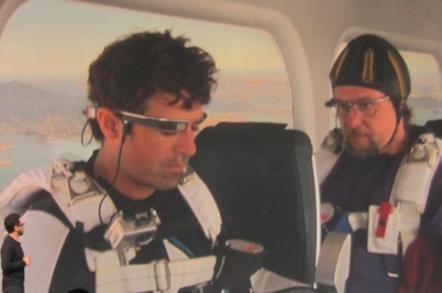 Google Glass, the advertising giant's techno-spectacles that beam information into your eyes, have not impressed Apple boss Tim Cook.
The iPhone supremo reckons that while wearable tech is "incredibly interesting", he doesn't think Google's geeky electronic eyewear will catch on.
And he's not alone in his criticism: Intel's chief technology officer Justin Rattner has told The Register Google Glass is awkward, laughable and not the last word in wearable computing - nor is it even the first.
The enduringly affable Rattner, speaking to the Reg at Intel's Open Innovation 2.0 conference in Dublin last week, expanded on recent comments he made to Scientific American questioning the display, interface, and the graphics architecture of Glass. He even took time to slate the product on style grounds.
"What I said was I think Google Glass is an admission that the display technology is simply not available that will let you overlay the virtual world on top of the physical world in a completely see-through fashion," he said.
"When people talk about headworn displays or headworn computers, that's what they're talking about," said Rattner, just days after mainstream media had a collective swoon over Glass at Google's I/O conference in San Francisco.
Rattner also said the extremely short focal length that forces Glass wearers to "look up [to] see this thing" had been questioned by some medical experts.
He also cited that other great arbiter of style and ergonomics - NBC's Saturday Night Live - as contributing a solid critique of the interface "in considerable and successful detail".
"I think the technical challenge remains to be able to build such a see-through display and do it in such a way that it could be part of ordinary eyewear, not these giant goggles sticking out strapped on your head. I don't think anyone's going to walk around with that," said Rattner before collapsing into laughter.
"I don't think Google Glass is the last word," he said. "I don't think it's even the first word in head worn displays."
Rattner's response could of course be construed as sour grapes. Glass runs on an ARM core, and Intel appears to have no obvious stake in the product. However, the Intel VP and senior fellow said: "It's a challenge - a great technical problem I think. Our researchers love the problem."
Intel was collaborating with other companies to research its own wearables, including headworn kit, said Rattner, though that was "nothing approaching what Google's trying to do … for reasons that escape me."
Rattner ticked off a series of problems any successful headworn devices would need to overcome: the see through display; brightness; focusing at infinity; and field of view.
"Yet even then," he continued, "If you get through all of that the graphics architecture has to change because today's graphics architectures have way too much latency."
While a high-performance graphics pipeline might take 60 to 70 ms from the time an image enters the pipeline to the time it lands in the frame buffer, Rattner said, "for your eye to your brain to feel that it's completely natural you've got to have about 6 or 7 milliseconds - we don't have a graphics architecture that capable of rendering at a latency that low." ®
Sponsored: Minds Mastering Machines - Call for papers now open