No Dell, no EMC? Well, HP's storage champ then
Beats IBM at poorly attended storage benchmark party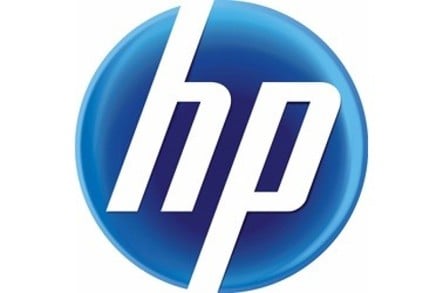 A HP 3PAR system is top of the storage heap in the SPC-1 benchmarks for storage systems costing less than $200,000 and also achieved a top price/performance ranking. Of course, many of the big boys failed to make a showing, so we're not sure how valuable the crown is.
Out of all systems submitted to the Storage Performance Council, the HP StoreServ 7400 wiped the floor with IBM's Storwize V7000, scoring 258,078.23 IOPS - more than double the Storwize's 120,492.34. It also left other mid-range systems trailing far behind, as the chart below shows.
The SPC-1 benchmark provides a cross-supplier rating of how well a storage array performs typical business-critical storage applications. HP submitted its 3PAR, or StoreServ 7400, system and its average latency was 0.86 milliseconds - with controller performance nudged up by SSDs.
The IOPS rating was 114 per cent of IBM's Storwize V7000 and 106 per cent of HDS' HUS 150 array, which scored 125,018.87 IOPS with a $1.59/IOPS price/performance rating.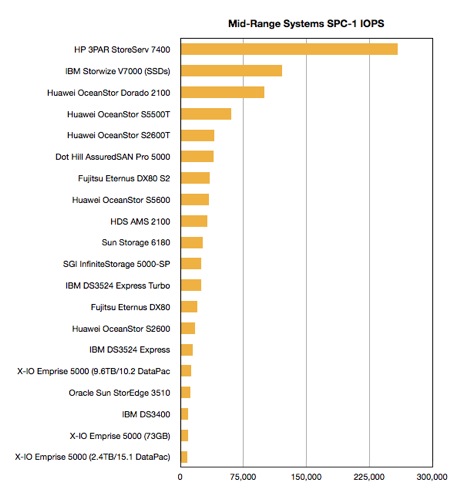 HP got its pricing right, with its dollars/IOP rating ($0.58/IOP) standing at almost a third of the Storwize's $1.50/IOP.
A Huawei Dorado 2100 splits the two with its $0.98/IOP rating, but Huawei's future as a storage supplier in the US is under question, giving the Chinese company's view that its US operations are being downgraded, according to a Financial Times report quoting its exec VP Eric Xu at a New York financial analyst summit in April.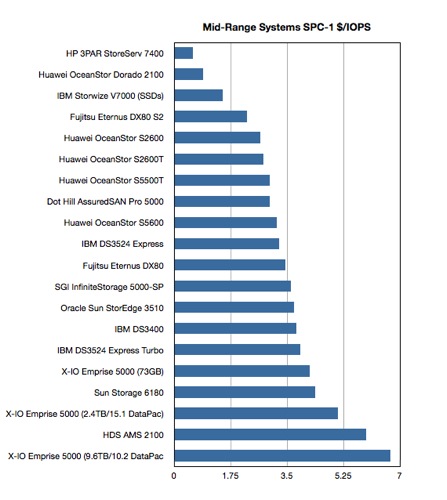 The 7400 also comfortably beat the HUS 150's $1.59/IOP.
Obviously, some of the big suppliers are missing here, such as Dell, and EMC. The performance of Dell's Compellent and EMC's VNX arrays are not being exposed to the SPC-1 searchlight.
Moving away from mid-range considerations, the 3PAR 7400 has scored the second-best $/IOPS rating of all the SPC-1 benchmarks, with its $0.58/IOP only bested by an all-solid state Kaminario K2's $0.40/IOP.
The K2 holds the SPC-1 IOPS record at 1,219,973.91, about five times more than the 7400's 258,078.23 IOPS.
It makes El Reg's storage desk wonder what an SSD-assisted high-end 3PAR 10,000 system would achieve. Kaminario should feel threatened.
You can view the results of the SPC-1 tests on its website. ®
Sponsored: Minds Mastering Machines - Call for papers now open