Facebook Home phone plans canned in the UK
Support for new devices put on ice as well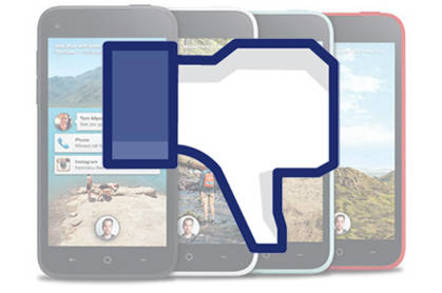 The HTC First "Facebook phone" is not coming to the UK after its frigid reception in the US, and the social networking company is going back to work on the app after mass user apathy.
Neither EE or Orange plan to offer the HTC First, Mobile News reported on Thursday (and El Reg subsequentially confirmed), which begs the question: if users don't like it, won't buy it, and still don't buy it after a mammoth price cut, can a consumer device be called dead?
Facebook Home launched to much fanfare in April as Zuck & Co sought to own their own phone OS by layering the social network atop Android. At launch, the company offered support for a handful of high-end devices along with its own phone developed in partnership with beleaguered talk-slab specialist HTC.
The HTC First was originally priced at $99 in the US with AT&T on a two-year contract, but that price was slashed to 99 cents in May, presumably to encourage sales. A week later, reports emerged that AT&T was dropping the handset altogether.
The many-tentacled application is not well-loved either, with many disgruntled users complaining of the way Facebook Home Facebookifies their phones.
The dismal response has made its way back to the seat of King Zuck in Menlo Park, California, and development of the platform is being prioritized ahead of rolling it out to more devices.
"We've listened to feedback from users on their experience using Home," Facebook told The Register in a statement. "While many people love it, we've heard a lot of great feedback about how to make Home substantially better. As a result we're focusing the next few months on adding customization features that address the feedback we received. While we focus on making Home better, we are going to limit supporting new devices and think it makes a lot of sense for EE and Orange to hold off deploying the HTC First in Europe." ®
Sponsored: Minds Mastering Machines - Call for papers now open