Tech startups, Silicon Valley, not all they're cracked up to be
Business think tank finds $100m companies more likely to emerge in other places, sectors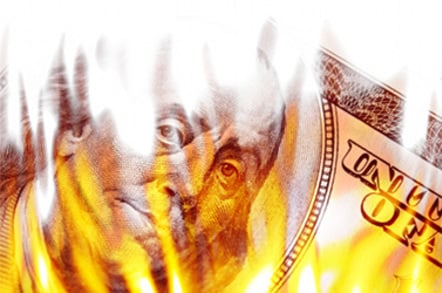 Technology startups are not quite the growth engine they're assumed to be, according to a 30-year study by economic think-tank the Ewing Marion Kauffman Foundation.
The Kaufmann Foundation, to give the organisation its commonly-used short name, happily describes itself as "the world's largest foundation devoted to entrepreneurship."
The study, titled "The Constant: Companies That Matter" (PDF) considers companies with the following three qualities:
They must be scalable. They must, in other words, be able to grow to at least $100 million in revenues, and ideally, much larger.
They must be disproportionate creators of jobs. They must be able to generate jobs quickly and broadly, even if they may not generate jobs in line with their revenue growth.
They must be disproportionate creators of wealth. Both directly,through profits, salaries, and profit-sharing, and indirectly, through equity, options, and perhaps a public listing, they must put wealth back in the hands of the company's ecosystem.
The study says it's worth considering such companies because they are constantly emerging and are therefore worthy of study. That such companies also "make up more than 95 percent of the market capitalization of major stock market indices" , "produce more than 90 percent of the returns for the venture capital industry" and through their acquisitive ways have become "an important source of liquidity and wealth for other entrepreneurs" also makes them worthy of study.
Research for the study saw its author trawl through US financial data dating back to 1980, with any company that achieved $100m in sales included. That methodology produced a finding that "on average, fifteen to twenty technology companies founded per year in the United States … one day get to $100 million in revenues." About four of those are founded in California, with that State's share of startups that matter falling over time.
The report also says that while technology companies' produce lots of "companies that matter", but makes a point of waving a sharp object in the direction of the tech startup bubble by pointing out that "Unsurprisingly, but contrary to some rhetoric, while information technology is important, it is not the most important contributor in percentage terms to the $100-million firms in the United States on a founding cohort basis.
That honour goes "... in percentage terms, [to] consumer discretionary and industrials." The former category includes cars, entertainment and clothes. Industrials are concerned with construction, manufacturing and services. The sectors produce so many companies that matter, the study says, because they are the largest sectors of the US economy after the government.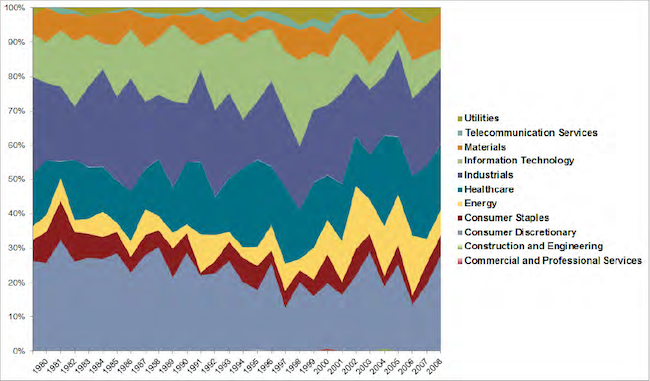 $100m startups by industry, since 1930
The study's not entirely fair to technology companies, because it insists telecommunications outfits are a different category. The definition of "industrials" is also problematic, as many technology companies offer professional services. Consumer discretionary is also a tricky one: do punters really need a fondleslab at home? ®
Sponsored: Minds Mastering Machines - Call for papers now open