BlackBerry Messenger unleashed: Look out Twitter and Facebook
Ignorant tech pundits just aren't down with the kids
This isn't Skype, it might actually be worth something
Put all these advantages together, and BBM not only has a lot of tangible advantages to the user on a daily basis, but is also a much richer platform on which to build things. When it comes to building reliable services, most of its rivals simply are not fit for purpose. For example, it isn't hard to imagine a "BBM Money". But it's quite a stretch to imagine a "WhatsApp Money". The world of VoIP and messaging apps is essentially parasitic, and that kind of business attracts opportunistic startups.
BlackBerry tried building a music service on top of BBM, but it didn't succeed. That may be because the demographic being targeted is acutely price sensitive, and the offering was an incremental expenditure and not a bundle.
One new service has already been announced, but rather disappointingly, it's a me-too: BBM Channels. This is really a marketing tool for brands, giving them engagement analytics (hey, we don't make this jargon up) "assess and monitor follower engagement and interaction." It's more subtle than blasting advertisements at BBM users, but not a great innovation.
Yet there is a genuine revenue stream in VoIP, it's just not well known, for it exists in the shadowy hinterlands that lie between the traditional POTS and GSMA phone world, and the IP-based OTT world. When you make a call to a mobile number, the network receiving the call sends a bill for the termination fee to the network making the call. However, new services can offer to terminate the call for you - acting as a kind of pseudo network.
They draw on numbers acquired from the international number pool, and provide and terminate to this number instead. So, instead of you calling Bob on a classic 077 number, you'll be calling Bob on a number drawn from the pool. The termination rate can then be divvied up in new ways. This, in turn, has allowed all kinds of new services to be offered, such as short-term disposable numbers. Examples include a number for a one-off commercial promotion, or a voicemail box for a dating service, as well as the better known branded OTT services like Pinger.
We discussed the implications of this here and here.
For all the coverage about the rise of VoIP and IP-based messaging, much of it focuses on pure IP-to-IP communications: not on these fascinating new use cases and hybrids. BlackBerry can offer much here, not merely to the punter but to third parties, because its BBM platform is more sophisticated.
So. What next?
The arguments raging in the tech press and fan forums this week focus on whether opening BBM is good or bad for BlackBerry. Let's remember that BlackBerry does not exist to keep fanbois happy, but to maximise shareholder value, and leave that for another discussion. What's pertinent is whether BlackBerry chooses to manage BBM as if it were the sole product of a new and ambitious start-up, or as a legacy product; for this will make a huge difference to its fate. And right now we don't know, because BlackBerry's long-term strategy is the subject of legitimate speculation.
It's clear from BlackBerry's more recent public statements that it's sympathetic towards platform licensing - and it now has two platforms, BB10 and BBM, to license. What's less clear is whether it wants to stay in the handset business, too. Designing and marketing smartphones requires high investment and reaps a high reward, with enormous cash flow - while a platform licensing business is a much smaller, but lower risk game. Until BlackBerry CEO Thorsten Heins offers a clear strategy instead of hints, we don't know whether BlackBerry will sell off the hardware, or instead focus on the most attractive hardware niches.
Several scenarios could play out.
One is that cross-platform BBM is a dud, as Apple and Android owners fail to notice its value, or don't care, and ignore it - while BlackBerry's hardware business fails. The network dies. In another scenario BBM fails, and BlackBerry's hardware business, against the odds, succeeds. In another, BBM catches fire, while BlackBerry's hardware business - shorn of its most unique asset - goes down the pan. Or… it's trebles all round, as a successful BBM creates a halo effect on BlackBerry, rescuing its hardware business.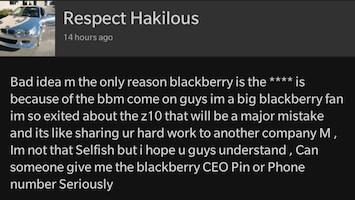 Unchuffed: a BlackBerry user thinks BlackBerry has stolen his toy
BBM may well live a more promising life outside BlackBerry than within it. If it's moored to the mothership, the BBM business has to raise capital through the parent. If it's spun out, BBM as a business will be viewed more differently, and may enjoy more freedom. Today, nobody really queries Twitter's infrastructure costs; they look at growth and try and guesstimate revenue, and so Twitter has little difficulty raising capital. But within BlackBerry, BBM's costs because they're viewed as a drag on BlackBerry.
Critics are correct when they say BBM is entering a crowded field. But they tend to overlook its USPs. And BlackBerry received an unexpected boost this week, from Google. At its I/O developer conference, Google announced its long-awaited unified voice and messaging service. And guess what? It's decided to anchor it to the flop Google social network Google+.
Just as Microsoft responded to the internet by trying to make every web technology look like Windows, or supplant it with a Microsoft-brewed alternative, Google ties everything to Google+. Now that BlackBerry no longer has to hitch BBM to its BlackBerry hardware, this is could give it a most unexpected advantage. ®
Sponsored: Minds Mastering Machines - Call for papers now open