Review: HP Pavilion 14 Chromebook
All roads lead to Chrome?
Decent budget performer
The dimpled multi-touch trackpad is a decent size and works well. Below it are two separate click bars, both of which have a reasonably positive action. I'll take that layout over the all-in-one affairs used by Acer and Samsung any day.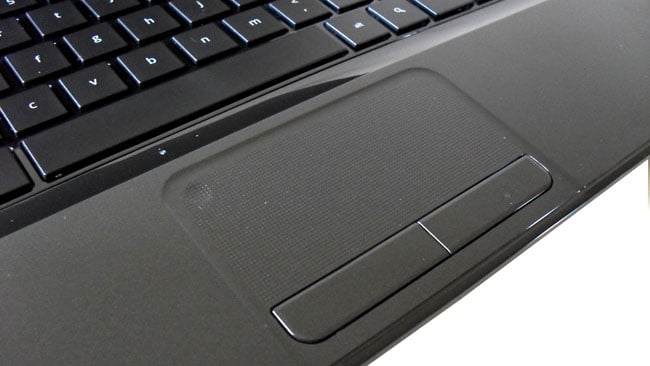 The trackpad is nice size and works well
By using the 1.1GHz Celeron chip and an SSD, the HP offers the best of the two worlds on offer from Samsung and Acer: a decent lick of performance and a quick startup time. HP seems a bit confused as to how much RAM the Pavilion Chromebook has: its UK website says both 2GB and 4GB depending on which page you look at. All I can tell you for sure is that my sample had 2GB.
How fast is a quick boot? Under seven seconds, though the Wi-Fi takes a further two to sort itself out. To get a handle on comparative performance, I ran FutureMark's Peacekeeper, which rates HTML 5 performance, and SunSpider, which measures JavaScript speed. In both cases the Pavilion performed a little better than the Acer C7, which in turn did better than the Samsung.
Peacekeeper Results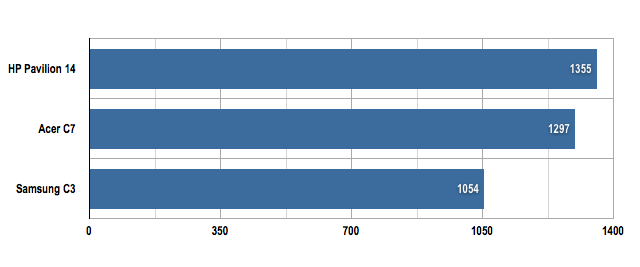 Longer bars are better
Sunspider Results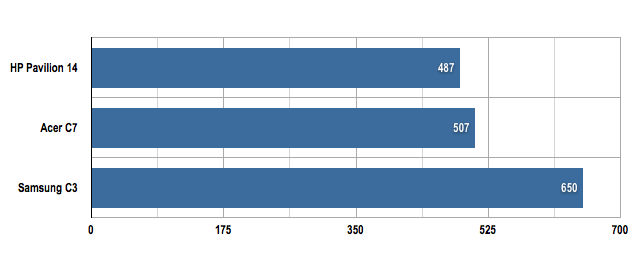 Shorter bars are better
In the real world that all makes for pretty slick performance. Web pages load and scroll reasonably fluidly and 1080p video plays cleanly, be it locally stored MP4 or YouTube streams.
With three USB 2.0 ports, 10/100Mbps Ethernet, HDMI, Bluetooth and single-band 802.11n Wi-Fi, the connectivity suite is a little primitive but for the price I'm not sure you can scream too loudly about the lack of Gigabit Ethernet, USB 3.0 or 5GHz Wi-Fi.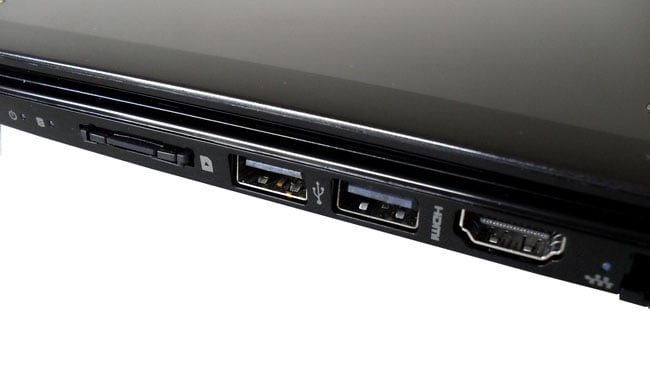 USB, HDMI and a fully-flush SD card slot
That said, Samsung saw its way to fitting the S3 with a USB 3.0 port so maybe HP could have pushed the boat out here. Though with only a 16GB SSD will you really be shunting the sort of data volumes around to make USB 3.0 worthwhile?
Maybe not.
Mercifully, the Pavilion has a full-depth SD slot so you can stick a card in and forget about it. The half-depth slot in the Samsung S3 was a howling design flaw in my opinion. HP offers a 32GB version of the machine in the US, but I can find neither hide nor hair of it in the UK which makes the sensible card slot all the more welcome.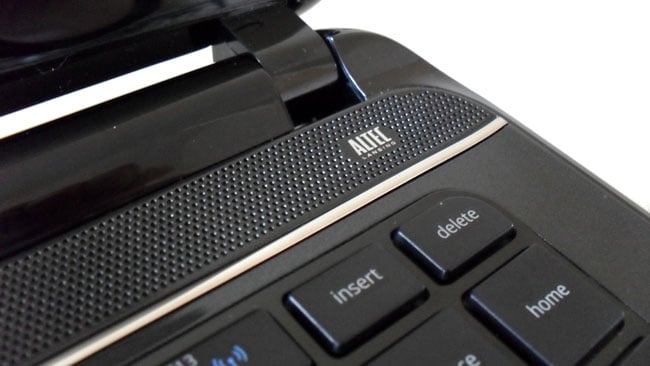 Decent speakers thanks to Altec Lansing
Budget laptops tend to sound even cheaper than they look, but the Pavilion features a brace of Altec Lansing speakers which improve matters somewhat. OK, you're not going to want to listen to a recording of Bruckner's Ninth through them, and a little more volume would be nice, but I've heard much worse.
Curiously, music played back from Google Play Music sounded hopelessly distorted and ran at double speed until I rummaged around in the settings menu and disabled HTML 5 playback.
Sponsored: Minds Mastering Machines - Call for papers now open