Xyratex shrinks ClusterStor to prop up sinking revenues
SMEs, please buy it and stop us sinking into the red
Xyratex has downsized its ClusterStor high-performance computing storage array with the scale-out storage 1500, hoping to add much-needed revenue growth by flogging departmental HPC storage.
Like the existing 6000 and 3000 models it is a Lustre system with scale-out capability through modular building blocks. Xyratex's idea is to provide relatively low-end HPC-style x86 Linux computing clusters with Lustre-based storage that has the capacity and bandwidth the company says its customers need. Departmental-level HPC users constitute the second largest HPC revenue segment, at about 25 per cent of the whole.
Xyratex's Ken Claffey, senior veep for ClusterStor, said: "Growth in this market segment is being driven by the increasing adoption of simulation applications in a wide range of industries from car and aircraft design to chemical interactions and financial modelling. Traditional enterprise storage systems are simply not designed to meet the performance needs of these applications."
So what can the 1500 do? It uses 2TB or 4TB SAS disk drives, giving between 30.2TB and 5.3PB usable file system capacity. This contrasts with the 93.4PB offered by the 3000 and 6000 models. Its bandwidth is from 1.25GB/ sec up to 110GB/sec; the 6000 does up to 1TB/sec. The interfaces are FDR and QDR InfiniBand and 40GBitE, with a 1GbitE management interface.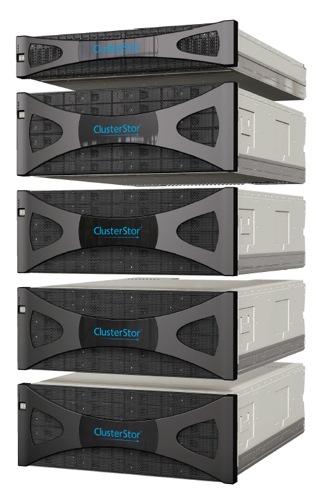 Xyratex ClusterStor 1500
The 6000 and 3000 have 2U cluster management units (CMU) containing 4-node servers while the 1500 has a 2-node server instead. Unlike its bigger brothers it does not have separate CMU storage units. It can support up to 280 million files while the 6000 and 3000 can run up to 2.4 billion files. All three are managed by Xyratex's ClusterStor Manager software.
Xyratex says the system can be deployed in hours, not weeks, and hopes that Lustre-style HPC storage in a more affordable package will help grow the market and its revenues. Quarterly revenues were down 34 per cent year-on-year in its latest results. The company recently ousted its CEO over a dispute in company strategy in which the ClusterStor product line played a part, and is searching for a new permanent CEO.
Competitors like NetApp (with its E-Series) and DataDirect Networks will be watching what happens closely, and no doubt are hoping the headhunt takes as long as possible. ®
Sponsored: Minds Mastering Machines - Call for papers now open