Fighting Fantasy and fantastic fights in tights
Steve Jackson's Sorcery!, Injustice - Gods Among Us and more
Email delivery: 4 steps to get more email to the inbox
'If you chose 'gold', turn to 400'
Beyond combat, most interaction comes through making choices during play. Will you search the troll's empty lair? If yes, will you search the table, the floor, or the beast's bed? Will you search all of them and risk the troll's return - or will you wait for the troll anyway in order to ambush it? You might even choose to cast a spell to improve your chances, though at the cost of stamina. Decisions, decisions...
There's no denying I had fun with Sorcery!. It brought back fond memories of imaginary adventures past, and zips by at a fine fettle due to its nicely worked interface. My only real complaints are that battles can rely on a tad too much luck and that the game is on the brief side.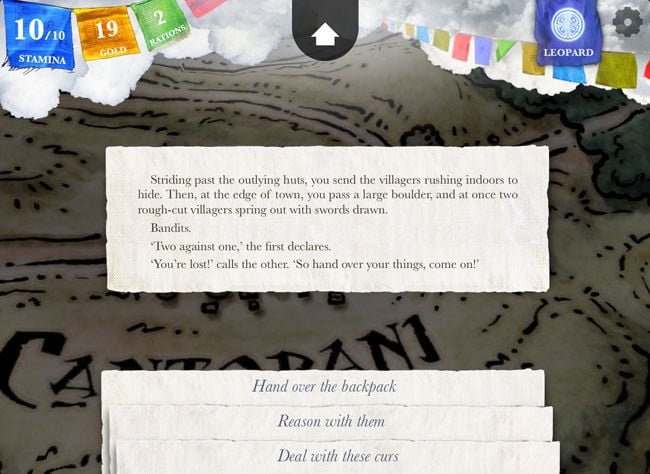 Decisions, decisions...
But there's plenty of scope for replays, and going round again is encouraged by a narrative system that adjusts to your current condition and circumstances. That said, a single play-through of this first episode will take just a few hours to complete.
Some of the descriptive writing could be stronger too. The prose is no better or worse than the Fighting Fantasy series of old, but back then I was ten. I'm now in my Game of Thrones-consuming thirties, and so expect a higher standard of prose. Still, at least there's no temptation to turn straight to page 400 in order to read the ending - or, rather, such will be the case once Sorcery! gets its concluding chapters: Kharé - Cityport of Traps, The Seven Serpents and The Crown of Kings.
Criticisms aside, the adventure was novel enough to keep me invested right up until part one's conclusion, has a good amount of replay value and, at £2.99, this iOS-based game is easy enough on the wallet to allow for my whole-hearted recommendation.

Injustice: Gods Among Us - It was a dark and stormy knight...
Injustice's plot is essentially a treatise of what might happen should all-American hero Superman finally grow a pair and decide to truly flex his solar-powered Kryptonian muscles against wrong-doers, superhuman or otherwise, once and for all.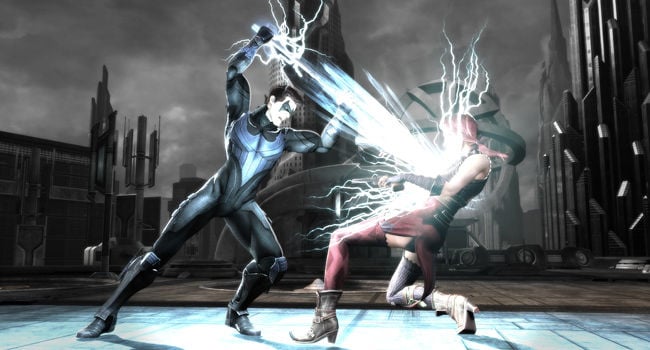 Zap-'em-up
I won't ruin the whys and wherefores of how such a state of affairs comes about here – though it will be of little surprise to anyone to hear that Joker is heavily involved. All that really matters is the outcome, which leaves Batman in the role of underground resistance leader as the Man of Steel goes about his despotic work.
This scenario paves the way for a multi-platform 2D brawler very much in the mould of NetherRealm Studios' 2011 Mortal Kombat reboot. The game places similar emphasis on a story driven campaign which incorporates a whole roster of fighters, and shifts the player quickly from character to character.
Combatants consist of the mainstay of the Justice League, with the majority of DC's big-name bad guys thrown in for good measure. Each comes with signature moves straight out of the comics: heat vision, bat gadgets, acid spewing flowers, bullet deflecting bracelets - you name it, it's in there.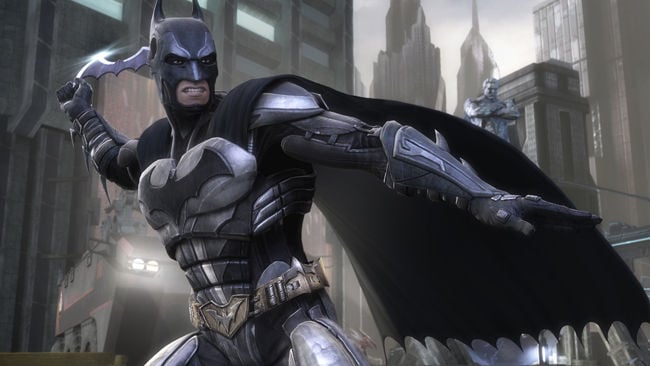 Simon cowl
The question of the characters' relative power grades is largely glazed over by the invention of a lazy catch-all pill that magically boosts the merely human cast to superhuman levels. That still doesn't explain why Superman doesn't simply throw the human protagonists into the cold depths of space. But hey, let's suspend disbelief shall we?