Seagate: Who us... no flash cred? Check out our PCIe card, suckers
Joins flash mob in earnest, pushes out SATA and SAS SSDs too
1200 Enterprise SAS SSD
This is one of Seagate's big flash guns and is built using 21nm Samsung MLC flash and has a 12Gbit/s SAS dual-port interface. The capacity levels are 200GB, 400GB and 800GB. Here's the performance data:
up to 120,000 random read IOPS,
to 40,000 random write IOPS,
to 800MB/sec sequential reads,
to 640MB/sec sequential writes and
average latency of 180μs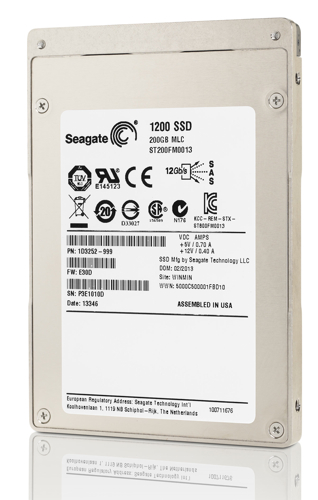 The Seagate 1200 SAS SSD
It has a lower average failure rate at 0.44 per cent and the 800GB product can have up to 14.6PB written over its five-year warranty period - 10 full drive writes a day. It comes with encryption and has an instant secure erase feature.
The 1200 High Endurance version once again trades off some capacity for endurance and its capacities are 100GB, 200GB and 400GB - quite a savage drop, but endurance rises to 18PB written for the 400GB version.
X8 Accelerator
The X8 Acelerator product is built with Virident technology and is effectively a tweaked Virident FlashMax II. It uses Micron 25nm NAND, Seagate is using three different foundries for its flash at present, and has a HHHL - half-height, half-length - 8 lane PCIe 2.0 interface. The capacity levels are 550GB, 1.1TB and 2.2TB.
Here is its performance profile:
up to 350,000 random read IOPS,
up to 103,000 random write IOPS,
up to 2.7GB/sec sequential reads,
up to 1.1GB/sec sequential writes and
read latency of 78μs and write latency 19μs

It sure is the top performing dog in Seagate's flash pack.

The endurance is up to 33PB written over the five-year warranty period and the average failure rate is 0.58 per cent. Virident supplies a lot of added value software with its PCIe card products, such as storage memory software.

Seagate says: "The X8 Accelerator will include the base software for the product, which includes all the necessary device drivers and advanced flash management software to reduce latencies. We will be expanding the software portfolio in future releases and announcements."

NAND supply

Seagate has surety of NAND supply through its relationship with Samsung, which obtained a near 10 per cent shareholding in Seagate when it divested its hard disk drive business to Seagate in 2012. The two companies have a relationship sealed with dollars, always the best glue to fix business relationships in place.

Seagate has accomplished a significant broadening of its flash product range with this third generation revamp of its solid state product line. It has a dedicated flash business unit and intends to be a tier one flash product supplier. That'll put more pressure on the other flash SSD and PCIe product suppliers like Fusion-io, Intel, Micron, OCZ, LSI, Plextor, sTEC and many others. Over to you, Western Digital. ®
Sponsored: Application managers: What's keeping you up at night?