Review: BlackBerry Q10
Not cheap, but a most excellent Communicator
Hubba hubba...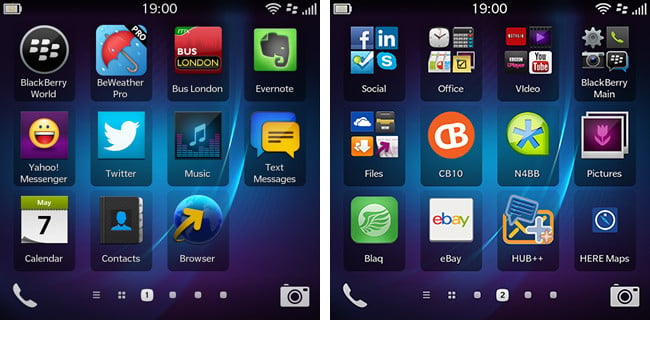 You can swipe from the Hub, past the Active Frames, to the app icons with one gestures, by sweeping your thumb across the dots
The new BB10 "Hub" aggregates not only your email accounts but Facebook, LinkedIn, Twitter, Yahoo IM, BlackBerry World app store updates and downloads and Evernote exchanges - the latter two being rather superfluous.
The Hub also offers a nice glimpse of the calendar - a rather fine calendar app can be invoked for more detailed editing. The great USP of the BB10 Hub is that it can be glimpsed, or "Peeked" with a single gesture at all times, from anywhere on the phone. It's a nice idea, but the reality doesn't always deliver on the promise.
This is because BlackBerry has stuck to the convention that the messaging app view contains but one "item" - so if an email has been opened for viewing or editing, that's what you'll "Peek" - not the inbox underneath. This is not an easy UI design challenge to solve, as allowing multiple emails to be open at once causes clutter. So I longed for a gesture or shortcut key to really give me a "Peek" at the inbox. Note that unlike many (but not all) BlackBerrys, the Q10 does not have a Convenience Key which could do such a job.
The real win with the Q10 is the keyboard shortcuts. Almost all apps support the spacebar key for scrolling down, and traditional T and B for moving to the top to bottom. In the browser, an excellent "Reader" mode is invoked by the R key. This is far easier on the thumb than dementedly swiping down to read. The new BB10 browser is a polished affair, rendering extremely quickly and consistently, and pages look superb.
In the messaging Hub, many traditional keyboard shortcuts are implemented, but not all of them. BB10 retains the traditional C to compose a message, N and P to skip through the inbox by day, and W to flag a message - that translates to a real IMAP "Flag", which the old BIS couldn't quite manage. However swiping message-by-message isn't possible. Gah. The shortcuts are particularly handy for hopping about the Calendar app.
Here's a long list.
BlackBerry Q10 keyboard shortcuts
So once you've got a Q10, and have learned a handful of these, you'll be get things done far quicker, regardless of your typing speed.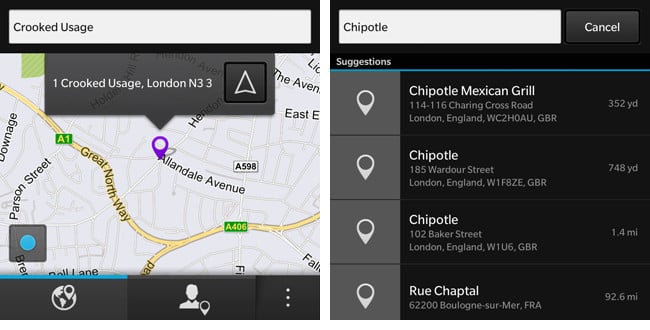 BB10's maps are fast and look good, but are very basic. And why does it think I want to nip to France for lunch?
BB10 falls down quite badly in two areas. Mapping has become indispensable to many smartphone owners, and the native BB10 client is pretty uh, basic. Searching for the nearest Chipotle (not recommended, by the way - too acrid) found one branch further away, but not the nearer one. And included some surreal entries too. Now that Nokia is licensing its HERE suite to all comers, let's hope the current one is binned for something richer and better.
BlackBerry needs to put some thought into refining the Hub, but also the other show-stopper - for some - is the vaunted Evernote integration. It must have looked a nice idea on paper: give users a Reminder app that aggregates Outlook tasks, flagged messages, and Evernote notebooks. But in reality the deep Evernote integration is half-finished, so tags aren't recognised, you can't sort entries in notebooks, and formatting is lost on a round trip. For people who rely on Evernote, this is a problem, since the native Evernote client isn't on BB10 yet. For details of workarounds, read on.
There are also some quirks we can forgive because it's early days: The Hub confusion, and the necessity for apps to display themselves in an Active Frame - there are no "headless" apps, yet. And the rich range of customisations that were unique to BlackBerry haven't quite made the transition yet. BB10.1 gives us back customisable ringtones, but not variable-length vibrate. Some omissions, such as the inability to change accounts when replying to an email, will surely head back.
BlackBerry, the App Gap... and the Android kludge
Where the Q10 clearly falls behind the more mature competition is in the selection of high-quality third party applications. The Q10 lacks many of the apps of the Z10, and the Z10 in turn lacks many of the apps of the old BlackBerry OS. And as you know, that in turn lacks many of the apps of market leaders Android and iOS.
BlackBerry's solution is threefold: encourage native apps, make porting from Android easy and allow Android apps to operate in a runtime environment called the Android Player. So far, only one high-quality native app has so far emerged, a funky Twitter client called Blaq. A few of the bundled apps such as Twitter and Facebook are clearly Android ports, and I found running Android binaries to be a very mixed bag, and rather less satisfactory than on the Z10.
For example, Android binary of Evernote is quite usable on the Z10, but isn't on the Z10's square screen. It's not unusual for Android apps to hiccup or blackout completely. However many run fine most of the time, including Google Maps and Netflix.
Skype is now available "natively" - it's an Android port but with hooks into the messaging hub. However, Z10 apps ranging from the Vodafone UK app to eBay to the Kindle app aren't yet available for the Q10. No doubt this will change.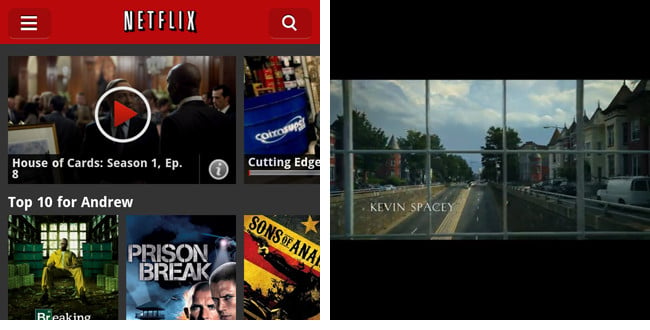 Amazingly, the Android Netflix app runs fine, sideloaded, in the Android Player. Although you'll need to squint a bit if you want to watch a video on the device itself.
Clearly there's an OS/2 dilemma for BlackBerry. If you make your platform an agreeable place to run foreign binaries, then developers will do a quick and dirty port and consider their job done. OS/2 boasted a "better Windows than Windows" and suffered because native application developers never took advantage of its superior native APIs - many were single-threaded Windows ports. Sound familiar? Today there's no Spotify, no NetFlix, hardly any banking apps, and no Hailo.
In practice, BlackBerry is doing as well as it can. One area, however, that really looks like an executive mistake is the decision to allow any old rubbish through the store, we'd imagine in order to bump up the headline number of apps. BlackBerry now claims "100,000 native apps" but it's actually an awful showcase for BlackBerry - because there appears to be no quality control. In addition to thousands of Fart Apps, and many more "apps" which are links to a website, BlackBerry World contains some borderline scams. Stop trying to sell me videos and MP3s, and give me a nice curated app store. And reward the developers who've done a nice job with Cascades - they deserve better.
The Verdict
In a nutshell, the Q10 delivers everything RIM should have offered three years ago. I was surprised how much I got along with it. For all its quirks, the Q10 deserves high marks for ease of use and performance. The design and pricing are clearly high end, and it is intended to compete with the latest and greatest full touch devices on £35-£40 contracts. Yet people looking for a more practical device with a clear utility aren't well-catered for today. Not everybody wants or needs glitzy, high-spec techno porn. Nokia has recognised that need and I imagine with future models, BlackBerry can pull off the same trick. As it is, the Q10 offers a lot of convenience.
Another reason to consider the Q10 is that the market has changed subtly over the past year with the advent of low-cost tablets, in ways that haven't really been fully appreciated yet. You can "do media" (eg, watch NetFlix) much better on an affordable 7-inch Nexus, Kindle Fire or Apple iPad Mini. That frees you, as a punter, to be more discerning with your choice of phone. My daughter's description of the QWERTY BlackBerry as "half a phone" is no insult - and it might just suit some people down to the ground.
Vive le command line! ®
Sponsored: Minds Mastering Machines - Call for papers now open

Review: BlackBerry Q10
Everything RIM should have stuffed into its offering three years ago...
Price:
UK: Sim-free from £579.95, contract from £33 per month; US: $249 with 2-year contract RRP