Cray peddles more iron than expected in Q1
Not enough to keep it from booking a loss, though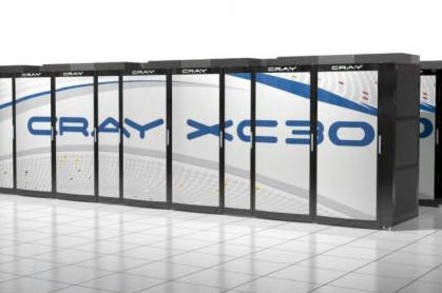 It is tough to find a choppier business than the supercomputer market, and Cray CEO Peter Ungaro had to remind Wall Street once again to not judge the company on a single quarter, and particularly on the first quarter that it has just turned in.
While the company's top line was a little better than expected, issues with the global economy and US federal government spending continue to make academic, government, and corporate supercomputer centers jumpy.
The first quarter has been a weak one for the past several years for Cray in particular as it has timed itself to processor announcements from AMD and then Intel, which tend to come out in the summer and fall. Every year there is a race to get as many big, bad, parallel systems installed and through the acceptance process as possible, at which point the customer actually cuts the check to Cray, which can then book the revenue.
In last year's first quarter, a bunch of deals slopped over from the fourth quarter because they did not get through the acceptance process. So in the quarter ended in March of this year, Cray stomached a 37.6 per cent product revenue decline, dropping down to $59.9m.
Services revenues rose by 20.5 per cent to $19.7m, helping to fill in the gap a little. Overall sales were down 29.2 per cent to $79.5m, and even after trimming costs everywhere it could, even after a $5m tax benefit the company still posted a $7.6m loss.
In a conference call with Wall Street analysts on Tuesday, Ungaro said that the majority of new deals in the first quarter came from the "Cascade" XC30 system, which sports the "Aries" dragonfly interconnect now owned by Intel. The XC30 was in limited shipments until late in March, and is now generally available.
Cray had already said three months ago when it closed out 2012 that it was readying the XC30 supers so they could support the future "Ivy Bridge" Xeon E5 v2 processors from Intel as well as Xeon Phi x86 coprocessors and Nvidia Tesla GPU coprocessors – and even if Cray didn't say it, as Ungaro did again on the call, that's totally obvious anyway.
The Ivy Bridge-EP Xeon E5 chips that Cray will put into the XC30 are expected sometime in the third quarter, Intel recently revealed, and Ungaro said that Cray has early Xeon E5 v2 parts and is testing them now.
There doesn't seem to be any love between Cray and former processor partner AMD anymore, and El Reg doesn't expect to see an AMD processor inside a new Cray machine for a long, long time. Like never...
Cray does not split out product sales by line (and it really should), so we don't know how well or poorly the high-end XE7 and XC30 machines did. Ditto for the CS300 cluster machines, which were formerly known as the Appro XtremeX blade supers.
Cray dealt with any threat that Appro presented to its HPC business by swallowing it whole for $25m in cash last November. At the time the deal closed, Ungaro said he hoped the Appro products would generate at least $60m in revenues in 2013, and on Tuesday he said he was optimistic that the CS300 line might even do better than that. Ungaro said the pipeline was building every week – adding a very quick "nearly" – and said that this was not the way the top-end HPC system pipeline worked. The salesforce and technical support organizations for the Appro biz have been integrated fully into Cray, but there is some back office stuff left to do and Appro will be no more.
Cray has carved out its "ThreadStorm" massively threaded, shared-memory system, now known as the Urika appliance, and put it into a separate division called YarcData, presumably so it can spin it off to some US spook agency or someone like Intel if it can't make money on the machines that hail from the Tera Computer side of Cray. As El Reg previously reported, the Urika system is particularly good at playing n degrees of Kevin Bacon, figuring out how all elements of a data set are connected by walking through the links.
This is something that is very tough to do with a cluster because you have to jump from node to node to follow the links (because the data set is distributed) out of main memory and over the network to an adjacent server node. With the Urika appliance, you can have up to 8,192 ThreadStorm+ processors, each with 128 threads, linked by a modified SeaStar2+ interconnect (that is three generations ago) for a total of 1.05 million threads, sharing up to 512TB of main memory. You can load your entire data set into main memory and follow all of the links between its elements on all the threads and see the connections very, very fast. The fun bit is that the Linux kernel sees this behemoth as a single processor.
Cray has sold a couple of these Urika machines and is optimistic that it can be a real contributor to its top and bottom lines as graph analysis – the formal name for what we are calling n degrees of Kevin Bacon – takes off.
In the first quarter, Cray said, a financial services company is doing a pilot of the Urika appliance and would be kicking the tires for between three to six months to see what use it could be. Ungaro could not elaborate on the nature of the applications that the unnamed financial services company was using, and he mumbled a kind of rebuff at the suggestion that it was for some kind of cybersecurity application.
The one business that Cray did want to talk about was its Sonexion storage array lineup, which brought in $13m in sales during the quarter. Ungaro said Cray did $50.2m in Sonexion array sales last year, but did not provide a quarter-to-quarter or year-on-year compare because the business for this Lustre-based storage cluster is so new.
What Ungaro did say is that the storage business as it relates to HPC is growing at 12 per cent a year and that Cray expects the Sonexion line to grow between two and four times that industry rate in the coming years. Cray is cooking up some new cluster-attached storage for later this year that it says will expand its addressable market, but what this is remains unclear.
Cray burned a little cash building out the "Titan" ceepie-geepie at Oak Ridge National Laboratory in the past two quarters, as well as for other machines that are still not accepted, and its cash pile dropped to $251m in the first quarter.
CFO Brian Henry said that Cray had $79m sunk in parts inventories, and of that, $35m was sitting in supercomputing centers comprising machines that have not yet been accepted by their customers. Titan was supposed to be up and running in the fourth quarter of last year, but was pushed out for testing during the first and second quarter of this year. Cray says it is on track for a Q2 acceptance, and the company was very careful to hedge its comments about Titan all last year.
Henry said that Cray is keeping its guidance for 2013 the same, with sales expected to be around $500m, with $80m expected in the second quarter and 45 per cent of the annual revenue – which works out to $225m – coming in the fourth quarter. (Why Cray can't just say what it expects in each quarter and not make everyone do math is not clear.) If you do the math, that leaves $135m of revenue in the third quarter, which is the best signal yet that the Ivy Bridge-EP Xeon E5 v2 processors are going to be shipping in volume in the summer, perhaps July but not too late into August.
And now you know why Cray wants to be best buddies with Intel, like Appro was for the Xeon E5 launch in March 2012: to get first in line for the processors and get the jump on the competition. ®
Sponsored: Minds Mastering Machines - Call for papers now open