BlackBerry CEO: Tablets will be dead in 5 years
PlayBook, anyone?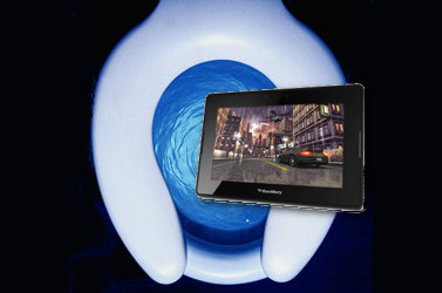 BlackBerry chief Thorsten Heins reckons slabs will be dead in half a decade, by which point his firm will be the front runner in mobile computing.
Two predictions in a Bloomberg report, both of which might come back to the haunt Heins, who replaced former joint CEO's Jim Balsilie and Mike Lazaridis at the start of 2012.
The man at the helm of the company formerly known as RIM knows better than most the scent of decaying tabs - BlackBerry's PlayBook festered in channel partners' warehouses after launch.
It took a concerted effort to shift inventory, with BB slashing prices and then slashing prices again to lure in the punters. The device launched in the summer of 2011 and by December the vendor was taking a $485m charge on the nose to clear stock.
Shipments did a lot better after the products were given a permanent Black Friday price cut, but this dented the PlayBook margin.
"In five years I don't think there'll be a reason to have a tablet anymore," said Heins while at the Milken Institute conference in Los Angeles.
"Maybe a big screen in your workplace, but not a tablet as such. Tablets themselves are not a good business model," the man added.
Tablets are reassuringly expensive content consumption devices that Apple and Samsung have cashed in on, but many others including HP and Viewsonic built versions now languishing in the gadget graveyard.
The BlackBerry 10 platform is billed as the firm's great saviour and Heins has previously said it will not create a PlayBook successor unless it is profitable.
Using his crystal ball again, the CEO reckoned: "I see BlasckBerry to be the absolute leader in mobile computing - that's what we're aiming for...I want to gain as much market share as I can, but not by being a copycat." ®
Sponsored: Minds Mastering Machines - Call for papers now open