Ten ancestors of the netbook
Doomed category has a long history thanks to Atari, Poqet, Psion et al
Toshiba Libretto

In the 1990s, sub-notebooks weren't popular outside of Japan. In the West, buyers wanted as much screen space and performance as they could get, but in Japan, a culture that favours the neat and the compact, punters were willing to pay for portability. No wonder than that Toshiba's Libretto debuted over there and didn't make it to the UK and the US until a year or so later. The first Librettos were based on an AMD-made 486 chip with 270-500MB of disk storage and a 6.1-inch TFT display, all crammed into a clamshell case slightly shorter than the Quaderno. It was lighter too: 840g to the Olivetti's round kilo.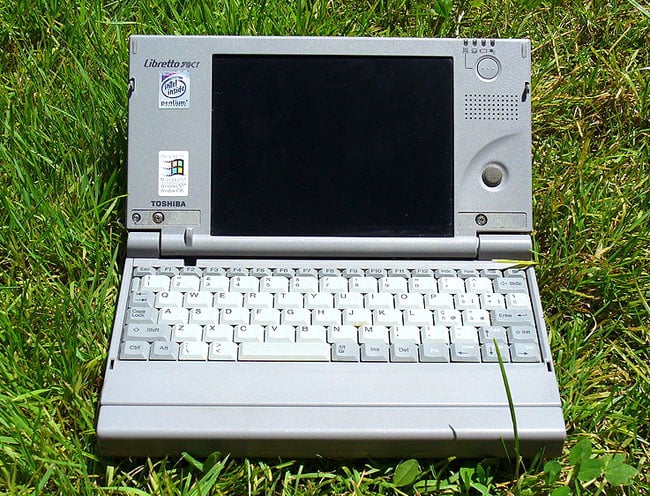 Source: Lorenzo Breda
Always designed to run Windows, the Librettos sported a flat joystick to the right the of the LCD in place of a trackball or trackpad.
Arriving in the West, the Libretto line gained Intel Pentium chips of greater and greater performance as time went by, though not all of them made it over here. Indeed, Toshiba stopped selling Librettos in the UK in 1999 until an attempt to relaunch the brand in 2005 with the Windows XP-based U series and, in 2010, the ill-fated dual-display W100, Windows 7-based W100. In Japan, the family was rebooted in 2001 as the L series, a range of larger machines based on the Transmeta Crusoe processor Linux founder Linus Torvalds was briefly involved with, but it was discontinued in 2002.
Maker Toshiba
Introduced 1996
Discontinued 1999 (UK, US) 2002 (Japan)
Price ¥248,000
Apple eMate 300

Designed as a low-cost (ish) laptop for schoolkids, Apple's 1997 eMate 300 was novel not merely for its small size. First, it wasn't a Mac. The 300 used an ARM processor clocked to 25MHz, not the PowerPC platform, and it ran the company's Newton OS rather than the Macintosh operating system. It had a touchscreen too, readily tapped with a stylus kept in a bay above the full-size keyboard. The screen itself was a 7-inch, 16-greys monochrome job with a 480 x 320 resolution, and the whole lot was wrapped in a turquoise translucent clamshell case, which incorporated a carry handle.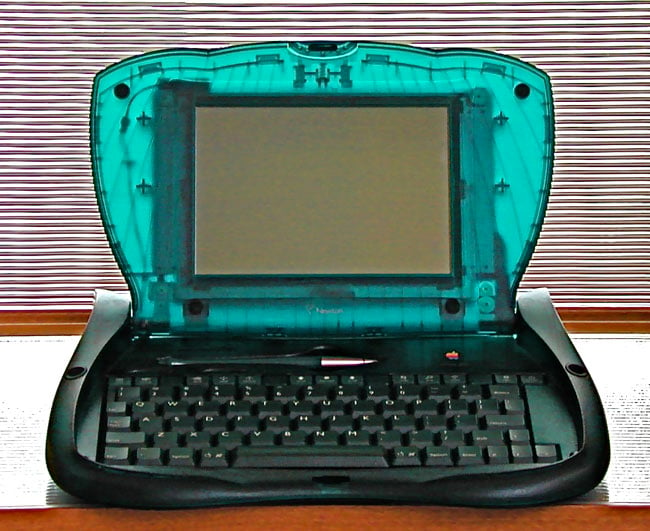 Source: raneko @ Flickr
The eMate 300 was priced at $800 back in 1997, the equivalent of $1450 now, according to consumer price index changes over the years. Its OS incorporated a full set of personal information management apps, plus basic drawing and word processing packages, and even an ebook reader. A couple of Apple-style serial ports and a PCMCIA slot allowed for expansion and the addition of new software.
Steve Jobs canned the eMate 300 less than a year after its introduction, in a cull of many non-Mac Apple products he instigated on his return to the company as interim CEO. "Apple is committed to affordable mobile computing, pioneered by the eMate, and will be serving this market with Mac OS-based products beginning in 1999," the company said in February 1998. The result was the eMate-influenced iBook, which debuted in July of that year - for almost twice the price of the eMate.
Maker Apple
Introduced 1997
Discontinued 1998
Price $800 (£300)
Sponsored: Are DLP and DTP still an issue?