Combover King Donald Trump: 'I miss Steve Jobs'
Tim Cook wouldn't last long on All-Star Celebrity Apprentice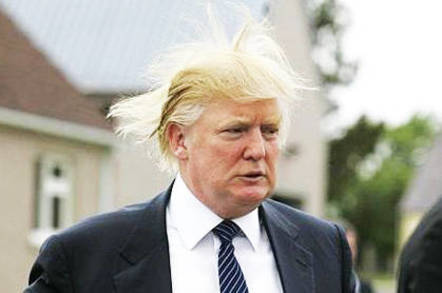 Never being a man to shy away from whatever current controversy might get his name into headlines*, the indefatigable Republican presidential candidate, Obama-baiting birther, and TV "personality" Donald Trump has weighed in on whether Apple should offer an iPhone with a larger display.
I have a lot of @apple stock--- and I miss Steve Jobs. Tim Cook must immediately increase the size of the screen... fb.me/Hjj8Y27p

— Donald J. Trump (@realDonaldTrump) April 29, 2013
Just in case you might miss his Monday tweet, above, Trump also trumpeted the same sentiment on his Facebook page, where he added, "It should be slightly larger than the Samsung screen- and they better get it right fast because they will lose a lot of business."
Why? "I like the larger screen."
Fair enough, Mr. The Donald, sir. We're all entitled to our opinions, and if your NBC bio is correct, you are, after all, "the very definition of the American success story, continually setting the standards of excellence." Your opinion on the global smartphone market should therefore count for something, eh?
Or not. ®
* Bootnote
Yes, The Reg freely admits that we're acting as enablers to Trump's insatiable headline hunger. God help us, but we can't help but rubberneck his ongoing train wreck.
Sponsored: Minds Mastering Machines - Call for papers now open