El Reg drills into Google's search biz offer to Europe
Mountain View wants to choose its EU inspector
We didn't do anything wrong but we will 'commit' to help competition in Europe
Mountain View's big concession - if Google's critics are feeling tolerant enough to characterise it as such - is to offer to clearly label its individual services as a Google property on its search engine.
The ad giant has also proposed to explain to netizens why it has linked to a Google product on its site.
Google still plans to have its services ranking as highly as possible on its search engine, but it will tell its users that alternative links to rival products are available.
Arguably, though, most search engine users already understand that. The problem - many of Google's competitors say - is that Google grabs more eyeballs because when people are looking for something they will rarely hang around for very long on their search engine of choice. Those first few seconds of viewing results are therefore crucial. And Google - as the world's biggest search engine - understands this only too well.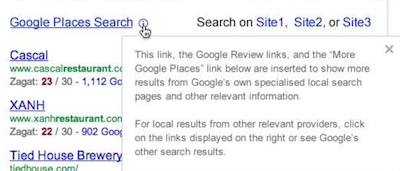 Google explains why it's top dog
In its offer, Google repeatedly displays examples of how its labelling system would work in the real world. The language adopted consistently says things like: "click on the links below" or "click on the links displayed on the right".
Meanwhile, Google is also proposing to allow websites to opt out from the use of all their content being crawled its search user agents. It said it would commit to preventing those sites from slipping down its ranking system in general web search results.
For price comparison sites such as UK-based Foundem, Google is offering to allow those firms to guard against having their content scraped by putting a mechanism in place that shields the material from Google's indexing system.
However, the Foundems of this world would be required to proactively mark their content as a no-go area for Google by marking certain categories of information. If they don't, Google will presumably continue to crawl those sites.
Google is additionally offering to end exclusivity ad agreements with publishers to prevent them being obligated to source online search ads only from Google. Killing off such tightly-wound deals will also allow advertisers to run their campaigns on competing search engines such as Microsoft's Bing.
Elsewhere in Google's 13 March submission to Almunia's office, the company states that it would like to appoint the "monitoring trustee" who would be required to closely inspect the ad giant to ensure it sticks to its commitments with the commission.
Google has proposed putting forward a list of suitable candidates for the role. That trustee, Google says, would be independent from the company but paid by the ad giant to carry out the work.
"The monitoring trustee shall be remunerated by Google in a way that does not influence or impede the independent and effective fulfillment of its mandate," Google said.
Sponsored: Minds Mastering Machines - Call for papers now open