Review: Western Digital Sentinel DX4000
Are WD and Trevor set to be friends at last?
Western Digital makes it better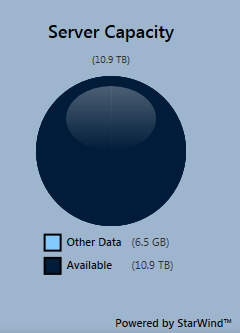 Western Digital obviously realised that if they were going to shift NASes based on this OS they had to spice it up. They did.
Western Digital adds the Starwind iSCSI target to the mix which is inarguably the number one reason to buy this NAS. Putting it kindly, the iSCSI target offered as a downloadable for Server 2008 R2 is anaemic; for reasons I cannot begin to grasp it only ever seems to use a maximum of 30 per cent of any network connection made available to it and it flails about wildly providing inconsistent storage throughput and wildly varying IOPS.
To contrast, the Starwind iSCSI target is steady, reliable and robust. It will eat every resource available to it: disk IOPS, RAM, CPU and network. It is bottlenecked by the hardware it has to play with, not some arbitrary (and bizarre) software limit as with the Microsoft-native version. The Starwind iSCSI target is enterprise-class software and it makes the Sentinel DX4000 a remarkably attractive offering.
Western Digital could have left it there and simply gone to market with a generic Windows Storage Server 2008 R2 Essentials NAS that had a great iSCSI target. It didn't.
The Sentinel DX4000 includes AFP support for the steadily growing Apple community. There are two Intel 82574L network cards configured for teaming as well as a Xiph.org codec pack and the Haali Media Splitter to make sure that the media streaming services provided are as comprehensive as possible.
Western Digital has included KeepVault online backup integration (which it has worked into the Microsoft-provided administration interface) as well as Western Digital Guardian Services.
The Guardian Services is really just an overview of the different levels of support offered by Western Digital and the opportunity to purchase more. Still, I remain impressed that it is written in such clear, simple language; WD is upfront about what the unit comes with and the vendor makes getting a higher tier so easy. Frankly, I think a lot of vendors of a lot of different products could learn from this example.
The instance of Windows is well-tuned. Defrag is properly set up and shadow copy is configured. Alerts of various types have been set up, and Western Digital even provides a mail server on a non-standard port with pre-configured SMTP credentials so that your NAS can send you emails, even when your ISP does nasty things like block outbound SMTP connections.
The Reg Verdict
I'm torn on rating this device. Western Digital spent the past decade making "My Book" external RAID-0 hard drives. I consider the very creation and sale of these products to be an example of highly unprofessional negligence. I have seen hundreds – possibly thousands – of these units come into my lab with one disk having failed. An unending blur of desperate photographers whose entire week – a dozen or more weddings, maybe a school or two of pictures – is lost forever.
Western Digital is responsible for the creation of the 300GB Raptors and their accursed TLER error; the fix for which they refused to publish for the longest time and which haunted me for some time as hunted the last of the affected drives down and flashed their firmware. It's safe to say that Western Digital and I not exactly friends.
Despite this, someone at Western Digital put a lot of thought into the engineering of this system and in doing so earned a great deal of my respect. From the chassis design to the choice of components, the alliance with Starwind to the inclusion of AFP, Haali and the operating system configuration; the Western Digital Sentinel DX4000 is a job well done.
No product is perfect, and the DX4000 does have some wrinkles that could use ironing out for the next revision. Still, the DX4000 makes it to my "approved" list; if this unit is representative of the quality Western Digital is now putting into their equipment then I think it's time to revisit their offerings and see what else makes it there too. ®
Sponsored: Minds Mastering Machines - Call for papers now open

Review: Western Digital Sentinel DX4000
SMB Nas box with enterprise class features.
Price:
£1580 (populated) RRP