Review: Corsair Voyager Air 1TB wireless hard drive
The basic network storage box that transforms into extra space for slates and smartphones
Now Voyager
The Voyager Air's app isn't aware of all common file types, either. WAV files are presented as plain documents, for instance. And there's no way to open native-format - ie. H.264 MP4/M4Vs - in third-party apps should you want to, though you can resume playback if you previously stopped half way through, say.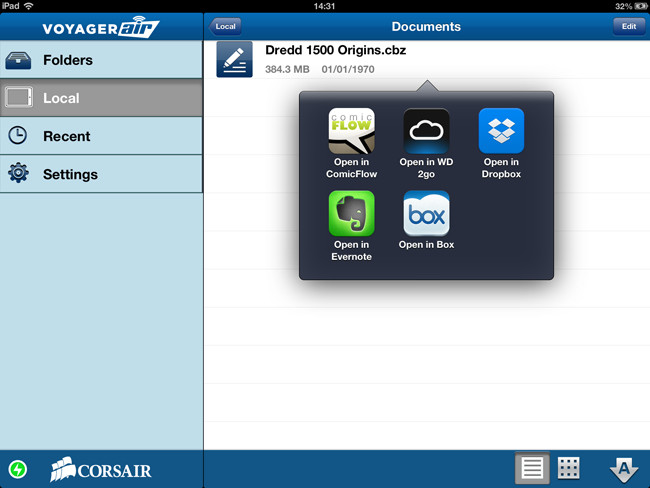 Files can be viewed through the app if they're of an iOS-native type, or open in a separate app
These are minor niggles - I know what files I can access through native viewers and which require third-party apps. But if the app were a little more savvy, it would save the occasional button mis-press.
The app lets you transfer content from the drive to the tablet so you can power down the drive, and to send files in the opposite direction, but only previously downloaded content, or photos and videos in the iPad's own Photos app. When you view a photo in Voyager App, you can swipe to others and it's clever enough not to include other files.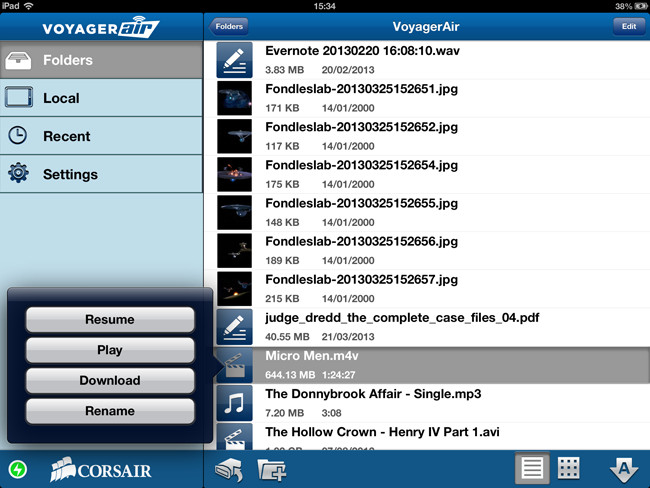 The Voyager Air app presents generic icons - unless the files are photos you've viewed on the device
iOS' crude inter-app file sharing only provides for the transfer of files not of file references, so content that requires a third-party viewer has to be copied from the Voyager Air first. This isn't Corsair's fault, but it could at least provide a more informative error message than 'file is too large to open directly' when you try to do so. Seagate's app does this too, but it's still sloppy coding.
Corsair bundles the Voyager Air with a 2A USB AC charger, plus a car ciggie lighter adapter and a little baggie to put 'em all in. Connecting either a USB cable, be it USB 2.0 or 3.0, and hooked up to a computer or just a power brick, causes the drive to disable its wireless network. If you want to charge up the Voyager Air while you're using it wirelessly, you need to feed the juice in through its power port, which you'll find round the back next to the USB jack. Corsair bundles a special USB cable to feed this.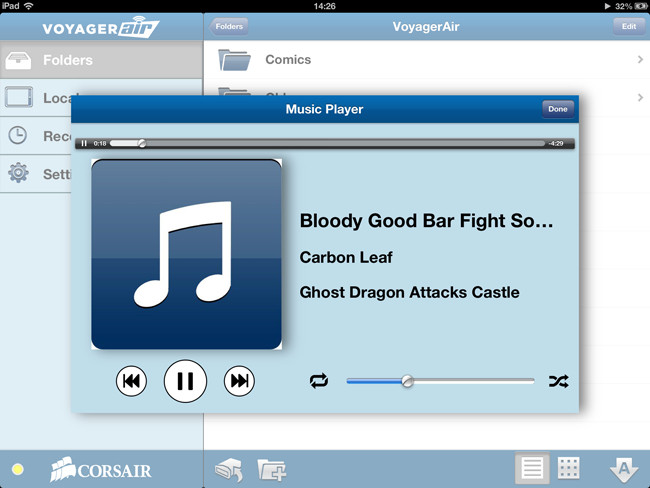 Aye, tunes
There's a wee glitch here. If the Wi-Fi is switched on when you yank the USB cable, it looks like the drive is operating wirelessly, but it's not. You need to turn the hotspot off and then on again to reconnect your tablets. I also found that, with the iOS app, after reconnecting in such circumstances I had to re-enter the Voyager Air's WPA password.
The Reg Verdict
Corsair's Voyager Air is a decent wireless hard drive that's handy for folk with storage-restricted mobile devices that lack accessible SD slots or can be hooked up to USB drives. Not everyone realises they might need these interfaces in their phone or tablet at the start, so the Voyager Air is a useful accessory if you suddenly do regret not buying a device with more storage capacity or expandable storage. It's priced to match the competition, but comes with a more straightforward content access app and that Ethernet port.
For me, this connectivity option lifts the Voyager Air well above the Seagate Wireless Plus. It means I can use it as a regular network drive for back-up and file storage, and just unhook it when I'm off travelling. It means the Voyager Air can be put to work on a daily basis, not just when I'm out and about. If you're NAS-less and you don't need a sophisticated network storage set-up, that means you can cover two storage applications for the price of one. ®

Review: Corsair Voyager Air 1TB wireless hard drive
Portable external USB 3.0 hard drive with Wi-Fi for hooking up Android and iOS devices, and Gigabit Ethernet connectivity for network storage duties.
Price:
1TB: $220 (£174 inc VAT). 500GB: $180 (£143 inc VAT) RRP