Huawei preps new mobes to overhaul Apple
60 million sales the target with innovation to trump sinister reputation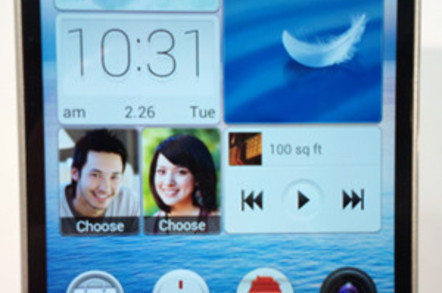 Huawei says it's on track to almost double its smartphone sales this year with a target of 60 million units shifted, as it looks to peg back "superheroes" Samsung and Apple, but admitted its brand image is still holding it back from world domination.
Speaking to media at the firm's annual global analyst event in Shenzhen on Tuesday, CMO of devices, Shao Yang, said Huawei would release a new high-end smartphone with the "best hardware and design" later this year, although he didn't elaborate further on the planned specs.
The Chinese tech giant already lays claim to the world's fastest mobe – the Ascend P2 – and although its progress in the smartphone market has been rapid, propelling it into the top three vendors at the end of last year, it remains some distance behind Samsung and Apple which between them have nearly half the global market.
Huawei is nothing if not ambitious.
Shao claimed it wants to be the "most loved consumer brand in the world", but admitted that "the big doubt is not from the products, but from the brand".
The Chinese smartphone maker's answer to its brand woes is to innovate its way to the top and continue to push its "customer first" message, which Shao is hoping will differentiate the firm at least from its rather more autocratic fruit-themed rival.
"Only innovation can let people know Huawei," he said. "If we can't bring the best innovation to the customer, we will fail."
All of this is a far cry from the dark days of 2011-12 when Huawei was shifting from ODM to OEM. Its telecom operator partners at the time did not react well to the move, with over 90 per cent dropping the company completely, Shao said.
As far as roadmaps go, this year will see Huawei aim to push out "the best hardware and designs", while 2014-15 the device team will be focused on finessing the user interface, and beyond that the rather more generic "future innovation".
China is still the number one market for the firm, which is pretty understandable seeing as it's the biggest in the world. Western Europe is being targeted as a way for Huawei to influence other regions of the world thanks to the range of languages within its borders. Japan is also key for the firm as a "test place for quality", Shao said.
Huawei will be opening up over 30 boutique and high end stores in China as well as 100 franchised outlets this year as part of its retail push. ®
Sponsored: Minds Mastering Machines - Call for papers now open