VMware profits flat-line even as services revenues grow
Virtzilla launches Project Zephyr vCloud Hybrid Service on May 21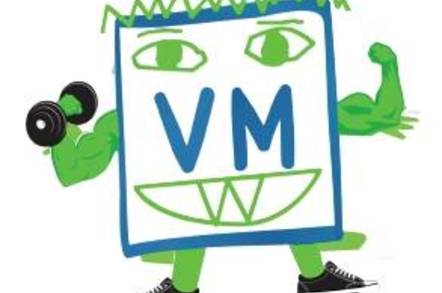 Say what you will about VMware, but it has been brilliant about extracting the most amount of profit possible out of what used to be a virtual monopoly on x86 server virtualization in the data center. But competition from Microsoft and various open source alternatives, particularly the OpenStack-KVM combo, is putting the squeeze on Virtzilla's profits.
In the quarter ended in March, VMware's software license sales stalled, rising only 1.3 per cent to $488.2m. Services revenues, which include a smattering of professional services but which are dominated by tech support contracts for VMware's various tools, grew 22.7 per cent to $703.2m. Net income fell by 9.3 per cent to $173.6m.
The black ink was a little less deep for a lot of reasons. The cost of delivering services rose quite a bit and sales and marketing costs were also up, and the company booked $62.9m in restructuring charges related to the layoffs that VMware announced in late January. VMware is shedding about 7 per cent of its 13,800-strong workforce.
In a conference call with Wall Street analysts, Carl Eschenbach, COO at VMware, said that most of the headcount reductions were done and ahead of the schedule VMware had set for itself. Another 500 employees moved over to the Pivotal spinout of big data, data warehousing, application frameworks, and application development tools that VMware is creating with parent company EMC. Pivotal will be formally launched in San Francisco on Wednesday this week. About 500 employees will move over from VMware to Pivotal, which will reduce the revenues in the second, third, and fourth quarters for VMware by around $110m. There is another $30m or so in products that VMware is interested in divesting, but Eschenbach did not elaborate on what these products might be.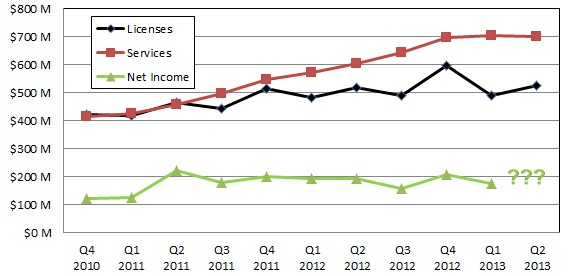 VMware is having a harder time bringing cash to the bottom line
The software license hit was in line with the expectations that the company outlined in January, and is driven in part as VMware is moving toward more sales of suites as opposed to stand-alone server virtualization and cloud tools, which have discounts built in compared to buying piecemeal products. Eschenbach said that the company also took a slight hit in its OEM sales through its server partner channel as the x86 server racket took a breather, with the stall being particularly noticeable in Europe.
Sales of software licenses into the VMware Service Provider Program, which are companies who are building public clouds based on ESXi hypervisors and vCloud control freaks, doubled compared to the year-ago period. But it is unclear what impact the launch of VMware's vCloud Hybrid Service, its own rendition of a public cloud. VMware is building its own cloud and will let its 55,000 partners push capacity on that cloud just like they peddle vSphere virtualization and vCloud cloud controller software today. And, in essence, it pits VMware and its OEM channel against members of the VSPP.
Whether or not this is cloudy thinking remains to be seen. If VMware was truly happy with service providers and their uptake of its cloud-building wares, it would not go to the trouble of building the vCloud Hybrid Service. VMware could have just paid resellers to build vClouds, but you can imagine how well that would have gone over with Wall Street. We will find out more about how this works when the vCloud Hybrid Service launches on May 21.
One interesting tidbit: blended average selling prices in Q1 for the vCloud Suite for cloud building are roughly three times that of the vSphere server virtualization suite, which is embedded inside of vCloud Suite.
VMware had 17.2 per cent revenue growth in the United States, hitting $568.5m, while sales outside of the US only grew by 9.3 per cent to $622.9m. Sales in Europe were soft, but above plan, which is good news of a sort. Eschenbach said that after a dip in Australia and New Zealand over the past few quarters the folks Down Under are spending dough again, and the Asia/Pacific-Japan region is still the fastest growing part of the company. China did particularly well in Q1, he said.
Looking ahead, Jonathan Chadwick, VMware's CFO, said that it had a nice tailwind coming up in the second half of 2013 for enterprise software license agreements as well as new product launches – the NSX network virtualization tools that are a mash up of Nicira and VMware products will come out later this year – and an expected slight uptick in the global economy. This is why the company is maintaining its guidance that it can hit $5.12bn to $5.24bn in sales for the year, which is an increase of between 11 and 14 per cent over the revenues for 2012. License revenues are expected to grow by 6 to 9 per cent for the year.
In the second quarter of this year, VMware is expecting for software license sales to be flat to down, which is between $515m and $535m. If you take the Pivotal software out of last year's numbers, then that represents somewhere between 2 and 5 per cent growth. Overall sales will be between $1.21bn and $1.24bn for the second quarter. No one knows where net income will be, and hence the question marks in the chart above. ®
Sponsored: Learn how to transform your data into a strategic asset for your business by using the cloud to accelerate innovation with NetApp