Facebook plans vast data center in Iowa
Plonks FarmVille into farm land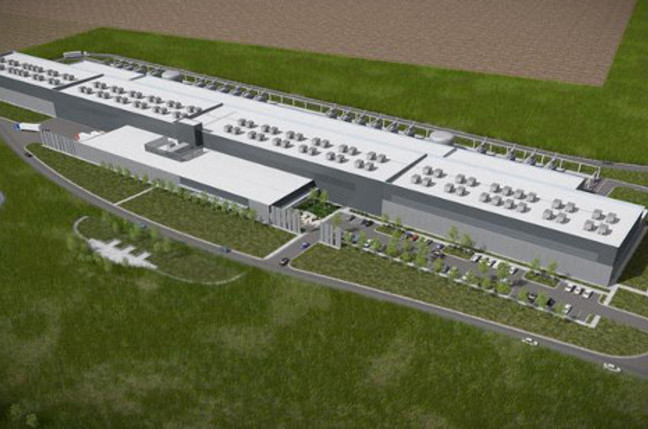 Facebook's fourth gigantic data center will be in Iowa, a state already favored by major infrastructure operators due to its renewable utility options.
The new data center in Altoona, Iowa, will be the company's fourth dedicated bit barn, along with facilities in Prineville, Oregon; Forest City, North Carolina; and Luleå, Sweden. The official confirmation comes after local newspaper, the Des Moines Register, broke news of the company's plans on Friday.
As with the other facilities, the data center will be loaded with Open Compute Project server designs, along with fresh air-cooling systems. But it will also bring with it some new technologies, including "evolutionary improvements to the building design, networking architecture, and more," Jay Parikh, Facebook's vice president of infrastructure engineering, said in a blog post announcing the move.
Facebook will invest a minimum of $299.5m into the 476,000-square foot facility. The build-out will create "hundreds" of construction jobs and "dozens" of full-time operations jobs, Iowa governor Terry Branstad trumpeted in a blog post. The 194-acre site the data center is built upon could accommodate two more data centers of equivalent size, Terry indicated.
Facebook is not the first major infrastructure operator to move to Iowa. Google started the build-out of a data center in Council Bluffs, Iowa in 2007, and announced plans to expands its facility there in 2012. To date, the Chocolate Factory has spent some $1.1bn on its vast bit barn.
"We plan to break ground this summer and expect to begin serving user traffic in 2014," Facebook's Parikh said. "We're excited to have found a new home in Iowa, which has an abundance of wind-generated power and is home to a great talent pool that will help build and operate the facility."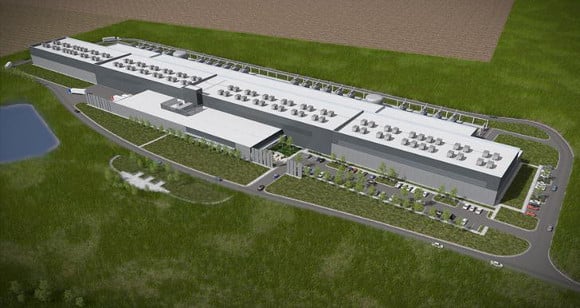 Facebook's Iowa bit barn will be 476,000-square feet
The artist's impression of the data center (pictured) indicates that the entirety of one of the facility's perimeter walls will be given over to a large air filtration and cooling system. As with other data centers, the picture shows external backup generators and AC systems. At the time of writing, Facebook had not responded to our queries about the site's networking and structural design.
Gaining access to renewable energy has become a priority for major data center operators, after a vocal campaign by Greenpeace highlighted the fact that no matter how efficient a data center is, it's still very bad for the environment if it's owner is provisioning power from coal-derived utilities.
In 2011, 20 per cent of Iowa's energy came from wind, according to the Iowa Utility Board. And this 20 per cent is a serious amount of power, representing 3,675MW of wind capacity in 2011. A typical data center will consume ten or twenty megawatts of power. Google's global fleet of bit barns consume a little under 260MW, The Register understands, so Facebook's renewable use represents a mere breeze in the howling gale of Iowa's energy market. ®
Sponsored: Are DLP and DTP still an issue?