Platform clouds can make enterprises all teeth and no tail
Red Hat and VMware want to be your private parts
Hybrid vigor
Red Hat and VMware, which will be rivals alongside Microsoft for private platform clouds, are positioning their various cloudy wares to run both inside and outside the corporate firewall – and across it if necessary.
"Hybrid is where we really think the industry is going," says Joe Fernandez, senior product manager for OpenShift Enterprise at Red Hat.
OpenShift is the platform cloud that Red Hat launched about a year and a half ago and open sourced as the OpenShift Origins project in April 2012.
In December, Red Hat made good on its promise to provide an in-house variant of the OpenShift code that can be consumed just like its enterprise Linux and KVM software, complete fee-based security, patching, and tech support. And it will move the beta of its hosted version of OpenShift (which runs on Amazon's EC2 cloud) to commercial availability early in 2013.
No matter what version you pick, OpenShift includes a cloudy version of the JBoss application server to support Java applications and encapsulated versions of the Ruby, PHP, and Python languages and their runtimes, which are drawn from Red Hat Enterprise Linux and packaged up as "cartridges" to run on the OpenShift PaaS. You can package up your own runtimes and create your own cartridges, as Zend Technologies has done with its commercialized PHP engine
OpenShift Enterprise 1.1 debuted in February and gives Red Hat the three things it needs to build a business out of a platform cloud: an open source project to drive innovation, a public cloud version of the service (and there will no doubt be more done by third parties), and a private cloud version that is absolutely compatible with the public cloud version.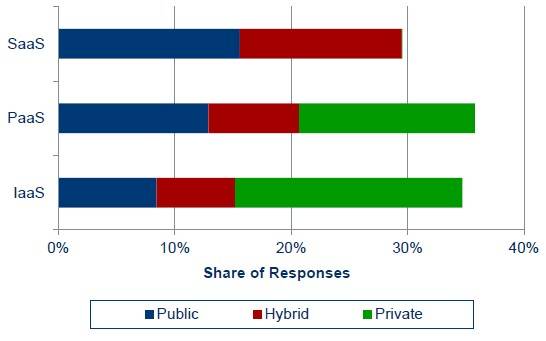 Public, private, and hybrid plans for IaaS, PaaS, and SaaS clouds
This, says Fernandez, is one of the key things that enterprises want to see before they will invest heavily in platform clouds.
"It is interesting to note that Google with App Engine, Microsoft with Azure, and Amazon with the Elastic BeanStalk are completely committed to a public PaaS cloud," Fernandez observes. "Google and Amazon are not interested in packaging up commercial software and selling services or licenses, and Red Hat is. Microsoft might go with Azure where we went with OpenShift at some point."
Microsoft made some noise a couple of years ago to do a private platform-as-a-service cloud based on its Azure stack and sold as an appliance by HP, Dell, and Fujitsu, but that product never saw the light of day. If you want a private cloud that is compatible with Azure, Microsoft, in essence, says: buy Windows Server 2012, Systems Center 2012, and SQL Server 2012 - and you have a platform cloud.
The ability to run the same PaaS internally as you choose externally running on a public cloud is a big deal for enterprises, which don't want to be locked in to someone else's infrastructure. (Having your PaaS available as open source code is also a big deal, and El Reg will explore this in a companion article.)
Other issues come into play, but Red Hat and VMware seem to agree that a private PaaS option is important, in contrast with just about every other public PaaS provider (including Engine Yard above.)
"Just about all of the customers I have talked to have used a public PaaS, but they have not been able to move the bulk of their applications into those public platform clouds for a variety of reasons," explains Fernandez.
"They have security concerns, data privacy issues, compliance and governance restrictions, and they also have all this infrastructure stuff and staff in place and they can't just flip a switch. So what we are doing with OpenShift Enterprise, which is unique among PaaS vendors, is giving them choice. We are giving them a platform cloud that they can deploy on premise that is consistent with what we offer online, plus the tools that let them become their PaaS platform for their company."
It is unusual when you can see Red Hat and VMware on the same side of such an important issue. But VMware will tell you the same thing about its Cloud Foundry PaaS.
Cloud Foundry is based on the Spring framework for running Java apps that has been extended with the Rails and Sinatra frameworks to run Ruby, the Play 2.0 and Lift frameworks for supporting Scala, as well as supporting the Node.js variant of server-side JavaScript.
VMware took control of the Spring framework through its $362m acquisition of SpringSource in August 2009, and it launched the Cloud Foundry platform cloud project in April 2011, more or less in synch with Red Hat's OpenShift platform cloud.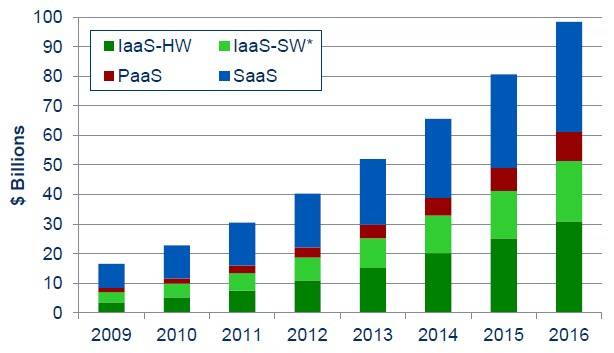 IDC's revenue projections for various cloud services
VMware is taking its time as it ramps up Cloud Foundry, and equally importantly, the company is moving Cloud Foundry out of VMware and into a new unit of its parent company, EMC, that is tentatively called the Pivotal group.
Sponsored: Minds Mastering Machines - Call for papers now open