iPhone too heavy? Volkswagen brings out motorised ride-on dock
Forget swapping batteries! Just plug in a petrol engine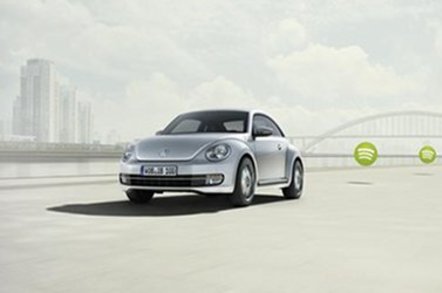 Apple and Volkswagen have joined forces to produce a new version of the iconic Beetle enhanced with all sort of Cupertino-inspired bells and whistles.
Teams from both firms worked together on the iBeetle, which looks pretty much like the car which used to be produced without a lower case 'i' inserted in front of its name.
It will hit the streets early next year, but is currently making its debut at the Shanghai Auto Show, which kicked off yesterday.
The fruits of the Apple and Volkswagen love-in have resulted in a car with a special iPhone dock stuck in the centre of the dashboard. According to the German auto-manufacturer, the "iBeetle is the first model line from the Volkswagen Group in which the iPhone will become an integrated component".
VW added: "The colors and equipment features of the iBeetle are stylistically linked to the Cupertino-based US company, bringing its iconic smartphones into harmony with what is certainly one of the world's most iconic automotive designs.
"In a nod to the iPhone's color scheme, the new iBeetle can be ordered in "Candy White", "Oryx White Mother of Pearl Effect", "Black Monochrome", "Deep Black Pearl Effect", "Platinum Grey", or "Reflex Silver"."
The car will allow drivers to access Spotify or iTunes, have their Twitter messages read out loud or send virtual, geo-located postcards to friends.
It will also gather all sorts of stats for big data aficionados, using a g-force meter to measure lateral acceleration as well as oil and coolant heat gauges to take the engine's temperature. There is also a chronometer and a compass, for anyone who distrusts the onboard 'trainer' system, which compares driving times, distances, and fuel economy values for different routes.
As if driving around the M25 wasn't rewarding enough, motorists will be able to earn special "milestone stickers" unlocked "when certain tasks have been completed".
However, the AA has warned potential iBeetle drivers not to get carried away with checking their gizmos and keep their eyes on the road.
Paul Waters, AA spokesman, claimed that new technology came with "huge caveats".
"Remember, technology is meant to behind the scenes helping you," he said. "It is not meant to be your master. Having a long email exchange or telephone when driving would just be bananas. But if the technology can redirect you around a problem on the road or steer you to the nearest, cheapest petrol station, it can be very useful." ®
Sponsored: Minds Mastering Machines - Call for papers now open